CHICAGO — Police arrested a 50-year-old Richton Park man in connection with the shooting of two high-ranking union officials Friday night outside the United Auto Workers Local 551 hall in Hegewisch.
Chicago police say they arrested William Cowart, of the 22400 block of Riverside Drive in Richton Park, on Saturday on two felony courts of aggravated battery/discharge of a firearm.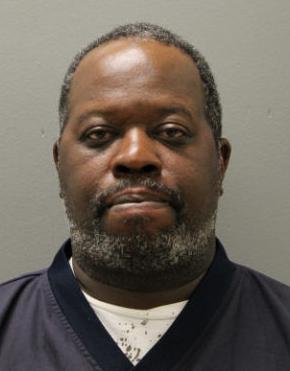 He's pictured in his mug shot wearing a UAW Local 551 shirt. The union represents more than 4,200 workers at Ford's Chicago Assembly Plant on Torrence Avenue and the Calumet River.
Police said an argument at the union hall ended in a shooting after the two officials were re-elected late Friday night.
"The offender was positively identified as the person who shot two males, age 40 and 44, in the legs before fleeing," the Chicago Police Department said in a statement. "The victims were transported to St. Margaret Hospital in Indiana in stable condition."
Union members have said the shooting followed a fight, but police say the incident is still under investigation.
Aaron "Hammer" Straker and Jeff "UAW" Bacon, who both were re-elected to the bargaining unit, identified themselves as the victims in the shooting. Bacon, Straker, and Tommy Kottalis, the top vote-getter with 16.74 percent, prevailed in a field of 12 candidates running to serve on the union's bargaining unit, which negotiates with Ford.
UAW Vice President Jimmy Settles put out a call for solidarity at the Hegewisch factory, which produces the Explorer SUV and other vehicles.
"I am deeply saddened by the tragic events that took place at UAW Local 551 yesterday evening," he said in a statement. "My thoughts and prayers go out to the victims of this senseless shooting and all those affected by this act of violence. While we await the results of the police investigation, I respectfully ask that we embrace one another and unite around our brothers and sisters at UAW Local 551 and the surrounding community."
Union members were offered counseling after the shooting.
"I want to assure everyone that this was a isolated event that occurred and everyone should not be concerned with your safety while at work or the union hall," Chairman Alan "Coby" Millender said in a statement. "We will always give every effort to make sure our members can work in a environment free from harm and danger."
Members of UAW Local 551 are continuing to vote in a runoff election for plant chairman, trustees, sergeant of arms and guide, after no candidate got 51 percent in any of those races last week. The results should be announced Friday.