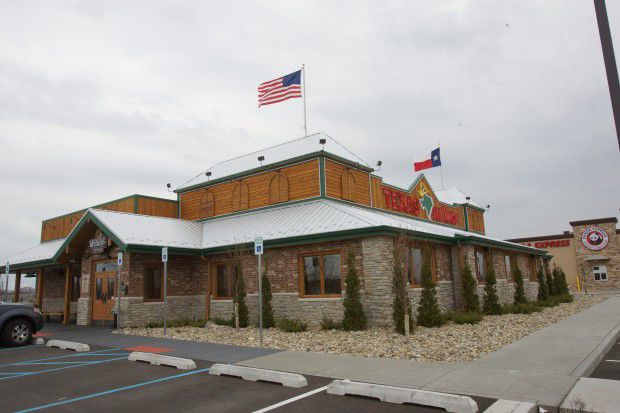 Veterans served their country, often heading off to war in faraway lands.
They endured hardship, the horrors of combat, and bean and rice burrito MREs.
America offers a token of its thanks once a year on Veterans Day, when businesses salute military service with free meals, coffee and more. Here's a list of some of the local businesses that are offering veterans freebies or discounts on Sunday, Nov. 11 and Monday, Nov. 12: 
The Texas Roadhouse at 6130 E. U.S. 6 in Portage is offering a free lunch for all veterans or military personnel from 11 a.m. to 2 p.m. Sunday. Vets who present valid ID can choose from a list of 10 meals, including a six-ounce sirloin. It comes with two sides and a choice of pop, tea or coffee.
The local chain Texas Corral will give vets a free entree and a beverage on Sunday.
Round the Clock restaurants in Schererville, Highland and Lansing are offering veterans free meals all day Monday. White Castle is offering free combo meals all day Sunday and Monday. Applebee's, Chili's, Red Robin and TGI Friday's all offer vets free meals on Sunday with T.G.I. Friday's extending the offer through Monday.
Starbucks will give vets a 12-ounce tall coffee with proof of service on Sunday.
The South Shore Line is offering free rides to all vets and active-duty personnel from Friday through Monday. Passengers just have to tell the ticket taker that they served. No identification is required.
RDG Motorsports at 17864 Chappel Ave. in Lansing will provide free oil changes to any veteran with proof of military service and a gasoline engine on Monday,
One Trick Pony Brewery, in the same industrial park as RDG Motorsports, will open at 8 a.m. Monday to offer half-priced pints and free Calumet Bakery donuts to vets who come for the oil change. 
Free shrimp or lobster appetizer
Red Lobster, which has locations in Munster, Merrillville and Michigan City, will give service members, vets and reservists with valid military ID a free appetizer or dessert on Sunday or Monday. They have a choice of sweet chili shrimp, mozzarella cheese sticks, Parrot Isle Jumbo Coconut Shrimp, seafood-stuffed mushrooms, Lobster and Langostino Pizza, or shrimp cocktail.
LongHorn Steakhouse, which has locations in Merrillville and Portage, also offers vets a free appetizer or dessert Sunday.
Ameristar Casino Hotel East Chicago, 777 Ameristar Blvd., will offer veterans a free brunch at its Heritage Buffet from 11 a.m. to 2 p.m. Sunday, or a free dinner from 4 to 9 p.m. later that day.
City Barbecue will offer vets a free sandwich, beverage and two sides on Sunday at all five Chicagoland locations, including Orland Park.
Helzberg Diamonds, which has a store by the Southlake Mall in Hobart, will offer a 10 percent discount on jewelry and watches to veterans both online and in-store on Veterans Day.
The Indiana Dunes National Lakeshore will screen the movie "Heroes on Deck: World War II on Lake Michigan" about how the Navy trained more than 15,000 World War II pilots at its naval station in Chicago, and how it recovered some of the 100 aircraft that ended up at the bottom of Lake Michigan.
The free film will be screened from 2 to 3 p.m. at the Indiana Dunes Visitor Center at 1215 N. Ind. 49 in Chesterton.
DecisionOne Dental Group will provide free oral healthcare on Saturday at its six Chicagoland locations, including Orland Square Dental in Orland Park and Floss Dental Care in Homewood. Register online at www.DecisionOneDental.com/vets.  
From 5 a.m. until noon Monday, Denny's will give vets with a military ID or DD 214 a free Build Your Own Grand Slam, which includes buttermilk pancakes, eggs, bacon, and biscuits or hash browns.
Veterans and active service members can get free Red, White, & Blue Pancakes at the IHOPs in Hammond and Michigan City on Sunday.
Also on Sunday, Baker's Square will give veterans and service members a choice of three buttermilk pancakes, three slices of French toast or one Belgian waffle, as well as a 20 percent off coupon for their next visit. Dunkin Donuts is offering a free donut and giving customers the opportunity to send a case of its coffee to service members deployed around the world.
SportClips will offers vets free haircuts on Sunday. The chain also will donate $1 per haircut from regular customers to the Veterans of Foreign Wars' Sport Clips Help A Hero Scholarships, which go to military veterans transitioning to civilian life. 
From 7 a.m. until 9 p.m., Crew Carwash at 501 81st Ave. in Merrillville will offer service members and veterans with proof of service a free basic car wash Sunday.
Little Ceasar's will honor veterans with free $5 hot-and-ready lunch combos from 11 a.m. to 2 p.m. Sunday.
Buffalo Wild Wings is offering a small wings and fries to all service members and veterans in its Wings for Heroes promotion.
Bar Louie in Merrillville will offer vets and military personnel a free burger or flatbread Sunday.