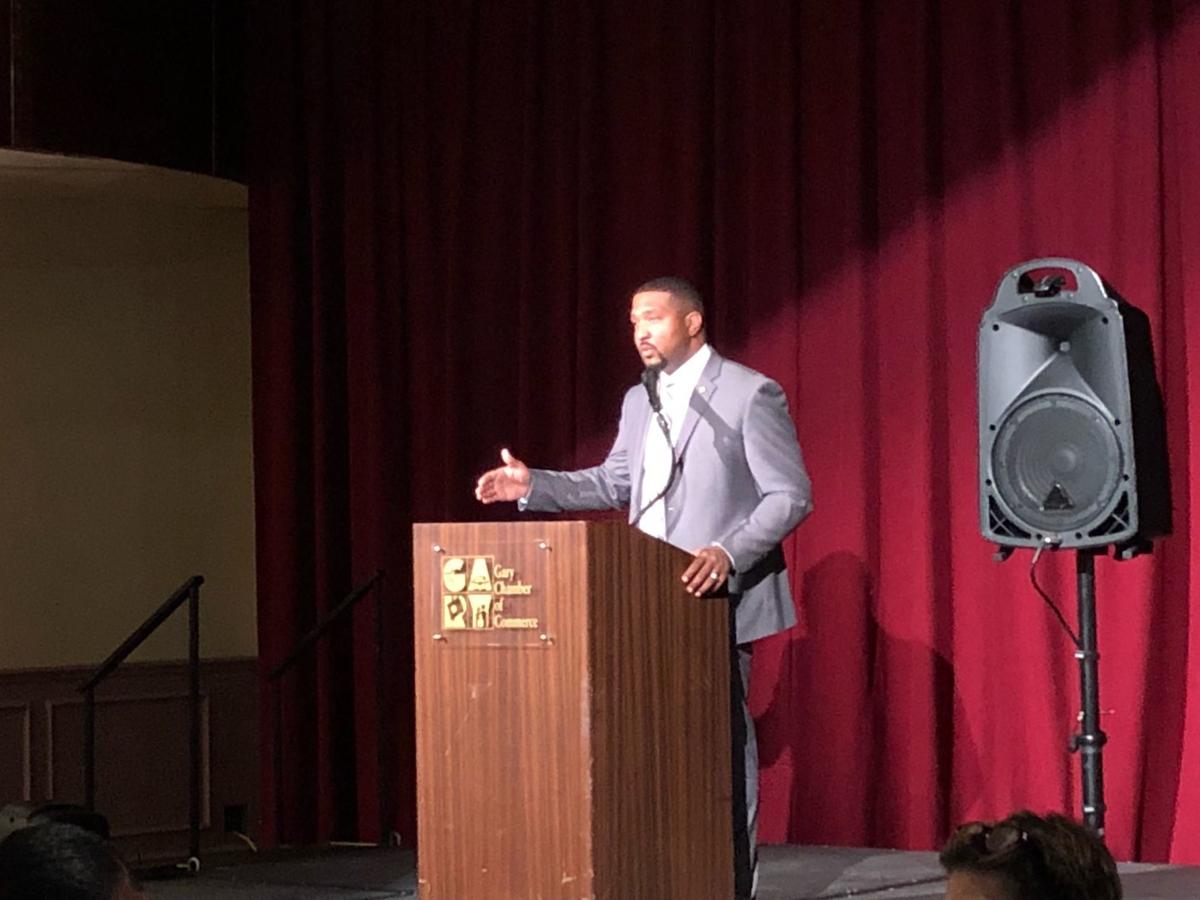 GARY — A Northwest Indiana state senator and potential candidate for Indiana governor believes it's time for business and community leaders — in Gary and across the Region — to take another look at the Steel City because a renaissance is coming.
State Sen. Eddie Melton, D-Gary, told the Gary Chamber of Commerce Monday at the Majestic Star casinos that the 2019 Indiana General Assembly set the stage for Gary to experience "transformational" growth.
Melton said winning legislative approval to relocate Gary's casinos from Lake Michigan to a land-based site adjacent to the Borman Expressway will produce investment and jobs at and around the new casino. It also will open lakefront land at Buffington Harbor for its redevelopment as a shipping and warehousing alternative to Chicago.
"There aren't many communities in this country that have the amenities and the assets when we talk about transportation," Melton said as he counted off three Class I rail lines, three interstate highways, an airport and Great Lakes water link at or near Buffington Harbor.
"We have it," Melton said. "We have it all. This has been said for decades in this community, and it's about time that we get ready to activate this."
Melton said the possibilities for a new Buffington Harbor include direct rail and water shipping, container storage and distribution centers for large retailers, such as Amazon, Walmart and Target — forever changing how people think about Gary.
"We're not looking for a handout," said Melton, who last week announced that he has formed a gubernatorial exploratory committee. "We're looking for partnerships to maximize what we already have, so we can address our economic conditions and turn around our economic situation."
"It's time for us to change the conversation. It's time for us to change the narrative of what people think and what people have said."
Melton shrugged off the potential impact on Gary of new casinos slated for Chicago and south suburban Cook County that recently were approved by the Illinois General Assembly.
He said Hoosier lawmakers knew in April when they were considering the Gary casino move that increased competition from Illinois was likely. Melton is grateful the Indiana gaming law was approved proactively, rather than in response to Illinois.
"Should we be concerned? Maybe. I haven't seen any studies or reports," Melton said. "It is something that we need to be mindful of and watchful in terms of what it's going to look like."
Nevertheless, Melton said he's confident no matter what happens in Illinois that the new Gary casino and Buffington Harbor redevelopment will boost both Gary and the Region as a whole.
"When Gary wins, we're all going to win," he said.