Merrillville native Anthony Patellis's starring turn in the Hollywood movie "Team Marco" can now be viewed on one of the most popular streaming services.
Patellis stars as the Italian grandfather "Nonno" in "Team Marco," which is now on Hulu.
He is a Merrillville High School Class of 1968 graduate who first appeared on stage at Merrillville High School and Ross Music Theater. He went from performing in "The Music Man" in a summer stock theater in Northwest Indiana to acting in a worldwide tour of "West Side Story," "Shear Madness" at the John F. Kennedy Center for the Performing Arts in Washington D.C., and William Shakespeare's "Twelfth Night" at the Geffen Playhouse in Los Angeles.
Patellis, who still periodically returns to visit friends and family in the Region, has worked for years in theater in New York City and also appeared in television shows like "Law & Order" and "Gotham," as well as commercials like Denny's first Super Bowl ad in 2009 in which he plays a Junior Soprano-like mob boss.
Often cast as an Italian despite his Greek descent, Patellis also appeared in a notable episode of "The Sopranos" in which he portrayed the high school principal Chuckie Cirillo whose mother socially shunned Paulie "Walnuts" Gualtieri's mother in a retirement home. Paulie Walnuts tries to persuade his friend from the old neighborhood to persuade his mother to be nicer and after nothing changes, sends goons to the high school where they rough him up and break his arm.
After years in theater, television and ads, Patellis finally landed a role in a feature-length Hollywood movie, the comedy-of-age dramedy directed by Julio Vincent Gambuto and distributed by Samuel Goldwyn Films.
It's a light-hearted family-friendly movie about generational conflict and learning to engage with the world.
"It's a really cool film about the generation gap between kids and older people," Patellis told The Times last year. "My character is the grandfather from Italy who's an old school kind of guy. Marco is a techno freak living with his single mother in Staten Island who's always on his iPad and devices. The movie starts with a scene where his grandmother and my wife dies so I move in with my daughter and him."
The two end up bonding over the ancient Italian sport of bocce.
The film, which has been available on video on demand, screened at a number of film festivals like Mill Valley Film Festival in Marin County, California and the Berlin International Film Festival in Germany.
11 movies you may or may not know were filmed in the Region
"Natural Born Killers"
One of the most famous scenes from the 1994 movie "Natural Born Killers" was shot in Hammond, specifically at the Hammond City Hall. The interior and exterior of the vintage 1930s building were used to recreate a city courtroom for a scene with Woody Harrelson's character plunging a knife into another man. Alas, much of the scene was cut from the final released film. The water towers in Calumet City can also be spotted in the movie.
The movie, starring Woody Harrelson, Juliette Lewis and Tom Sizemore, was released in 1994.
"Pearl Harbor"
Aerial shots of U.S. Steel in Gary are used in "Pearl Harbor," although the shots are not intended to depict U.S. Steel but instead industrial Japan in 1942.
The movie, starring Ben Affleck, Kate Beckinsale and Josh Hartnett, was released in 2001.
"Prancer"
The 1989 Christmas film classic "Prancer," is a claim-to-fame for LaPorte County. It's about an 8-year-old girl, played by young actress Rebecca Harrell, who rescues an injured deer, believing he is one of Santa's famous antler team. The movie's director John Hancock hails from LaPorte, Ind.
The movie, starring Sam Elliot, Cloris Leachman and Rutanya Alda, was released in 1989.
"Public Enemies"
"Public Enemies" starring Johnny Depp as John Dillinger was released in 2008. The film starred Northwest Indiana and Chicagoland residents for onscreen roles and was filmed in the Region, particularly in Crown Point.
The movie, starring Christian Bale, Johnny Depp and Christian Stolte, was released in 2009.
"Regionrat"
"Regionrat" was written and directed by Javier Reyna and stars Natassia Halabi and Connor Williams, who also starred in independent films like "UnMiracle" and "American Nobody."
The movie, released in 2018, is the indie film adaptation of Rich Laskowski's cult novel set in Northwest Indiana.
"Rudy"
The movie "Rudy" was not only filmed at Notre Dame in South Bend, but there are also scenes that were shot in Whiting.
The movie, starring Sean Astin, Jon Favreau and Ned Beatty, was released in 1993.
"Small Towns are Murder"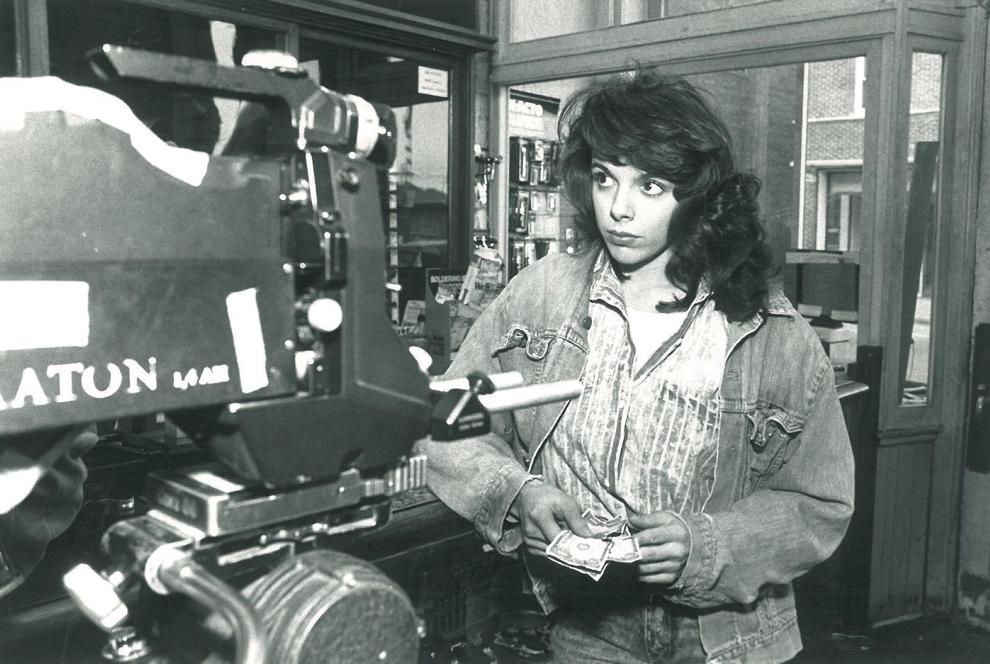 Actress Donna Burns readies for her close-up in "Small Towns Are Murder," filmed in Hammond's Mueller Hardware in November of 1987.
The film also stars Albert Julkes and Gerry Langedon.
"The Fugitive"
The 1993 runaway hit "The Fugitive" included scenes filmed around East Chicago's steel mills and in Whiting.
The movie, starring Harrison Ford, Tommy Lee Jones and Sela Ward, was released in 1993.
"The Package"
Production assistant Chris Albrecht quiets the crowd before filming starts on "The Package" in Dolton, Illinois, in December of 1988.
The movie, starring Gene Hackman, Tommy Lee Jones and Joanna Cassidy, was released in 1989.
"Transformers 3"
Adams Street in downtown Gary teems members of a film crew in 2010 during the shooting of "Transformers 3" at City Methodist Church in Gary. Scenes from the movie were filmed there.
The movie, starring Shia LaBeouf, Rosie Huntington-Whiteley and Tyrese Gibson, was released in 2011.
"When Jeff Tried to Save the World"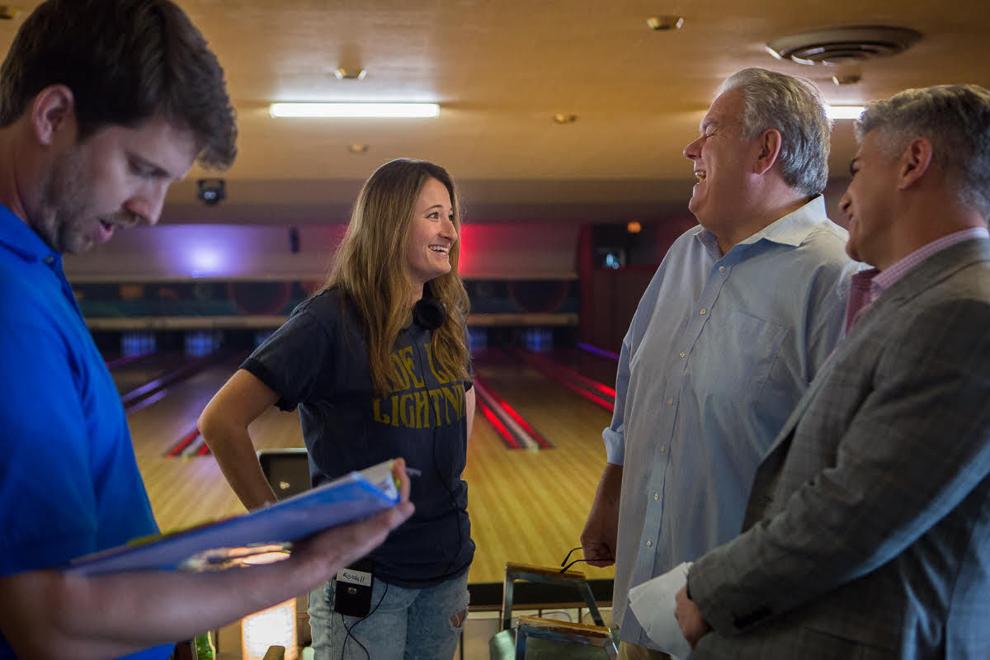 "Napoleon Dynamite" star Jon Heder, "Parks and Recreation"'s Jim O'Heir and other Hollywood types have taken over Lan-Oak Lanes in Lansing to film the indie movie "When Jeff Tried to Save the World."
The film crew scouted more than 40 bowling alleys in Los Angeles, but didn't find any with the right vintage look until former Munster resident and director Kendall Goldberg saw the 16-lane Lan-Oak Lanes, which still looks largely the way it did during the 1960s. The film crew has added an arcade and several neon signs, including a "Winky's World" one, for the filming.