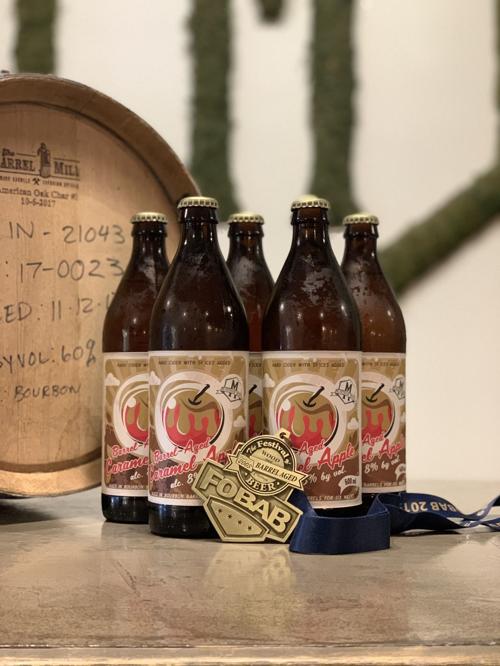 Misbeehavin' Meads in downtown Valparaiso recently took home a prestigious gold medal from the Festival of Wood and Barrel-Aged Beers in Chicago.
The meadery won first place in the cider/perry/mead category for its BBA Caramel Apple Cider, which was aged in bourbon barrels from 18th Street Distillery in Hammond.
"It's the first time we've barrel-aged a cider, and we won something," owner Clint Wadsworth said. "It really worked out."
More than 200 breweries from all over the country put in more than 400 entries in 12 categories at the annual festival at UIC Forum in Chicago.
Misbeehavin' Meads has barrel-aged its meads — a wine made from honey that dates back to ancient Egypt — since it first started, including a date and honey mead it aged in rum barrels. It's entered barrel-aged meads in the highly competitive annual contest before without winning anything so the meadery decided to change its strategy from attempting to pander to the judges' varied tastes to just making "something people are going to love" for the benefit of the festivalgoers.
"It was kind of shocking," Wadsworth said. "We just brought really good stuff we knew the crowd would like and didn't even think about the medal. It was pretty huge."
Misbeehavin' Meads made a small batch of the cider, which was aged for six weeks in 5-gallon barrels until it picked up whiskey characteristics. It has released bottles to its bottle club and still has a few kegs it plans to tap, including at its annual Black Friday release of 300 bottles of its Big Black Mead, made with blackberries, black currants and the expensive and more aromatic black raspberries.
It's usually a big event at the meadery's tasting room at 65 Franklin St. in downtown Valparaiso, in which people can buy large bottles of the special release. Misbeehavin' Meads will offer imperial, maple and cinnamon, and marshmallow and coconut variants of Big Black this year, in addition to tapping the award-winning Bourbon Barrel Aged Caramel Apple Cider.
Wadsworth said it was an experimental pilot batch that Misbeehavin' Meads will bring back next year.
"It does taste like a caramel apple," Wadsworth said. "The moisture got sucked into the wood, so it's slightly drier. It tastes like a caramel apple with a bourbon glaze."
The business news you need
With a weekly newsletter looking back at local history.