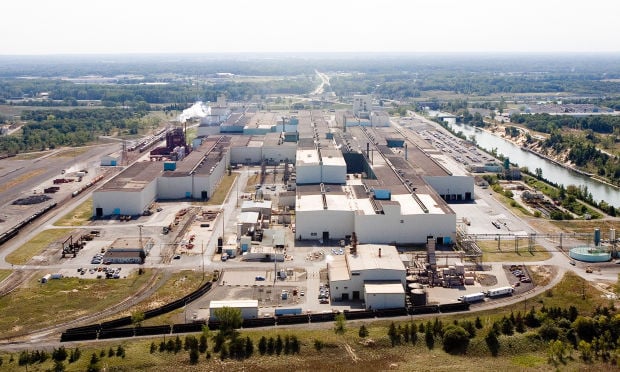 U.S. Steel has restored operations at the Midwest Plant in Portage after a higher-than-allowed hexavalent chromium discharge last week.
The steel mill on the Lake Michigan shoreline in Porter County shut down the chrome treatment plant, tin line and chrome lines Wednesday after it exceeded its permitted limit of discharging 0.51 pounds per day of hexavalent chromium into the Burns Waterway about 500 yards from Lake Michigan. Hexavalent chromium is a carcinogenic chemical used in steelmaking and other industrial processes that has been tied to adverse health effects like asthma, eye damage, perforated eardrums, respiratory irritation, kidney damage, liver damage, pulmonary congestion, upper abdominal pain, nose irritation, respiratory cancer, skin irritation and erosion of the teeth. 
U.S. Steel spokeswoman Amanda Malkowski said the steel mill was now fully operational except for the tin line. The tin line remains down for reasons that are unrelated to the discharge, she said.
Malkowski said the issue that caused the discharge has been resolved.
"We're fairly pleased with the swiftness of how this has been handled," she said.
U.S. Steel would not comment on test results from the public bodies of water until it has the opportunity to share them with the Indiana Department of Environmental Management.
The state agency initiated an investigation into the discharge, spokeswoman Sarah Bonick said.
"IDEM has instructed U.S. Steel to increase sampling frequency at its facility and to conduct sampling in Burns Waterway," she said.
Indiana American Water shut down its Ogden Dunes treatment plant after the hexavalent chromium discharge and said it would remain offline until water testing results showed no threat the source water.
"The city of Portage finds any excess release above the permitted amounts unacceptable," Mayor John Cannon said in a news release. "Any amount of heavy metals that enter our water system, above the permit level, could pose serious risk to both the environment, drinking water or in the absolute worst case a risk to human health. The exact amount of chemical released has not been disclosed."
Cannon said the city would "continue to push tighter restrictions, clearer protocols and improvement on communication in such events."
U.S. Steel paid a $1.2 million settlement after spilling more than 900 pounds of hexavalent chromium — made famous by the activist Erin Brockovich and the movie about her life — from the Midwest Plant into the Burns Waterway and Lake Michigan in April 2017. It has since entered into a consent decree with state and federal regulators in which it was required to take steps to prevent future spills.