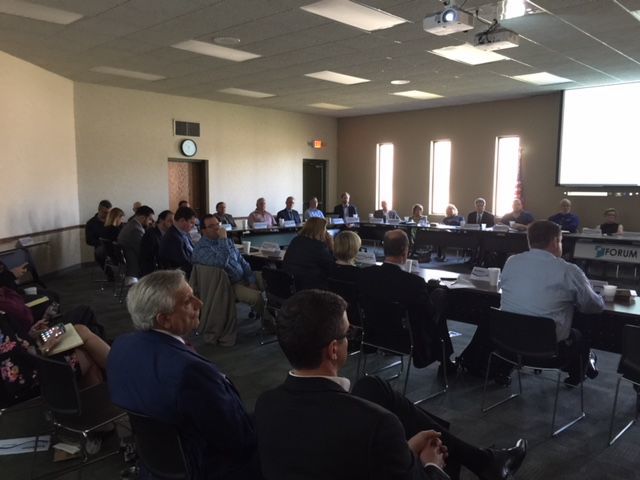 Nearly 50 business, academic and civic leaders met with the Northwest Indiana Forum and consultant TIP Strategies to devise a new blueprint for economic development in Northwest Indiana.
They brainstormed ideas for ways to advance the seven-county Region's economy over the next five years. The NWI Forum is working on a sweeping $200,000 economic development plan to figure out what sectors to target and how to best leverage Northwest Indiana's assets.
"The energy in the room today was invigorating," Northwest Indiana Forum President and Chief Executive Officer Heather Ennis said. "These leaders are committed to making Northwest Indiana more vibrant and their hope and excitement is contagious."
TIP Strategies consultants have been gathering input from major stakeholders from local institutions like ArcelorMittal, Cimcor, Fair Oaks Farms, the Port of Indiana-Burns Harbor, Purdue Northwest, Ivy Tech, the Shirley Heinze Land Trust, the Greater Northwest Indiana Association of Realtors, Franciscan Alliance, Task Force Tips, the South Shore Convention and Visitors Bureau, NICTD, NIRPC, the Northwest Indiana Building and Construction Trades, Strack & Van Til, Urschel, the Legacy Foundation and the Valparaiso Chamber of Commerce.
They plan to host more roundtable discussion or launch an interactive community survey to get public input. The public will be able to fill out the survey online at nwiforum.org by Friday.