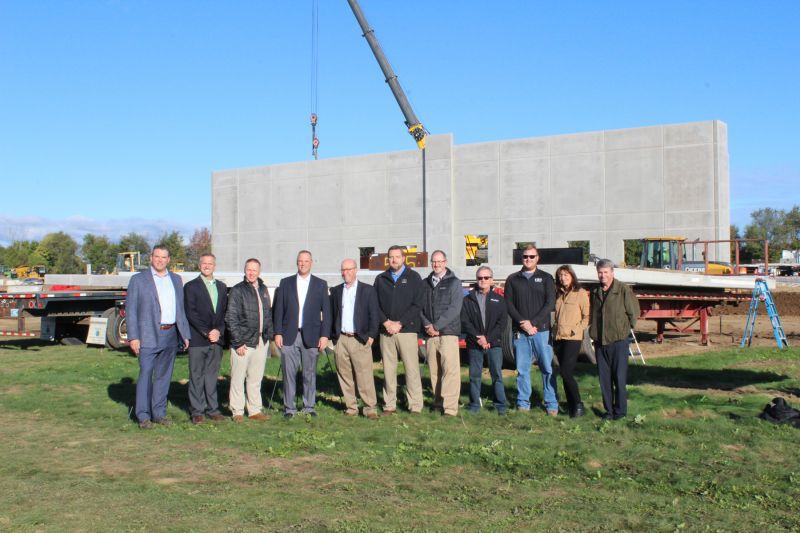 A new multi-tenant industrial and commercial building is going up just off a busy highway in Valparaiso, where it's expected to bring new businesses to town.
Barley Properties, Holladay Properties and Holladay Construction Group broke ground recently on a new 65,592-square-foot flex building at 2650 Barley Road, next to the Indiana Beverage facility in Valparaiso. They held a wall panel signing ceremony last week after setting the last exterior wall panel of the Bluejay I building, which will be visible from Ind. 49 and close to U.S. 30 and the Porter County Regional Airport.
"The building is designed to fill a need for flexible light industrial and commercial space in Valparaiso," said Jon Leetz of Barley Properties. "It offers local businesses an option to grow here, and it provides an ideal location to attract new businesses to our community."
The speculative building, which could accommodate multiple tenants for various uses, features dock and drive-in doors, 24-foot clear ceiling height, an energy-efficient design, and architectural storefronts for each suite. It's connected to city utilities and has a parking lot with 120 spaces.
The developers are in talks with prospective tenants.
"Once completed, this development will deliver approximately 175,000 square feet of first class light industrial/commercial space to the market," said Mike Micka, vice president of development for Holladay Properties. "Marketing and pre-leasing efforts are currently underway and we couldn't be happier with the interest and inquiries Bluejay 1 has received thus far. We look forward to making some exciting announcements regarding lease signings soon."
For more information about the property, call Michael O'Connor at 219-764-3104.