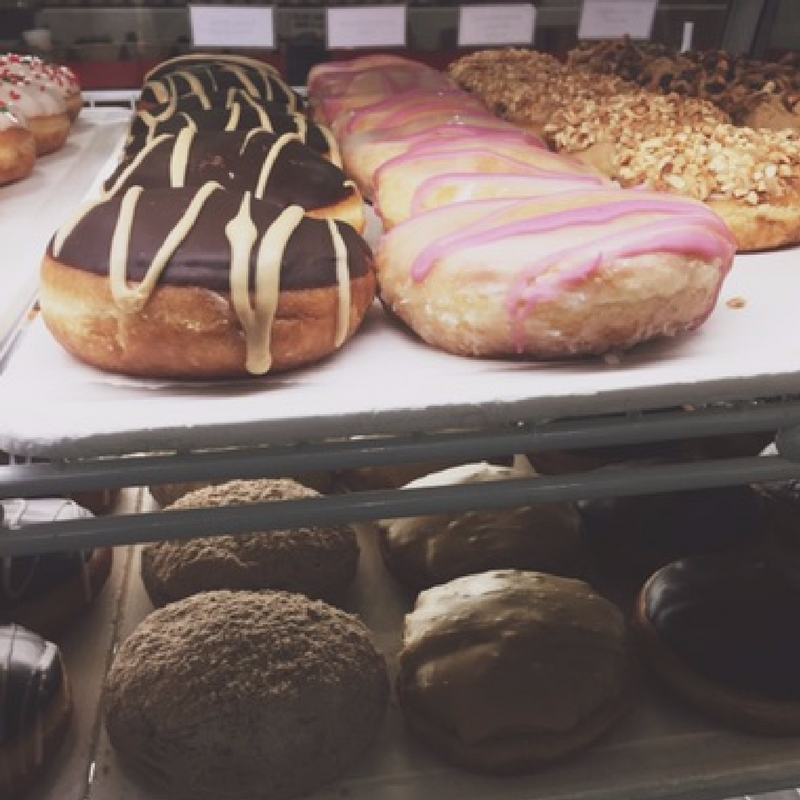 A new Amish doughnut shop opened in Valparaiso, and plans to add locations in Schererville and Munster over the next few years.
Rise'n Roll Bakery is at 1320 Lincolnway near the Valparaiso University campus. Just the fifth franchise in a Middlebury, Indiana-based chain, the shop features doughnuts, apple fritters, pies, other baked goods and Amish sundries like butter, apple butter, cheeses, noodles and jarred foodstuffs.
Though grounded in traditional Amish baking techniques, Rise'n Roll has a more modern flair, such as with a soft-serve ice cream-filled doughnut and a cinnamon-caramel doughnut topping that's nicknamed "Amish crack," franchisee Cory Good said.
Cory and Penny Good opened the 2,000-square-foot doughnut shop, which already employs about a dozen workers and expects to ramp up more because of demand. Carryout should account for about 75 percent of the business, but Rise'n Roll still has 25 seats for dining in.
"The biggest difference is there aren't any preservatives," he said. "Amish doughnuts use only fresh ingredients, and are baked fresh every day. But since there are no preservatives, they don't last long. They're timely."
The doughnuts are baked at a central processing facility in Middlebury in northeast Indiana and shipped across the state first thing in the morning.
"They also have homemade butter, which has a higher fat content," Cory Good said. "They kind of melt in your mouth. There are heavy cake doughnuts and light doughnuts like Krispy Kreme but this is somewhere in the middle. They're consistently light but they're delicious."
Rise'n Roll offers a doughnut that's injected with ice cream through a pressurized straw, as well as fritters, Bismarcks, cream-filled, frosted, powdered and glazed doughnuts. It also serves up sweets like Dutch apple pies, cream pies, cookies, cinnamon rolls, sticky buns and muffins.
"We anticipate being a destination, bringing in people from all over the area that are familiar with it," Cory Good said. "People are drawn to Amish goods because of the quality. They don't make things like they used to. With preservatives, it loses some of the taste. People like the Amish branding because it means it's well-made, it's good, that quality is the number one thing."
Rise'n Roll Bakery will be open from 6:30 a.m. to 5 p.m. Monday through Wednesday, and from 6:30 a.m. to 7 p.m. Thursday through Saturday.
The Goods plan to open two more franchises, likely in Munster and Schererville, over the next two years. They're looking to move into existing space, possibly with a drive-through. 
For more information, visit risenroll.com or call (219) 242-8160.
The business news you need
With a weekly newsletter looking back at local history.