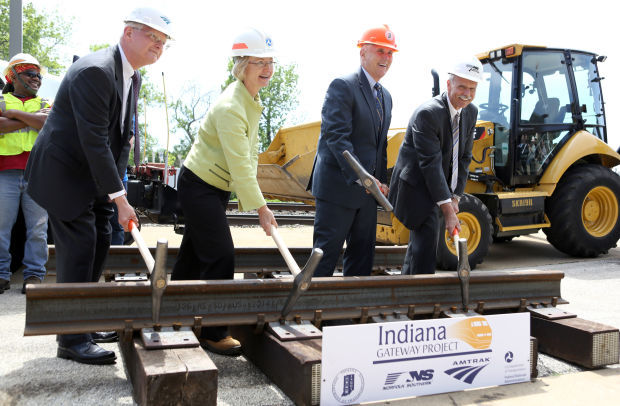 New jobs boosted the Northwest Indiana economy in March and April, with an index of region economic growth showing the economy here outperformed that of both the state and nation.
The Northwest Indiana Index, which takes the pulse of the region's economy every month, increased to 137.5 in April from 136.2 two months before.
"That's surprising," said Micah Pollak, assistant professor of economics at Indiana University Northwest. "It's one of those rare times we seem to have grown faster than that state and nation."
Since February, the Northwest Indiana economy grew 0.95 percent, while Indiana's economy grew 0.71 percent and the national growth rate was just 0.57 percent.
Much of the pop in the Northwest Indiana economy can be attributed to a bounce back from business activity declines in January and February due to the severe weather, but longer-term trends are also boding well for the local economy, Pollak said.
The regional economy added 7,300 jobs in April and March, a robust number but still leaving the region short of the jobs it had before the Great Recession.
The second quarter is definitely shaping up as a good one in terms of hiring, particularly when compared to past ones, according to Jerry Phelps, owner of Express Employment Professionals, in Valparaiso.
Unemployed workers with good skills and a good work history are finding jobs more quickly these days, Phelps said. In addition, people who are working are looking around and sometimes leaving for better jobs.
"We see more of the same ahead," Phelps said. "We think as long as hiring continues and we continue to see growth we'll see healthy activity."
A slew of job creation announcements have been made in the region in the last few months. On May 29, Gov. Mike Pence was in LaPorte to announce Alcoa would build a $100 million factory employing 329 to make advanced jet engine parts. A couple hours later the governor was in Hammond to kick off the Indiana Gateway rail project, which will create about 700 construction jobs.
Looking ahead, the Northwest Indiana Index forecasts growth of 1 percent to 2 percent in the local economy during the next six months. Whether that can sustain significant job growth remains to be seen, Pollak said.
Housing was the only national leading indicator that was not positive, remaining flat for March and April, Pollak said. That reflects what is going on with the housing market locally, where sales are down from last year and prices are flattening out.
In a sign that normalcy may be returning to the U.S. economy, interest rate spreads between short-term bonds and long-term bonds remained stable and positive during the March to April period.
For years, those spreads have bounced around, demonstrating investors were uncertain about the direction of the U.S. economy.