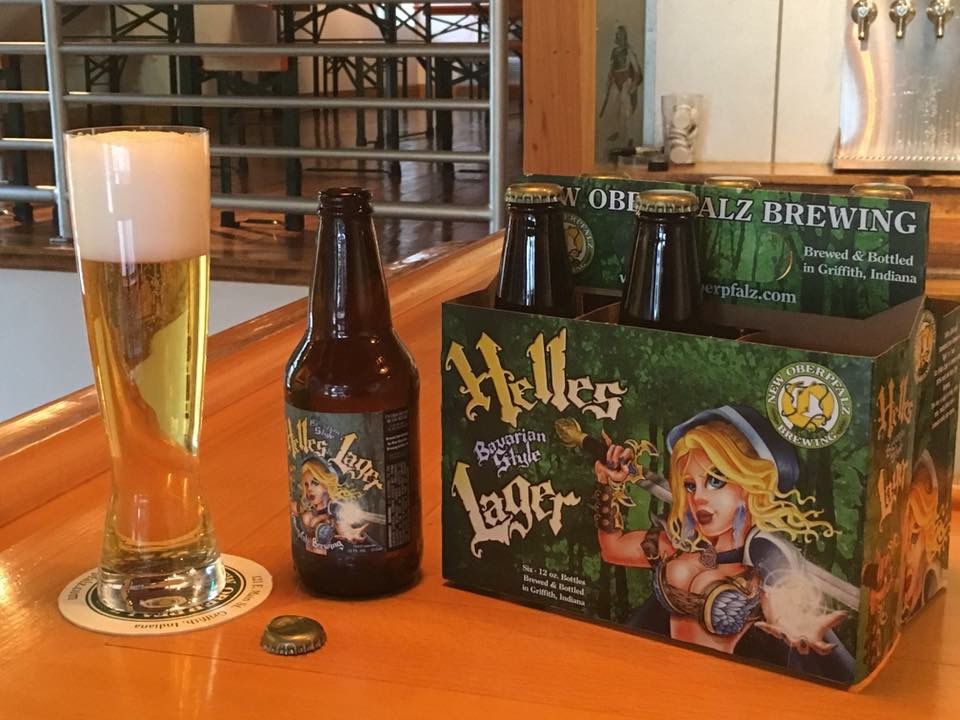 Griffith's New Oberpfalz Brewing won its second gold medal in three years for its Helles Lager at the 2019 U.S. Open Beer Championship in Oxford, Ohio. 
The German-themed craft brewery at 121 E. Main St. in downtown Griffith also took home the gold in the Munich Helles category in 2017.
"It is an honor to be counted among the finest breweries in the world, let alone take home a top prize in a challenging category like Munich-style Helles," owner Dan Lehnerer said. "Helles Lager happens to be our flagship beer. It is the beer I founded New Oberpfalz in the hopes of making a lot of, the beer we make and sell the most of, and arguably the most drinkable, moderate, 'beer for everyone' beer that we make."
Lehnerer said Helles Lager is a challenging beer for brewers to make because there are not many ingredient variables, unlike India Pale Ales and other styles of beer, because the flavor profile is light. It must follow the German beer purity law that limits the amount of natural ingredients that can be used.
"Helles is the quintessential Rheinheistshebot beer," he said. "All that can theoretically go into it is water, grain, hops and yeast. More is not always better when making Helles Lager or other light styles of beer. This means the brewer must have a firm grasp of chemistry, biology and flavor development through yeast metabolism and chemistry, rather than flavor development through ingredient additions of this or that. Helles and lighter styles of beer like it are often referred to as 'brewer's beers' because brewers can draw conclusions about one another's levels of skill in the various disciplines required to make beer based on the lightest and least alcoholic of beers that a brewer makes. In the case of New Oberpfalz, this beer is our Helles Lager."
Indiana breweries took home 20 medals at the national contest, and Indianapolis-based Sun King won grand national champion after receiving three gold medals and three silver medals. New Oberpfalz was the only brewery from Northwest Indiana to win an award at the U.S. Open this year.
"The 2019 gold medal is especially rewarding for us because we come under some fire from beer lovers who are pre-occupied with chasing the latest offerings of more avant-garde beers such as New England Hazy IPAs, and many trends in beer have been moving away from more classic styles of beer like Helles Lager lately," Lehnerer said. "But we make and sell a lot of it. To paraphrase the metal band Megadeth: 'Helles is our business, and business is good.'"
New Oberpfalz focuses on classics instead of trends like milkshake IPAs, juicy IPAs and so on, Lehnerer said.
"We don't make a lot of noise, we don't do anything too wild. We are a well-oiled beer-making and hospitality providing machine whose simple aim is to make the best beer in the world and offer a pleasant environment where people can come and enjoy our beer and food," he said.  "Like a lot of machines, we are pretty boring to watch. Everyone who works at New Oberpfalz does a great job. We spend most of our time making and packaging beer, cleaning things, watering plants, picking up trash around the brewery, and making sure all of the food we serve is up to snuff. With the time we have left, we work on new projects, plan for the future, and make sure the ladies room in the taproom has enough paper towels."
Gold medals are great recognition but they won't matter to customers if the bathroom is out of paper towels, he said.
"I guess what I am trying to say is that while it is rewarding to do well in competition against breweries that are one hundred or one thousand times our size, we try not to lose sight of the thousands of things that make our business successful," he said. "It is nice to be recognized in a positive way for being what we are. Everyone who works here works very hard, and we are grateful that our efforts are appreciated by our local customers as well as the certified beer judges who found our Helles Lager worthy of a gold medal."