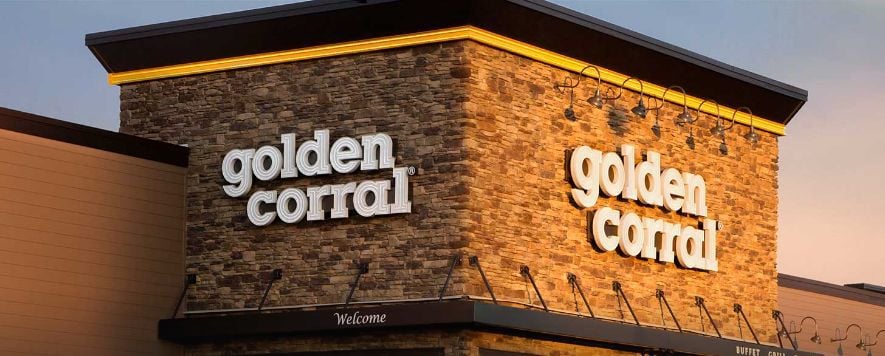 A popular all-you-can-eat buffet got back up for seconds after a four-year wait.
The Golden Corral restaurant at 915 Eagle Ridge Drive in Schererville reopened Saturday, rising like a freshly carved phoenix onto a cafeteria tray after closing four years ago.
The North Carolina-based buffet chain, one of the largest in America, closed the franchised location in Schererville, near Home Depot, after the owner died in 2015. But the owners of the Merrillville Golden Corral stepped in to revive it. They have done extensive renovations over the last several months.
The 10,500-square-foot restaurant now has a "next-generation look" with "a new stone fireplace, contemporary décor, and more comfortable and varied seating options." The buffet also now boasts "an enhanced carvery and tiled walls that look much like a residential kitchen."
"It was redesigned to give it a more homey feel," Golden Corral Field Marketing Specialist Travis Caison said. "It has a fireplace and a nice welcoming feel. We're always striving to stay relevant and modern and meet customers' needs."
A 46-year-old privately owned chain with locations in 41 states, Golden Corral serves a "legendary, endless" buffet of more than 150 items including sirloin steak, wings, fried chicken and sliced ham. It's also known for its chocolate fountains for fondue-like dipping.
The Schererville location employs 65 people, is owned by franchisee Chris Niemet, and is run by General Manager Ken Churchill, Hospitality Manager Joe Daviduke and Culinary Manager Rueben Daniels.
"We are happy to serve the Schererville community again and we look forward to treating our friends and neighbors to a wide variety of top-quality, home-style foods," Niemet said. "Rest assured, Schererville residents can expect the same great food they love, but with improved service and hospitality. Plus, we've packaged it all in a very welcoming and comfortable new environment for our guests."
The eatery seats up to 50 and includes a room that can be rented for private parties or meetings. It has added several new menu items since the chain was last open in Schererville.
"We're excited to be back in Schererville," Caison said.
The Golden Corral in Schererville is open from 9:30 a.m. to 9 p.m. Monday through Thursday, 7:30 a.m. to 10 p.m. Friday and Saturday, and 7:30 a.m. to 9 p.m. Sunday.