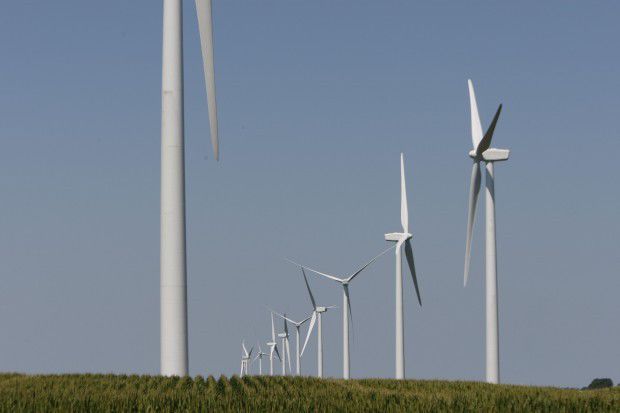 NIPSCO announced Thursday it is partnering on a new Indiana-based wind farm as it continues its effort to find renewable sources to replace its coal-fired generating capacity.
The Merrillville-based gas and electric utility and EDP Renewables have agreed on a plan to build the Indiana Crossroads Wind Farm in White County. The 302 megawatt farm is anticipated to become operational in 2021. It will be developed and constructed by EDP, with ownership transferred to NIPSCO for its operation. 
The wind farm will be able to power more than 83,000 average Indiana homes annually, according to NIPSCO.
It is the second partnership finalized this year between NIPSCO and EDP finalized. In February, the companies agreed to a similar build-and-transfer arrangement for the Rosewater Wind Farm, with a capacity of 102 MW and also located in White County. 
Rosewater, expected to begin operations next year, recently received approval from the Indiana Utility Regulatory Commission and White County, and initial construction activity has begun. 
The wind farm agreements resulted from a request for proposals NIPSCO issued as part of its 2018 Integrated Resource Plan. 
"It's exciting to see another home-grown renewable project and investment break ground in Indiana," NIPSCO President Violet Sistovaris said. "We're proud to be working with EDP Renewables on Indiana Crossroads, as we continue on our path of our customer-focused 'Your Energy, Your Future' plan."
Madrid, Spain-based EDP Renewables is the fourth largest wind energy producer in the world. Its Houston-based North America subsidiary's wind farms include Meadow Lake in White and Benton counties.
"Indiana has long been an important state for renewable energy development for EDP Renewables," said Miguel Prado, EDP Renewables North America CEO. "We are pleased to expand wind energy in White County and the state as well as build upon our partnership with NIPSCO as they advance their transition to clean energy sources."
In addition to the EDP Renewables projects, NIPSCO and partners announced two other wind farm projects in February. 
The Jordan Creek Wind Farm is a 400 MW project to be developed and constructed by NextEra Energy Resources in Benton and Warren counties, near Williamsport. The project will include an estimated 160 wind turbines. NIPSCO will purchase power directly from Jordan Creek, which will operate and maintain the facilities.
NextEra Energy also operates the Bluff Point Wind Energy Center in Jay and Randolph counties in eastern Indiana. The NIPSCO-NextEra purchased-power agreement has a term of 20 years.
Roaming Bison Wind Farm is a 300 MW project to be developed and constructed by Apex Clean Energy in Montgomery County, near Waynetown. NIPSCO will purchase power directly from Roaming Bison, which will operate and maintain the facilities. Roaming Bison is the first Indiana project for Apex Clean Energy. The NIPSCO-Apex agreement also has a term of 20 years.
The IURC has approved those projects.
NIPSCO's "Your Energy, Your Future" plan calls for retirement of its coal-fired generators at the Schahfer plant near Wheatfield by the end of 2023, and of the generator at its Michigan City plant by the end of 2028.
The company said it intends to announce additional renewable projects next year, after issuing a second request for proposals earlier this month.