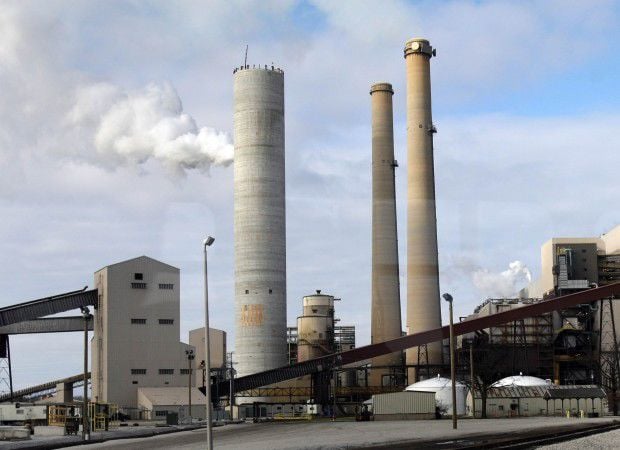 NIPSCO is laying plans to significantly reduce its coal-fired electric generation, unveiling plans Tuesday to close Chesterton's Bailly Generating Station by mid-2018 and a good portion of Wheatfield's Schahfer Generating Station in 2023.
The utility explained the plan to consumer groups and other stakeholders at a meeting starting at 9 a.m. Tuesday morning at the Radisson Hotel, in Merrillville. The utility has been working with the stakeholders for months on a long-term integrated resource plan, which would include the closures.
"The landscape for electric generation is shifting dramatically, not just for NIPSCO but for our nation as a whole," said NIPSCO Chief Executive Violet Sistovaris. "In particular, companies with aging coal-fired units are facing intense economic and environmental regulatory pressures that are driving important decisions today about how to meet the customer needs of tomorrow."
NIPSCO plans to submit its integrated resource plan to the Indiana Utility Regulatory Commission by Nov. 1. The plan must be filed every two years with the commission. For the more immediate task of closing Bailly's coal-fired units, NIPSCO will have to file for permission with the Midcontinent Independent System Operator, which oversees the electric grid in 15 states and one Canadian province.
The closure of both coal-fired electric generating units at Bailly, and two of four units five years later at Schahfer, would impact approximately 250 employees. Sistovaris said the United Steelworkers Union, which represents the NIPSCO workforce, was informed Tuesday morning.
The company will negotiate the workforce impacts with the union and its goal is to provide other job opportunities for employees at NIPSCO, Sistovaris said.
USW Local 12775 President Vernon Beck said he was surprised when told Tuesday morning Bailly would be closed five years earlier than the union had been told previously and that two units at Schahfer were now included in the plan.
He said environmental groups would undoubtedly be happy at the closures of the coal fired plants "but you have people tied into those jobs that make good money which helps our economy." He is hopeful that employees impacted can move into vacancies at the utility or take the place of people retiring.
Much of the plan may depend on what happens with U.S. Environmental Protection Agency regulations, some of which are currently being contested in the courts, Beck said.
Changes could power cost shift
In total, the plan to close Bailly's coal-fired units and two at Schahfer would take about 31 percent of NIPSCO's electric generating capacity offline.
The plan will also raise concerns about the impact on residential customers' bills. The cost to NIPSCO customers would come largely from what are called "stranded costs," which are costs associated with the closed generating stations that could still be part of customer bills for years to come, according to Kerwin Olson, executive director of the Citizens Action Coalition.
"We would hope the company would share the pain with ratepayers," said Citizens Action Coalition Executive Director Kerwin Olson. "Why should ratepayers shoulder 100 percent of the stranded costs?"
Sistovaris said NIPSCO may not have to make any significant power purchases on the open market to make up for the closure of Bailly. But that could change once two of Schahfer's generating units are closed. NIPSCO has not yet made any calculations for changes that may eventually come in customer bills.
The utility calculates it would incur $1 billion in additional costs during the next seven years if it continues to operate its entire fleet of coal-fired generating plants. That cost would arise from complying with new environmental regulations as well as maintenance.
Closing down existing coal-fired generation could push NIPSCO toward purchasing more of its power from renewable sources such as wind and solar, Olson said. NIPSCO currently derives about 72 percent of its electricity from coal-fired plants, as compared to 90 percent five years ago.
"There's no reason we can see why NIPSCO should not buy low-cost wind power from right here in Northwest Indiana," Olson said.
In recent years, NIPSCO has installed $800 million in pollution control equipment at Schahfer and Michigan City, which is its third generating station. It recently announced plans to demolish its Mitchell Generating Station, in Gary, which has been largely mothballed for more than a decade.