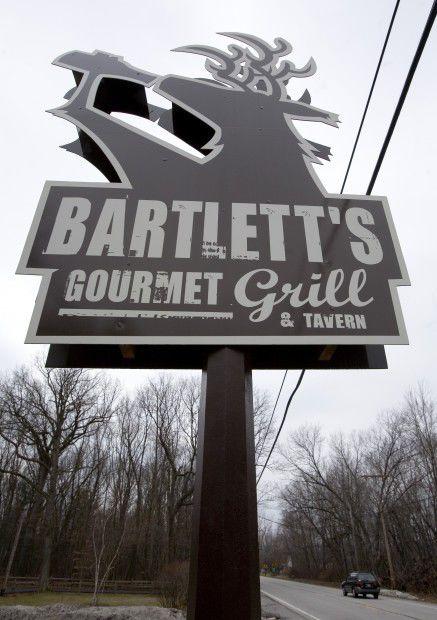 Bartlett's Gourmet Grill & Tavern, a "roadhouse-like rustic culinary hideaway" on U.S. 12 in Beverly Shores, has closed after an 11-year run.
The "gastronomic getaway" at 131 E. Dunes Highway boasted a creative, varied and wide-ranging menu that included andouille corndogs, seared Indiana duck breast, duck confit wonton tacos, lamb shank, venison chili, oysters, tuna ceviche tostada, chicken schnitzel, croque madame, shrimp and grits, and shrimp and crab beignets. The Duneland restaurant was destination dining that was a popular stop for people visiting the nearby Indiana Dunes National Park or Michigan City.
Bartlett's iconic sign of a deer knocking back a bottle of beer beckoned visitors off the highway. The restaurant had an annual Oysterfest, live music and a food truck that served "truckin' good grub" at many summer festivals.
Often praised as a "hidden treasure" or "gem of Beverly Shores," it garnered good reviews from far and wide, including from Indianapolis Monthly magazine and Midwest Wanderer.
The restaurant was founded by Gary Sanders and Nicole Bissonette, whose other culinary endeavors include Bistro 157 in Valparaiso.
The spin-off restaurant Bartlett's Fish Camp remains open at 12 On the Lake by the Michigan City Yacht Club on the Lake Michigan lakeshore, where it serves a variety of seafood like a Gojuchang Asian calamari stir fry over basmati rice.
Arcadia Cafe & Bar, another waterfront dining spot in Michigan City, announced on Facebook Thursday it had hired Sanders as a chef.
Bartlett's Fish Camp did not return messages, and Bartlett's Gourmet Grill & Tavern's phone number was disconnected.
A couple who lived in San Diego but moved back to the Region decided to open a fish market like the ones they enjoyed so much in California in Valparaiso.
Husband-and-wife duo Leslee McGowan and Rob McGowan, who had been an executive chef at a Cajun restaurant, opened McGowan & Sons at 1607 Burlington Beach Road on the north side of Valparaiso. The market sells fresh seafood like salmon, grouper, mahi mahi, halibut, mussels, snapper, king crab legs, lobster, scallops and oysters from both the east and west coasts. The selection rotates depending on what's in season and what's selling.
"It's flown in fresh daily and it's mostly wild caught," Leslee McGowan said. "We do have a salmon that's ocean-farmed, but it's in an ocean harbor in Canada where water is flowing in and out and it's eating regular foods, not pellets. It's sustainable. We're focused on high quality."
To accompany the seafood, Rob McGowan also prepares homemade soups, stocks, shrimp cocktail and other cooked seafood that can be enjoyed cold, and salads like an orzo feta lemon salad to accompany the fish as a side. They also have meal kits with vegetables, herbs and garlic one can chop up at home.
"We have meal kits where everything is prepped and you just need to follow the directions to finish it off, while you cook your fish in the pan and drink your wine," she said. "This is not a restaurant but it's like a restaurant where you can take home a meal that will be that you can enjoy fresh and hot out of the pan."
The McGowans loved eating fish and seafood while living on the coast and missed it when returning to Region to help run her family's trucking company.
"We would go to Whole Foods in Chicago to get our fish," she said. "You can't do that all the time because it needs to be fresh."
So they decided to open the fish market, which employs eight workers in a 1,600-square-foot space.
"We didn't really want to do a restaurant in the traditional sense because we have young kids and like being home at night to watch them grow up," she said. "But he loves to cook, so we added a party room that does catering both on- and off-site. We'll do prix fixe meals and other fun stuff like clam bakes or shrimp boils."
They plan to soon offer cooking classes to teach knife skills and other culinary techniques. They seek to educate customers, such as by showing them how to shuck their own oysters.
"Valparaiso has a crazy elevated dining scene with many dining and food options," she said. "People's palates are expanding and there's an expectation of being able to get what you can get in Chicago here. We have fresh clean fish without preservatives, MSG or any of the yucky stuff. We love to see people eating and entertaining and enjoying their food, and are here to help them get restaurant-quality food on their table."
Johnny's Round the Clock, a longtime diner at 1800 81st Ave. in Merrillville, has new owners, a new look, new menu items, new hours and a new name.
Anna Saitis and Manny Saitis bought the restaurant from her uncle Louis Christos, who's in his 80s and wanted to retire. They both grew up in the restaurant business, and her family also owns Round the Clock eateries in Valparaiso and Chesterton.
They have modernized the restaurant on U.S. 30 and renamed it Brothers Breakfast and Lunch since they converted it from a 24/7 diner to a pancake house serving breakfast and lunch. The name honors the brothers who immigrated from Greece and launched the Round the Clock chain in Gary in 1968.
"We took it over with him and rebranded with a new concept," Manny Saitis said. "It's only open for breakfast and lunch because it was important to be able to spend some time with family and watch our kids grow up."
They did extensive renovations, getting rid of the platform in the middle of the restaurant and installing new floors, booths, chairs and lighting.
"It looks a lot more modern," Anna Saitis said. "It's a little rustic and industrial with Edison bulbs and more modern light fixtures. As my husband says, we're trying to make it Round the Clock 2.0."
They kept many Johnny's Round the Clock favorites on the menu, such as bacon and eggs, burgers and Greek pork chops. But they have added many newer items to appeal to younger customers such as chicken and waffles, a chorizo eggs benedict, pork belly benedict, coconut-crusted French Toast, croissants breakfast sandwiches with maple aioli, bacon-stuffed waffles, and pancakes with Nutella, bananas and strawberries.
"We've got the old favorites and trendy brunch items," she said. "We want to keep our old customers happy and reach out to younger markets."
They also retained many of the same employees, including a waitress who has worked there for 30 years.
In the long term, they hope to offer catering to the area and potentially open a second restaurant, likely somewhere in Porter County.
Brothers is open from 6 a.m. to 4 p.m. seven days a week.
For more information, call 219-769-1591 or find the business on Facebook.
The new Now Yoga Club & Community Center celebrated its grand opening last week at 8255 Wicker Ave. in St. John.
The yoga studio offers regular classes, including on Zumba and guided meditation. Owner Sarah Johnson said yoga — a practice of stretching exercises with roots in ancient India — changed her life for the better and she wanted others to enjoy the benefits.
If you've got tips about new stores or restaurants anywhere in the Region, or just wonder what's under construction somewhere, contact NWI Business Ins and Outs columnist Joseph S. Pete at joseph.pete@nwi.com or 219.933.3316.
The business news you need
With a weekly newsletter looking back at local history.