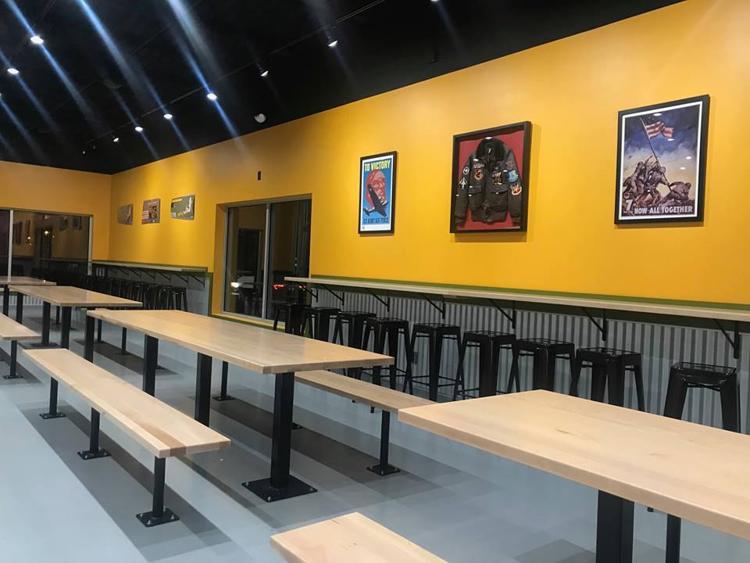 Bombers BBQ, one of the Region's most celebrated barbecue joints, has more than doubled its space in a new location at 435 Ridge Road in Munster.
The military aviation-themed barbecue restaurant, acclaimed for its brisket, rib tips and other smoked meats, has more than doubled its seating in the new space behind Mark O's Bar & Grill in the former Harrison Ridge Plaza, now called the South Shore Plaza. Owners Chris Cole and Anthony Petrocelli had been looking for a larger space to keep up with demand, especially with catering orders.
Bombers had been in a strip mall on Ridge Road next to Johnny's Wings and Burgers since it first opened in April 2013.
"We probably outgrew our last location two and a half years ago," Cole said. "But opening a new facility is costly and we wanted to make sure we were doing it right."
Bombers BBQ more than doubled its square footage from 2,200 square feet to 4,500 square feet, which has been filled with long picnic table benches, stools and double the kitchen space. The restaurant is tripling its smoker capacity.
"We weren't able to take catering orders for weddings and other events on Saturdays," Cole said. "We've had to turn down weddings throughout the summer because Saturday is our busiest day and it was impossible to have enough room in our smoker to do a wedding offsite and meet the needs of our customers in the restaurant. Now we'll be able to cater for up to 500 people and deliver it. We're looking forward to doing weddings, rehearsals, graduation parties and other fun stuff."
The restaurant's sole smoker had been in an outdoor barn, but it will now operate all three smokers inside the kitchen.
"It's great for us and will improve the quality of the meat in the wintertime, because we won't have to move the meat from the cold outdoors," Cole said. "We'll also have the smoker capacity to try and experiment with new menu items, wood combinations and temperature combinations."
Bombers BBQ could start offering short rib dino bones, pulled chicken, whole smoked turkeys for Thanksgiving, and Christmas ham. Diners also can watch the meat being placed into or pulled from the smokers through large viewing windows in the dining room and by the counter.
"It's where the magic happens," Cole said. "It's pretty cool to be able to watch them load or pull meat from the smokers."
Bombers BBQ added four jobs during the expansion and is looking to hire more. It's looking at adding self-ordering kiosks because of the difficulty of finding enough cashiers, and will eventually take all to-go orders online. The restaurant might also partner with a delivery service.
"We'll be able to process orders faster and more efficiently," Cole said.
The barbecue joint's carefully curated selection of bottled craft beer won't return until the middle of February, because it had to reapply for its alcohol permit and couldn't get a hearing scheduled before then.
Dante's House of Pizza, the popular pizzeria founded by the son of the restaurateur behind the legendary House of Pizza in Hammond, has moved just down the street to 1869 45th St. in Munster, right next to Danny Z's.
Danny Zunica, who named the pizzeria after his dad Dante Zunica, owns both establishments.
"We remodeled in both and have a brand new bar with 20 new taps," restaurant manager Leann Humpfer said. "We still have people's favorite things at Dante's: the lunch buffets, the pasta bar, and the dinner buffet on Thursday."
The new restaurant seats about 60 to 70 diners, and is connected by a doorway to Danny Z's, which can accommodate up to 110 people.
"The space was available, and the owners thought it made sense," she said. "Now we're all under one location instead of split between them."
Dante's has been remodeling the space and transporting over much of the art that decorated the previous location, at 1734 W. 45th St.
"We moved some art over so it has the old familiar feel," she said. "But it's a more modern space that's newly remodeled and so beautiful."
Fans of the popular Fat Burrito in Crown Point might want to check out a new Mexican restaurant in Merrillville.
Fat Burrito alum Javier Paredes, with Edgar Tapia and Round the Clock veteran Freddy Palma, opened El Poblano Mexican Restaurant in the former Delta restaurant space at 7600 Broadway in Merrillville. Paredes is the brother of Benjamin Paredes, one of the Fat Burrito owners, and he and Tapio worked there for years before striking out on their own. 
"We decided to find our own place," he said. "Some of our food is the same. I changed the name but we also have a large burrito with a 16-inch tortilla, melted cheese and red or green sauce on the top."
Paredes said they invested a lot of money in renovating the former Delta restaurant, such as by installing all new booths.
El Poblano specializes in traditional Mexican cuisine.
"There are more Tex-Mex restaurants around," he said. "This is more authentic Mexican food. We make the rice and beans fresh every day."
The 3,000-square-foot restaurant employs five and seats about 74 people. The menu includes carne asada, steak a la Mexicana, tacos and burritos. The El Poblano special piles steak, chicken, and shrimp on rice mixed with green peppers and onions, which is smothered with cheese sauce and ranchero sauce.
Breakfast items include steak and eggs and chilaquiles.
"We served authentic Mexican food," he said. "If you think the food at Fat Burrito is good, you will like our food."
El Poblano is open from 10 a.m to 9 p.m. Sunday through Thursday, and from 10 a.m. to 10 p.m. Friday and Saturday.
For more information, call 219-525-4193 or find El Poblano on Facebook.
Nick's Tavern, a Lemont bar that has been featured on Chicago's Best on WGN, is taking over the former Carlo's Pizzeria/Big Butt BBQ at 13231 Wicker Ave. in Cedar Lake.
"We're bringing our famous one-pound burger to Northwest Indiana," Nick's Tavern announced on its Facebook page.
Billing itself as a great place to watch the Chicago Blackhawks, football or other sporting events, Nick's has been serving its massive and acclaimed Nickburger since 1945, and keeps its beers "ice cold in its unique Bevador cooler."
The Cedar Lake location will serve lunch, dinner and drinks, offering waiter service and outdoor seating.
Pizza Hut, one of the largest pizza chains in the country, opened a new restaurant at 13300 Lincoln Plaza Way in Cedar Lake a few weeks ago.
The Yum Brands subsidiary is known for its restaurants' distinctive red roofs, the Book It! program that rewards young readers with personal pan pizzas, and of course the "Combination Pizza Hut and Taco Bell" song.
Pizza Hut says that "no one outpizzas the hut," a claim which could not be verified as of press time.
The carryout restaurant, which also delivers, is located in a strip mall just south of Hanover Central High School.
The Pizza Hut is open from 10 a.m. to midnight Sunday through Thursday, and from 10 a.m. to 1 a.m. Friday and Saturday.
For more information, call 219-374-6845.
If you've got tips about new stores or restaurants anywhere in the Region, or just wonder what's under construction somewhere, contact NWI Business Ins and Outs columnist Joseph S. Pete at joseph.pete@nwi.com or 219.933.3316.
The business news you need
With a weekly newsletter looking back at local history.