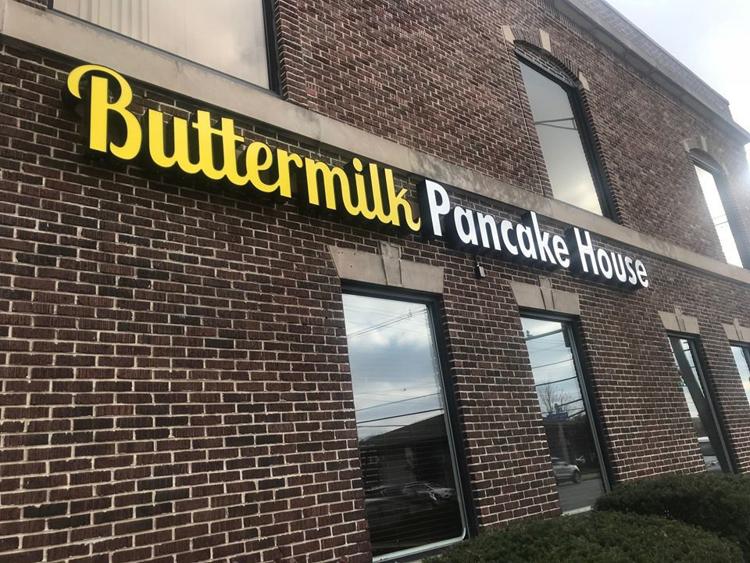 Buttermilk Pancake House isn't just another diner, one of many to sling omelets and bottomless cups of coffee in Northwest Indiana.
The new restaurant at 805 Ridge Road in Munster aims to bring a taste of downtown to the Region.
The pancake house — meaning it's only open for breakfast and lunch — recently opened in the former El Salto space in the historic Old Town Hall at Ridge Road and Calumet Avenue in Munster. It will celebrate its grand opening Monday with complimentary upgrades to specialty pancakes.
"We have some unique items like our pineapple upside down pancakes and very berry bliss pancakes with blueberries and mascarpone cheese," owner Sam Yfantis said. "We wanted to bring downtown into the area, into the Region, but we still have traditional breakfasts for those that prefer that."
Yfantis grew up working in his parents' restaurant in Chicago and has owned restaurants in the city and Wisconsin.
"I like this area," he said. "A lot of people are moving into the Region. I see a lot of growth. There's a lot of condos coming to Centennial Park. It's an awesome location."
The 4,600-square-foot restaurant seats about 135 diners and employs about 25 workers. Buttermilk Pancake House makes all its batter from scratch and prepares its three-egg omelets in the French way, cooking them in a pan and finishing them in the oven. The lunch menu features items like a triple-decker Monte Cristo sandwich served with either fruit or French fries.
The extensive menu includes pancakes, French Toast, waffles, crepes, blintzes, biscuits and gravy, breakfast combos, salads, Black Angus burgers and club sandwiches. It boasts both a My Big Fat Greek Omelet and a My Big Fat Greek Salad, as well as The Ron Swanson Sweet N Savory. Named after the breakfast food-loving parks director from "Parks and Recreation," the Ron Swanson is a bacon-filled waffle topped with more bacon and cheesy scrambled eggs.
"I made it up myself while I was watching the show," he said. "It was delicious with syrup. It's our alternative to the chicken and waffle that so many places are doing."
Yfantis said he eventually would be interested in opening more Buttermilk Pancake House locations in the area, but said he planned to take it slow and focus on getting the Munster diner established.
Buttermilk Pancake House is open from 7 a.m. to 3 p.m. daily.
For more information, call 219-513-8119.
Dicky's Dogs, a Chicago-style hot dog joint, celebrated its grand opening Monday at 108 W. Commercial Drive in Lowell.
The fast-food restaurant serves Chicagoland favorites like Chicago dogs, Maxwell Street Polishes, gyros, Italian beef, pepper and egg sandwiches, pizza puffs, and the Italian breaded steak sandwiches that are popular in Bridgeport and on the South Side. Its extensive and varied menu also includes burgers, tacos, burritos, salads, fried pickles, salads and wraps, as well as desserts like ice cream and milkshakes.
The Chicago dog costs $2.95, and nothing on the menu runs more than $8.49 if you feel like splurging on a double gyros burger.
It's a family-owned restaurant with both inside and outside seating. Dicky's Dogs offers take-out, delivery, and catering.
"It's been a great response so far," owner Nick Filetti said. "It's been crazy open to close."
Dicky's Dogs is open from 10:30 a.m. to 9 p.m. Sunday through Thursday, and from 10:30 a.m. to 10 p.m. Friday and Saturday.
For more information, call 219-300-3434 or find the business on Facebook.
Spike's Lakeside 2, a downtown Schererville institution known for its walleye, perch and frog legs, has been sold and will be renamed Greg's Place.
"With mixed emotions, we would like to announce the sale of Spike's Lakeside," owner David "Spike" Jaroszewski announced on Facebook. "We would like to thank everyone for the past 33 years of your patronage and friendship. Good news is, a great friend has purchased it. The new name will be Greg's Place, also the staff is staying on. Menu and salad bar to be continued. May God bless everyone."
Jaroszewski and his wife Carol opened Spike's Lakeside Inn on the southeast side of Chicago in 1985 and opened a second location at 21 E. Joliet St. in downtown Schererville in 2000. They closed the original location on Ewing Avenue on Chicago's East Side four years later.
The restaurant and bar serves up seafood, ribs, pork chops and other entrees with a traditional salad bar that includes beets, cottage cheese and kidney bean salad. It's especially known for seafood like smelt, whitefish, catfish, crab cakes and shrimp.
For more information, call 219-322-4444.
The landmark Bright Spot diner in downtown Hobart closed in 2016 after a 36-year run.
Owners George Fitusis, then 84, and Angie Fitusis, then 74, wanted to retire but couldn't find a buyer. But they announced earlier this year on Facebook they finally sold the restaurant at 322 Main St.
The old-school Bright Spot had a vintage lunch counter and a traditional diner menu with omelets, skillets, and triple-decker club sandwiches.
The new owners are currently looking for someone to rent it out to.
Great Clips plans to open a new hair salon at 2270 Morthland Drive in Valparaiso. 
The hair care chain will be located in front of Strack and Van Til and next to GNC on U.S. 30. Operations Manager Brittany Fitzsimmons said it should open by the end of the month and is looking to hire local stylists.
The 1,200-square-foot salon will employ 12 stylists and offer $7.99 haircuts for the first few weeks.
Great Clips, a Minneapolis-based chain with more than 4,100 locations that pulls in more than $1 billion a year in revenue, also has a location over on the east side of town at 2710 Laporte Ave Ste 130 in the Valparaiso Marketplace shopping center.
The new location will be open from 9 a.m. to 9 p.m. Monday through Friday, 9 a.m. to 6 p.m. Saturday, and 9 a.m. to 5 p.m. Sunday. 
R&R Sports Bar & Grill in the U.S. Steel Yard in downtown Gary was closed Wednesday and Thursday, but was just being deep-cleaned in preparation for the baseball season and resumed normal operations Friday.
Class UFC Gym at 10417 Calumet Ave. in Munster celebrated its grand opening Saturday.
The gym offers fitness-focused boxing workout classes and High-Intensity Interval Training, or HIIT, workouts. 
For more information, call 219-803-414, visit classufcgym.com or find the business on Facebook and Instagram.