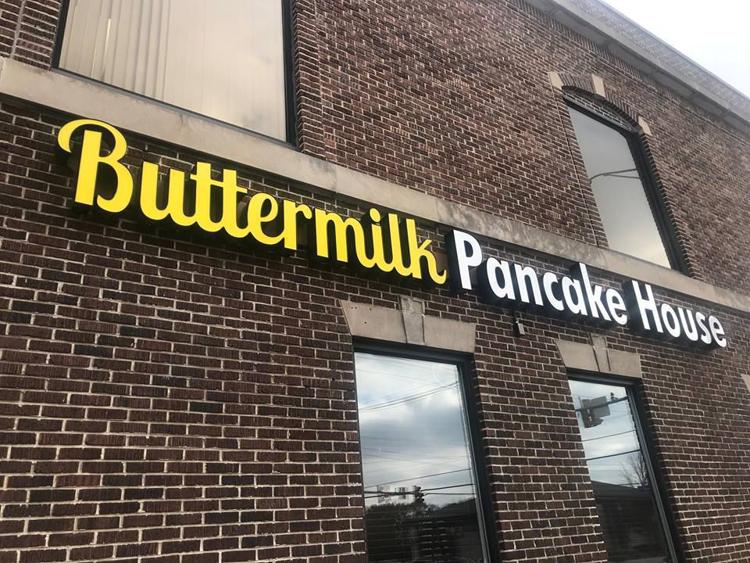 Petros House of Pancakes and Restaurant served its final omelet in Merrillville this summer, but a new diner stepped in to fill the space in the Crossroads Plaza Shopping Center.
Country Pancake House is now slinging eggs, biscuits and gravy and coffee at 6190 Broadway in Merrillville. The 160-seat breakfast-and-lunch pancake house, which employs 11 workers, opened two weeks ago.
Owner Jose Perez has worked in restaurants for years after starting as a dishwasher, and always dreamed of opening his own place. Now his dream has become a reality.
"He worked really hard all his life from the ground up," employee Kathy Taylor said. "After learning how to bus tables 30-some years ago, he worked really hard. He opened this restaurant through blood, sweat and tears."
Perez took over Petros in August and has since been renovating the building.
"We worked to make it nicer inside with a pleasant, clean atmosphere," Taylor said. "We try to give great service to the customers, who were glad to see the place come back. It is an entirely new entity with entirely new owners."
Country Pancake House has kept many favorites on the menu for the regulars who continue to frequent it. It serves omelets, burgers, skillets, biscuits and gravy, grits, homemade rolls, chili, burgers, soups like stuffed pepper and chicken lemon rice and, of course, pancakes, offering "big, generous portions."
A top seller has been the meat lover's omelet with sausage, ham, bacon, green pepper, onion and cheese.
"He loves to make breakfast," Taylor said of Perez. "We pride ourselves on customer service, good meals at an affordable price and being part of the neighborhood."
Country Pancake House is open from 6 a.m. to 4 p.m. seven days a week.
For more information, call 219-888-9858 or find Country Pancake House on Facebook.
Also in pancake news, Buttermilk Pancake House is moving into the former El Salto space in the historic Old Town Hall at Ridge Road and Calumet Avenue in Munster. The new restaurant at 805 Ridge Road is now hiring and invites walk-in job applicants.
Sir Mix-a-Lot, who could not lie, likely would have liked Carlo's Pizza/Big Butt BBQ in Cedar Lake, but not enough people in town did to keep it open.
The pizza and barbecue restaurant at 13231 Wicker Ave., whose logo featured a cartoonish pig with an ample posterior, closed without warning. Its phone number was disconnected, its website was down, and the owners could not be reached for comment.
Opened in 2013, Carlo's Pizza/Big Butt BBQ was a family restaurant and sports bar that served barbecue styles from across the country, with a focus on South Side Chicago BBQ. It had an outdoor patio with cornhole games, and was known for its brisket and generous portions of ribs.
Vegas Cafe ran out of luck and closed in Schererville, but a new owner likes the odds of its succeeding.
The restaurant at 800 Cedar Parkway, a rare independent in a stretch of Indianapolis Boulevard that's heavily dominated by chains, opened in 2016. Vegas Cafe specialized in oven-baked, often open-faced sandwiches with Vegas-inspired names like the MGM Grand, Mirage, Venetian, Monte Carlo, Belagio, Excalibur and Flamingo. 
Splashy Sin City decor lined the walls, and daily raffles and live musical acts gave diners in the Tri-Town a little taste of the Vegas experience.
The restaurant shuttered without explanation, but signs in the windows Thursday said it would reopen soon under new management.
Also in Vegas-themed restaurant news, the Vegas Baby Cafe is looking to open in the former Zuchez Restaurant and Bar at 211 N. Broad St. in Griffith.
Zuchez opened just north of downtown Griffith in 2017, aiming to be a nightclub with dancing, 64-ounce margaritas, a downtown date night-like restaurant and a breakfast joint serving biscuits and gravy. It lasted less than a year.
Business Ins and Outs
Times business reporter Joseph S. Pete provides the details on what's coming and going in the Region retail and restaurant world.
If you've got tips about new stores or restaurants anywhere in the Region, or just wonder what's under construction somewhere, contact NWI Business Ins and Outs columnist Joseph S. Pete at joseph.pete@nwi.com or 219.933.3316.