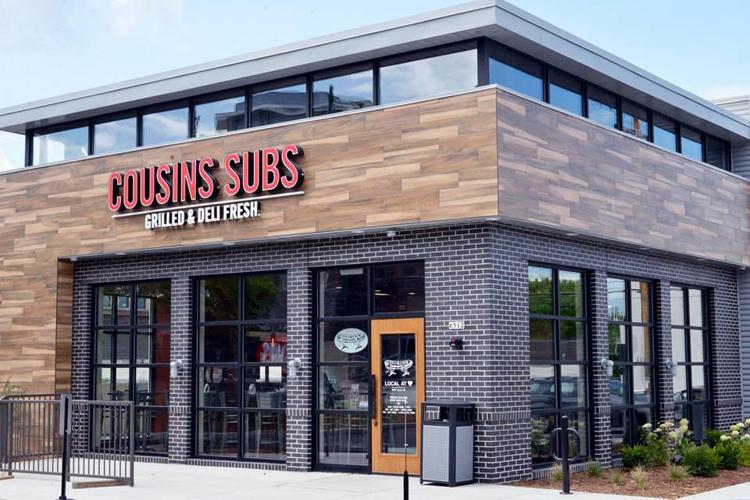 The Wisconsin favorite Cousins Subs is aiming for a July opening in Crown Point.
The Milwaukee-based chain plans to serve its East Coast-style deli sandwiches, grilled cheesesteaks, floats and shakes in a new strip mall at 10533 Broadway St, Suite A in Crown Point. Founded by cousins 47 years ago, the sub shop has a menu that's heavy on Wisconsin specialties like Sprecher Root Beer and cheese curds.
"It should open this summer. The building is now being built at 107th and Broadway," Cousins Subs Vice President of Development Joseph Ferguson said.
Cousins Subs now has more than 90 locations across Wisconsin and has been expanding aggressively into the Chicago market. Franchisees Amit Patel and Kalpesh Patel, who is a Munster resident, plans to open 40 sandwich shops across greater Chicagoland by 2025.
"It the first wave, we've got seven new restaurants opening," Ferguson said. "It should be five to eight new locations a year."
The Crown Point restaurant, which will have a drive-thru, is the only Cousins Subs location currently slated for Northwest Indiana, but Ferguson said the Patels may decide to open more in the Region.
"We look at high-density areas with a lot of traffic and retail," he said. "We like to be in multitenant buildings."
Cousins Subs Director of Operations Kevin Dinnen said the space in the strip mall under construction should be turned over to Cousins Subs in late May and the business should be ready to open sometime in July. The 1,800-square foot restaurant will open 15 to 20 workers and seat 30 to 40 customers.
"It will probably be open from 10:30 a.m. to 9 p.m.," he said. "We just opened our first Chicago location at 120 W. Madison and it's been received very well. Wisconsin transplants are very happy and other customers have been pleasantly surprised."
The Crown Point location will be Cousins Subs' first in Indiana, but the chain also is eyeing the Indianapolis, Lafayette and Fort Wayne markets, where it's actively looking for franchisees, Ferguson said.
"We just need the right partners to help us grow," he said.
You can bet that Vegas Cafe in Schererville has been reborn as Vegas Cafe Bistro.
Jorge Armando and Shelly Ann Armando, the owners of Skillet's Bistro in Highland, bought the Vegas Cafe restaurant at 800 Cedar Parkway in Schererville last year and reopened it under the slightly tweaked name of Vegas Cafe Bistro in February. The restaurant specializes in breakfast and lunch, and offers the Skillet's Bistro breakfast menu in addition to its own.
It runs many specials such as $0.99 Chicago-style hot dogs between 2:30 and 5 p.m. for Lake Central students, free pancakes for children with disabilities under the age of 12 years old, and discounts for seniors and veterans.
"It's a truly American-style cafe," he said. We offer chili every day, and lemon rice soup every day. We have daily specials like chicken stir fry or Italian. Two people can eat here for under $25, including drinks. We have the same objective as with Skillets. We want to make our customers our friends, and give them the best food, prompt service, and respect."
The bistro secured a beer and wine license and plans to start offering local beers, wine and the mimosas that are popular at Skillets. It serves Kona coffee from Hawaii, espresso that's been imported from Italy and healthy drinks like Sobe Water or watermelon juice since it's close to a few gyms.
Vegas Cafe Bistro seats about 42 inside and will add another 22 seats on an outdoor patio when it's warmer.
"We're hoping to attract people with a good summer ambiance," Jorge Armando said. "We welcome everybody here. We have a lot of specials and low prices. We want to give the community what they want. We want to be friends with our customers."
Vegas Cafe Bisto is open from 7 a.m. to 7 p.m. seven days a week.
For more information, call 219-322-6601.
The 102-year-old Crown Theatre on the courthouse square in downtown Crown Point showed its last movie years ago, but will finally get a sequel as a performing arts center this summer.
New owner Brad Strom bought the one-screen, 497-seat movie theater at 19 N. Court St. and has been extensively renovating it for months. He added a stage for live entertainment like music, theater and stand-up comedy.
Originally slated to reopen by December, Crown Theatre just announced on Facebook it would have a grand opening celebration with food and drinks from 7 to 11 p.m. on July 20. It added a number of future events, including a comedy night, a murder mystery dinner, a disco night dance party, dueling pianos, an adult Halloween costume party, and a special screening of "The Grinch" just before Christmas. It's scheduled a jazz brunch, a princess brunch, an Elvis impersonator night, concerts with Pink Floyd cover band Echoes of Pompeii and M&R Rush, and screenings of movies like "The Sandlot," "Hocus Pocus" and "Polar Express."
For more information, find Crown Theatre on Facebook.
The beloved 49'er Drive-In Theatre, one of the last drive-in movie theaters around, expects to reopen for the season on Friday, April 19.
Entertaining generations of Porter County residents since 1956, the outdoor movie theater is located at 675 N. Calumet Ave. in Valparaiso. Named one of the top 10 drive-ins in the country by USA Today, the 49'er offers a menu of hot dogs, hamburgers and pork fritters to enjoy in your car while watching the movie and streaming the sound in through the car radio.
The 49'er has not yet announced what will be showing will it reopens for the spring.
For movie times, call 219.462.6122.
If you've got tips about new stores or restaurants anywhere in the Region, or just wonder what's under construction somewhere, contact NWI Business Ins and Outs columnist Joseph S. Pete at joseph.pete@nwi.com or 219.933.3316.