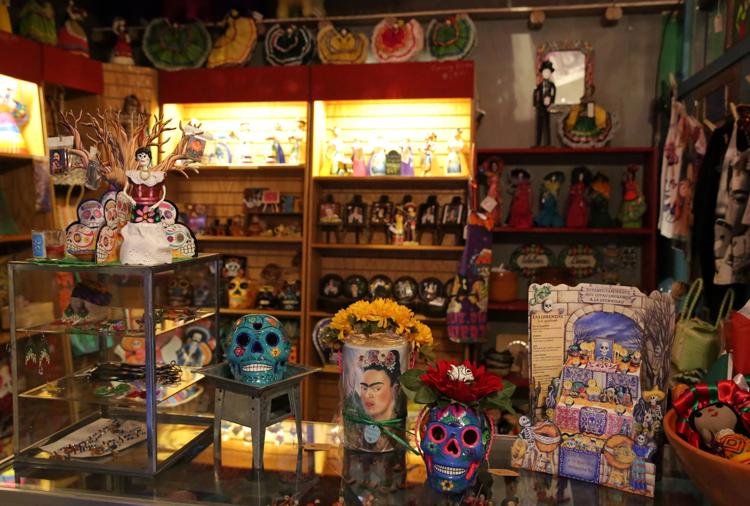 The artsy Frida's Café, a cafe and art gallery in Hammond's Hessville neighborhood named after the internationally renowned painter Frida Kahlo, has closed, but is open to the possibility of reopening at a new location at some point in the future.
"We are sorry that we are forced to close Frida's Café at our Hessville location permanently," the coffee shop and restaurant posted on its Facebook page. "We had hoped we could resolve the technical difficulties with the kitchen facilities but unfortunately that has not happened. We apologize for any inconveniences that these issues may have caused you. We are looking into our future possibilities and welcome your continued interest in our venue and events. If you would like to be notified about our progress, please feel free to join our Facebook and Instagram page."
Owner Maria Cokys-Reyes moved the cafe to 6725 Kennedy Avenue in the White Ripple Gallery Hammond a few years ago, relocating it from downtown East Chicago. The coffee shop and restaurant was colorfully decorated with copies of Kahlo's paintings, Day of the Dead skulls, and festive Mexican folk art.
It aimed to expose people to Mexican food beyond tacos and burritos, offering items like molletes bean and cheese bread and guajalotas, a torta from Mexico City that stuffed two tamales and various toppings into a bolillo roll, as well as a full range of coffee drinks.
Coyote Cantina in Schererville, a chef-driven restaurant that cooked up elevated, contemporary Mexican cuisine like one might find in Chicago, abruptly closed, but may just be tinkering with its concept.
"Coyote Cantina is currently closed," a sign posted on the door said. "Please watch for exciting new changes in the near future! We apologize for any inconvenience and truly appreciate your patronage."
Chef Dudley Nieto, who's opened a number of restaurants such as Mezcalina, Adobo Grill and Chapuline in Chicago, and Bar Taco, Rosa Mexicano-Lincoln Center and Dos Caminos Park Avenue in New York City, came up with the concept for the Schererville restaurant, which served fine modern Latin cuisine and speciality tequila-based cocktails made with fresh fruits. It opened last year.
The sit-down restaurant had replaced the defunct Bagger Dave's at 1090 U.S. 41 in a strip mall anchored by Planet Fitness.
The Market at 119 has been auctioning off inventory like rustic windmills, hanging olive buckets and round Santorini beach towels as it prepared to close its current location at 1600 119th St. Suite B in Whiting at 5 p.m. Saturday.
The owners of the boutique told customers on Facebook they plan to relocate, but don't have a location picked out yet.
The family-owned business opened in downtown Whiting in 2017, selling shabby-chic farmhouse decor, country vintage, architectural salvage, restored home furnishings and unique home decor. It carried many locally made items like biscotti, bath bombs, toffee and handmade purses.
Keep reading for FREE!
Enjoy more articles by signing up or logging in. No credit card required.
The fitness boutique studio She Fit is getting warmed up in Dyer.
The studio at 14785 W. 101st Ave. specializes in group fitness class for women of all fitness levels, including cardio kickboxing, cardio bounce, high-intensity interval training, Pilates, and "inner vixen."
"We're excited to bring our new fitness experience to Dyer, and we encourage everyone to come check out the new club, meet our amazing staff, get a tour and see what She Fit is all about,"  She Fit Member Engagement Manager Cheryl Nelson said.
A grand opening with hors d'oeuvres, refreshments and class demos will take place from 12 p.m. to 4 p.m. Sept. 1.
The Kiddie Academy plans to open an educational child care facility in Crown Point in early 2019, likely January or February.
The business offers full-time care, kindergarten before- and after-school care and educational summer camps to children between 6 weeks and 12 years. 
"Although scheduled to open in January or February 2019, the owners are excited to introduce their well-trained, attentive staff to local area parents and some of the 36,224 children in Lake County," spokeswoman Vitoria Perez said. "They look forward to assisting local children in developing the confidence and self-esteem necessary they need to meet the challenges of tomorrow."
The bakery Nothing Bundt Cake is coming to Schererville's Shops on Main shopping center, town manager Robert Volkmann said.
Nothing Bundt Cake, which has locations across the country, including many in the Chicago suburbs, will fill in the vacant space where Firehouse Subs used to be in a strip mall out by Indianapolis Boulevard, Volkmann said. The bakery specializes in bundt cakes made with real eggs, butter and cream cheese in flavors like chocolate chip, vanilla, red velvet, lemon, pecan praline and white chocolate raspberry.
Volkmann said the build-out would likely take some time, because the kitchen of the former sandwich shop would need to be transformed into a bakery.