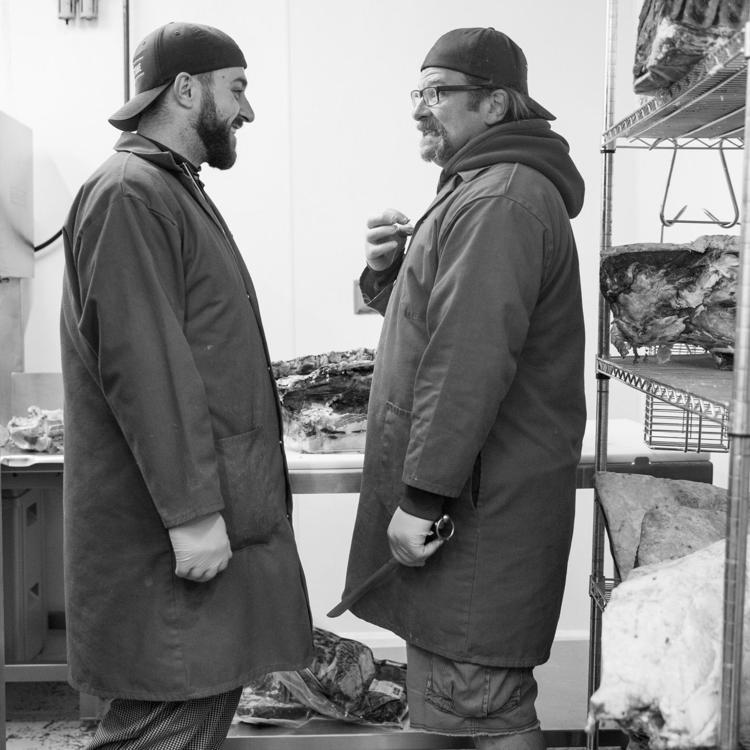 A former fourth-generation Region ironworker moved to New York City for a change of scenery, went on to supply meat to some of America's most celebrated restaurants, including Alice Waters' Chez Panisse, and returned to Northwest Indiana where he's opened a whole animal butcher shop.
Highland native Ricky Hanft opened The Wurst at 130 N. Broad St. next to the Charcuterie specialty food shop in downtown Griffith. The space was formerly occupied by the longtime institution C&R Stationery Store, which closed last year after 56 years. 
"Right now we're just doing deer processing for the season," Hanft said. "Next spring, we're going to open a full animal butcher shop that will serve pasture-raised and antibiotic- and hormone-free animals from small family farms."
Hanft sold his house and went to New York in 2014 to find a job as an ironworker, but the former culinary school student ended up as an apprentice for Josh and Jessica Applestone of the Applestone Meat Company, pioneers in craft butchering of ethically sourced animals. He ended up managing The Local Butcher Shop in Berkeley, California, where he was mentored by Aaron and Monica Rocchino and oversaw the delivery of meat to some of the most acclaimed restaurants in the Bay Area.
Hanft was partly drawn back home by the quality of pork he tried from Howe Farms near Crown Point, where the free-range hogs are not fed corn or soy or treated with hormones.
"They don't even have a barn," he said. "It's the opposite of a factory farm. It's family farming where many hands make light work. They have a phenomenal breed that exceeds what I've seen while supplying meats to the highest quality restaurants in the country. It's the best pork I've seen anywhere."
The Wurst will process whole deers through the end of January. Hanft hopes the new butcher shop will contribute to a one-stop-shop in downtown Griffith for hunters.
On a one-block stretch of Broad Street, sportsmen can buy rifles, bows or ammo at Blythe's, get their bucks mounted and caped at American Natural Resources, get the meat processed at The Wurst Meats and pickup spices and rubs to cook the venison with at Charcuterie next door.
When the retail butcher shop opens, Hanft plans to sell ethnic sausages from all over the world.
"We won't just have the usual Italian, Polish, brats, chorizo, snack sticks and stuff like that," he said. "We want an emphasis on all the cultures of the Region and the melting pot of our country. We're going to have sausages ranging from Thai to Spanish. Food, like music, is for everybody. We want to bring people together... Good, quality food is not synonymous with fancy and expensive. There will always be something for everyone at my shop."
The Wurst is named after German and Austrian sausages, but also a reference to Hanft's philosophy of using every part of the animal.
"Most of the butchers butchered whole animals before the Chicago Stockyards, which led to specialization," he said. "People stopped breaking down whole animals from start to finish and butchers only bought hot sellers like New York Strips, ribeyes and tenderloins. Farmers were left with less than desirable parts like shanks, offal, bone and skin. I take those things that are less than desirable by making them into value-added products like pastrami from beef heart or corned beef from beef tongue."
Since returning to the Region, Hanft has done butchering demonstrations for Provecho in Crown Point. He's looking to do collaborations with such existing businesses, including Grindhouse Cafe a few storefronts down Broad Street.
"I've been surprised by how much the Region has changed," he said.
The Wurst will be open from 7 a.m. to 7 p.m. daily during deer-hunting season, and will likely be open from 11 a.m. to 7 p.m. when the retail operation is added next spring.
An Amish doughnut shop that's drawn lines in Valparaiso will open its second Northwest Indiana location in Schererville.
Rise'n Roll Bakery plans an Oct. 25 grand opening at 1542 U.S. 41 in Schererville. It's in the Fountain Park Shopping Center off Indianapolis Boulevard, just north of U.S. 30 at the busy intersection that's known as "the Crossroads of America."
In addition to doughnuts, the Middlebury, Indiana-based chain, which has 10 locations across the state, sells apple fritters, Dutch apple pies, cinnamon rolls, other baked goods, butter, apple butter, noodles, cheese and jarred foods. Its offerings include powdered, frosted and glazed doughnuts, a soft-serve ice cream-filled doughnut and a cinnamon-caramel doughnut topping nicknamed "Amish crack."
The first Rise'n Roll in Northwest Indiana in Valparaiso in 2017. The carryout-focused restaurant bakes fresh doughnuts with no preservatives and homemade butter every day.
It also has restaurants in Fort Wayne, Greenwood, Mishawaka, Elkhart, Plymouth, Napanee and its home base of Middlebury.
Tobacco Island, an upscale tobacco and vape shop, will open its second Northwest Indiana location in Schererville.
The retailer is moving into the endcap of a two-tenant building it shares with Arby's at 700 W. Lincoln Highway in Schererville. The space was formerly occupied by Nutrishop, which recently closed.
"Ownership and management of Tobacco Island have been great to work with. They are very passionate about their stores and extremely knowledgeable about all their products," said Myles Rapchak with the Schererville-based commercial real estate firm Latitude Commercial, who represented Tobacco Island in the lease. "They go above and beyond all expectations to meet their customer needs and I have no doubt this new location will be huge success."
The store is expected to open late this fall.
"We were happy to get the building back to 100% occupancy within a few months for the owner," Latitude Commercial Senior Vice President Brett McDermott said. "It's a great location and we feel that the tenant will be very successful here."
MXM Studios Skin Spa has opened in Crown Point.
It's located inside of Sola Salon at 115 E. 107th Ave Suite 26 in Crown Point.
"Owner Mandy Pelaquin offers a variety of unique options for facials, body wraps and waxings," the business said in a news release. "Each is designed to meet your special needs and Mandy will help you determine which is right for you. Lash extension service is also one of Mandy's many skills."
She's a Tricoci University graduate and a licensed esthetician who has taken additional training for eyelash extensions and microblading.
"Mandy has been obsessed with health and beauty for as long as she can remember," according to the press release. "She initially started her training as a massage therapist. After a family member dealt with hard to clear acne, Mandy decided she wanted to learn more about skincare… Mandy loves seeing the results of the treatments — whether it is lashes that frame the eyes, treating acne or simply a relaxing facial."
The business is open by appointment only from 10 a.m. 6 p.m. Monday through Saturday.
For more information, call 219-262-2012.
If you've got tips about new stores or restaurants anywhere in the Region, or just wonder what's under construction somewhere, contact NWI Business Ins and Outs columnist Joseph S. Pete at joseph.pete@nwi.com or 219-933-3316.
The business news you need
With a weekly newsletter looking back at local history.