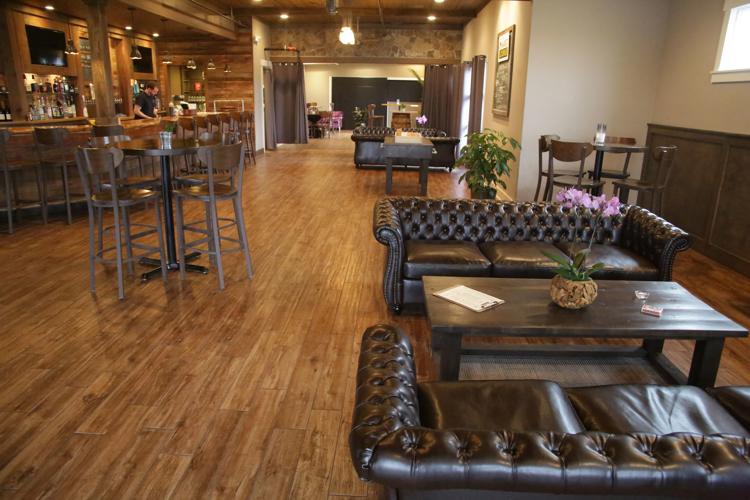 The Market Gathering and Events hall in Valparaiso has opened a sophisticated craft cocktail bar with an emphasis on gin.
The trendy Market Lounge at 2405 E. Morthland Drive, the former Strongbow Inn, is whipping up cocktails including a modern interpretation of the Harvey Wallbanger with vodka, fresh orange, Galliano, mandarin marmalade and a sage leaf topping, and The Old Brooklyn, a spin on the Manhattan with bourbon, maple simple syrup, sweet vermouth, orange bitters and Luxardo cherry.
The Market also serves small plates including truffle fries and an "Adult Lunchable" charcuterie plate with Smoking Goose's Gin and Juice salame, as well as desserts like campfire s'mores served in a sealed mason jar, from which wood smoke puffs out when it's opened to evoke a sensory memory of a campfire.
"We opened a portion of the restaurant space as a cocktail lounge and pulled from some of the cooler hotel lobbies and lounges we've been to," owner Jay Rudy said. "We wanted a place where people can have a nice drink and hang out with friends. It's gin-focused because that's what we like to drink. We juice all of our citrus, use fresh premium ingredients and proper technique. There's technique and artistry to what we create."
The 21+ non-smoking lounge aims at a relaxing vibe with comfy leather couches, chess boards, and an arcade game that lets people play many different vintage games.
Rudy, along with Corey and Blair Muro, who also run Tomato Bar and Ricochet Tacos, took over the Strongbow space by U.S. 30 and Ind. 49 in 2016 after Luke Oil had made a last-ditch effort the save the legendary turkey dinner restaurant, a Region institution for more than 75 years. The new owners initially had a contemporary southern restaurant at the site, but shifted focus to weddings, banquets and other special events.
The Market started doing pop-up restaurants last year and was looking to expand upon that.
"We wanted to open it up more to the public and get people excited," Rudy said. "This will get more interaction than we do as an event hall."
A light food menu focuses on shareable plates, such as truffle tries, artichoke dip, duck confit on focaccia bread and veggie spring rolls. It offers different Adult Lunchables with a variety of cured meats, like the lamb Gin and Juice and Stagberry elk with blueberry; fancy cheeses like Cypress Grove Humbolt Fog and Beehive Cheese Teahive. The Adult Lunchable also comes with peppadew peppers, fried chickpeas, maple mustard and warm baguette.
"We've got a lot of cool stuff that goes beyond typical bar fare. We don't have any entrees but we have enough plates to make a meal," Rudy said. "They're super-shareable plates you can share with a group of people. You can just hang out with your friends with no hassle of feeling you have to leave after finishing a meal."
In addition to cocktails, including The Last Word, comprised of Hendrick's Gin, Green Chartreuse, Luxardo Maraschino liqueur and lime juice, The Market Lounge offers a selection of 10 craft beers on draft, including beers from Lagunitas, Revolution, War Pigs and Upland.
It seats about 50 people inside and will have a patio and live music. The room can be rented out for private parties and corporate functions and for weddings.
"Any wedding that ends in the grand hall also can continue the party there while it remains open to the public," Rudy said. "The ambiance is definitely modern. It's a nice setting, very intimate, with really comfy couches and armchairs."
The Market will be open from 5 to 11 p.m. Monday through Saturday but will stay open later if it is busy enough.
For more information, visit www.themarketvalpo.com, find it on Facebook or call 219-531-0162.
Open
Fresenius Dialysis Center has opened at 4016 Main St. in East Chicago's Indiana Harbor neighborhood.
The treatment facility for those suffering from kidney failure is located in a new 9,000-square-foot building in the Main Street Downtown Corridor. The city and a developer partnered to replace an abandoned building in a $5 million redevelopment project. The new kidney care center was built on what had been a brownfield site.
For more information, call 800-881-5101.
Open
Ashley Furniture HomeStore took over the big-box store formerly occupied by H.H. Gregg and Borders in the Highland Grove shopping center in Highland.
The furniture retailer had a grand opening for its new showroom at 10135 Indianapolis Blvd. Saturday.
The store sells a variety of home decor, rugs, accessories and, of course, furniture, including sofas, mattresses and full bedroom sets. The Wisconsin-based retailer sells Ashley Furniture-brand products at more than 700 locations nationwide, including at 1550 E. Lincoln Highway in Merrillville.
A Schererville store a few miles south of the new Highland location closed in 2017.
Relocated
2 Old Goats Market moved from an industrial park in St. John to Cedar Lake.
The boutique shop is now located at 12615 Wicker Ave. 2 Old Goats sells repurposed antiques, women's clothing, vintage items, jewelry, candles, Dixie Belle Chalk Paints, man-cave essentials, gourmet specialty food and locally made artisan goods, including from Mother Wilma's, Smudge's Organics, The Gourmet Goddess and Wooden Jacket.
2 Old Goats teaches painting classes, and owner Abbey Sylvester said many events and workshops were coming up.
The store is open from 10 a.m. to 5 p.m. Tuesday through Saturday. For more information, call 219-390-7183 or find the business on Facebook.
Closed
Tri-town residents will have a harder time finding jerk chicken now that Phil's Caribbean Cuisine has shuttered its Schererville location.
The Jamaican restaurant opened in 2017 at 2330 Cline Ave. in a strip mall just south of U.S. 30 by Van Tobel. The 50,000-square-foot restaurant space, which replaced the Sal y Limon Mexican restaurant, had 60 seats and was extensively renovated by Phil's owners.
Fans of Caribbean dishes like curry chicken, beef oxtail and bone-in whole red snapper can still try Montego Bay Grille in downtown Hobart or the Cool Runnings restaurant and food truck in Michigan City.
Closed