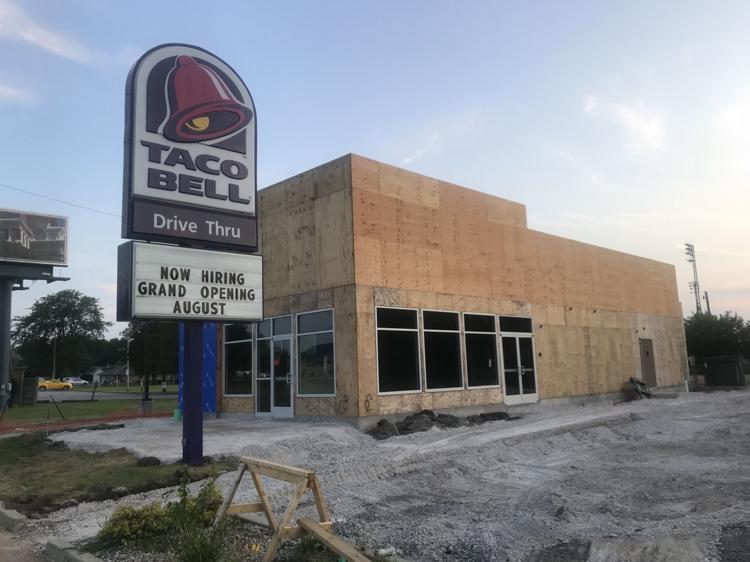 Crown Point residents have not been able to live mas or run for the border in town since April, when the Taco Bell restaurant at 1483 N. Main St. was razed because of structural problems.
The fast-food eatery known for its chalupas, quesadillas and burritos was supposed to reopen in August, but delays pushed that back. A company spokesperson said the Taco Bell should reopen in the first week of December.
Crown Point Building Administrator Joe Cash said Irvine, California-based Taco Bell, a subsidiary of Louisville-based Yum Brands, switched general contractors midway through the $800,000 rebuild. The Tex-Mex eatery that brought the world the Dorito Chip-dusted Doritos Locos Taco, the Fritos-stuffed Beefy Fritos Burrito and the $1 breakfast burrito invested $800,000 in the complete rebuild.
"A building permit is good for two years and appears that job is not even close to completion," Cash said.
Restaurant Specialties was the original general contractor, but Integrated Construction Solutions since has taken over the project, he said.
Walgreens plans to close its drug store at 720 W. Chicago Ave. in downtown East Chicago on Nov. 6.
The Deerfield-based pharmacy chain, the second-largest in the United States after CVS Health, continues its ongoing disinvestment in the Calumet Region. In recent years, it's closed its location in Calumet City and three of its four locations in Gary.
Walgreens did irrevocable damage to East Chicago's heritage and history before shuttering its 14,490-square-foot pharmacy after little more than a decade. The chain demolished the historic 85-year-old First National Bank and Trust Co. building at the northeast corner of Indianapolis Boulevard and Chicago Avenue in 2005 to clear the way for its drug store, even though there were other vacant and far less historic properties nearby.
The city attempted to pursue National Historic Landmark status for the ornate bank building that John Dillinger once robbed, but it had no legal recourse to stop Walgreens. The razed building had been home to a number of tenants, including National City Bank, Indiana Workforce Development, the Community Reinvestment Project and the East Chicago teachers union.
At the time, a Walgreens spokesperson said, "We're offering an investment that's going to be a backbone in the community for many years to come."
"Many years to come" ended up meaning just 13 years.
Walgreens deprived East Chicago of a neo-classical building from 1918 that had a marble lobby, ornate teller windows and a high-arching entrance. Its grand interior included a skylight. Local residents had hopes of turning it into a local history museum, but they never came to fruition.
Walgreens' other East Chicago drug store at 2123 E. Columbus Dr. will remain open.
Keep reading for FREE!
Enjoy more articles by signing up or logging in. No credit card required.
Chinese Kitchen closed a few weeks ago in Highland.
The eatery at 8349 Indianapolis Blvd. has been in the Highland Ultra Plaza since at least the late-1990s.
Known for its crab Rangoon, the takeout-focused restaurant served entrees like Kung Pao Beef, General Tso's Chicken and Sweet and Sour Chicken with shrimp-fried rice and egg rolls. Some online reviewers claimed it was one of the best Chinese places in Northwest Indiana. It also offered other Asian fare like Pad Thai and Thai Curry Fried Rice.
It's one of the latest in a string of retail businesses to close in the Highland Ultra Plaza at Indianapolis Boulevard and Ridge Road.
Rise'n Roll Bakery and Deli is opening its 10th location at 1542 U.S. 41.
A grand opening celebration will take place Friday at the Amish-style doughnut shop, which is across the street from Walmart and Strack & Van Til.
The first person through the door at 6 a.m. Oct. 25 will get free doughnuts for a year, the next 24 a free dozen of cinnamon caramel doughnuts, and the next 75 one free cinnamon caramel doughnut.
Bob and Nikki Van Kalker, who also own Van Kalker Farms & Greenhouses in Lynwood, opened the second Rise'n Roll Bakery in Northwest Indiana. They also have a shop in Valpo.
"We are opening a Rise'n Roll Bakery because we love the product and want to share it with Northwest Indiana," Nikki Van Kalker said. "We are excited for the opportunity for our family to expand into a new business."
The Middlebury-based bakery chain will offer a number of items that include egg noodles, cheeses, jellies and jams.
Rise'n Roll Bakery and Deli will be open from 6 a.m. to 7 p.m. Monday through Saturday.
For more information, find Rise'n Roll Bakery Schererville on Facebook.
The annual White Sox Pop-Up Shop opened for the holiday season at the Orland Square Mall in Orland Park with an appearance Saturday afternoon by White Sox legend Ron Kittle, a Gary native who was named an All-Star and Rookie of the Year when he helped lead the 1983 "Winnin' Ugly" White Sox to their first playoff berth in decades.
The shop in the mall's lower level H&M wing will feature the latest White Sox apparel, such as jerseys, hats, T-shirts and sweatshirts. Southpaw will make an appearance Thursday, former White Sox players and ambassadors also will stop by, and there will be special offers and giveaways on Black Friday, Nov. 29.