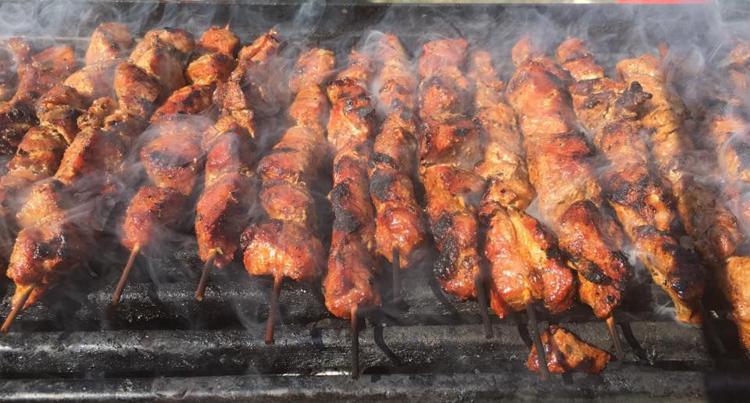 Dragobobs, which claims to make "the best shish kabobs and cevaps in Northwest Indiana and Chicagoland," has set up shop in Cedar Lake, at a prime spot for grilling right across from the lake.
From the 1980s on, the Croatian family-owned business operated out of the Baltimore Food Store in Chicago's Hegewisch neighborhood before selling the neighborhood market more than a decade ago.
"The name Dragobob came from the combination of my dad's name Drago and the word shish kabobs shortened over the course of several years by our own customers," owner Dennis Protega said. "Instead of asking for Drago's shish kabobs they begin asking for Drago's kebabs and then they started saying Drago's bobs and hence the name was born."
In recent years, Dragobobs has sold its marinated pork skewers at many Region summer festivals, Welch's Stop & Shop and Doreen's Pizza in Dyer and Jill Maries Market Coffee And Gelato in Crown Point. It's also supplied cevapi to Serbian churches across the Region.
"We prefer to work with the smaller mom-and-pop places to maintain the integrity and quality of our product," Protega said. "We want to make sure they're done the real way with the right marinades and the right cuts of meat. We have a secret recipe of spices and blends both Mediterranean and Asian. We put 12-13 different marinades, special and dry rubs on it. When you bite into it, you have a party in your mouth. It's flavors and combinations you've never tasted before."
Dragobobs opened a production facility and meat market at 7502 Lakeshore Drive in Cedar Lake, the first storefront it will have had in nearly 14 years. Protega plans to grill meat outside for customers once or twice a month, the dates of which will be announced on Dragobobs's Facebook, Twitter and Instagram.
Keep reading for FREE!
Enjoy more articles by signing up or logging in. No credit card required.
"We've got a permanent lakeview because they're building a park across the street," he said.
In addition to its namesake kabobs and cevaps, Dragobobs sells a number of sausages, including Italian sausage and a Polish garlic sausage.
Dragobobs will be open from 4 to 7 p.m. Thursday and Friday, and from 9 a.m. to 1 p.m. Saturday. Eventually it will be open from Wednesday through Sunday.
The Shipwreck Bar & Grill seafood restaurant opens Monday at the site of the former Romano's and Soprano's at 840 S. Broad St. in Griffith.
The beach-themed 180-seat eatery with a large outdoor patio was inspired by the vacations owner Alexandra Hobby and her parents Joe and Cindy Drish would take to south Florida.
Chef Gale Wismiller's menu includes grouper, Creole red snapper, blackened Mahi Mahi, crab cakes, Nashville fried chicken, pizzas, sandwiches and salads. Appetizers include candied bacon, fried pimento cheese, and "pig bread" with Voodoo sauce, house-made pulled pork, provolone, red onion and goat cheese.
Shipwreck aims to have a chill environment with live music, fire pits, a Tiki ring-toss game and festive beach drinks like Hurricanes, Mai Tais, daiquiris, and margaritas.
For more information, call 219-513-8342 or visit www.shipwreckonbroad.com.
Closed
Exotic Thai at 9628 Indianapolis Blvd. in Highland, formerly Peking House, has served its last plate of Pad Thai.
The Asian restaurant at Indianapolis and 45th Street was known for its serene environment, relaxing waterfall and many entree options that could be made vegan. But it was often visibly empty or had only a few diners. Online reviewers praised the portions, value and dishes like chicken satay and curry shrimp fried rice, but many complained the food was bland or that the chicken was dry.
The building has been under renovation, and Highland building inspector Ken Mika said a new restaurant was coming in.
"I believe it will be called the Kui Grill," he said.
The owners were not immediately available for comment. Kui means "short ribs" in Korean, suggesting the spot on Highland's main commercial drag that went from being a Chinese restaurant to a Thai restaurant will likely become a Korean restaurant.
Open
Blaze Car Wash has opened at  at 4128 S. Franklin St. in Michigan City, next to Baymont Inn and Suites.
The state-of-the-art automated car wash is open 24 hours a day, with three monthly subscription plans. If the inside of your car also could use a cleaning, Blaze also offers free vacuums and free mat cleaning machines.
For more information, visit blazeCarWash.com or call 219-809-9118.