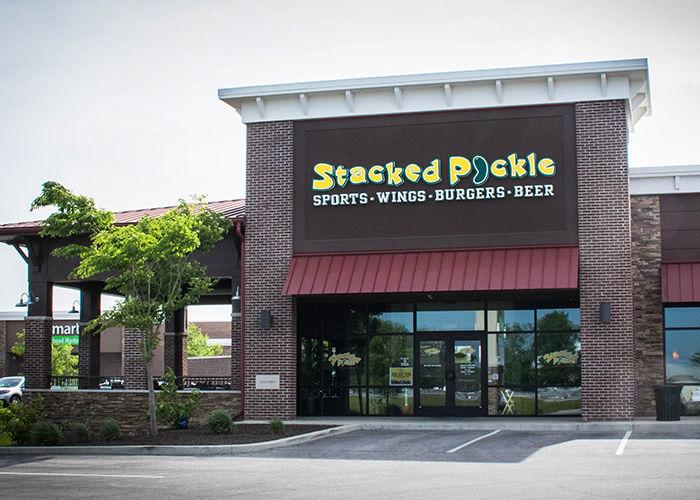 Former Indianapolis Colts linebacker Gary Brackett, who helped defeat the Bears in Super Bowl XLI, is looking to bring his Stacked Pickle restaurant chain to the Region.
The sports-themed restaurant that serves traditional American fare like burgers, wings, flatbread pizza and its namesake fried pickles has nine restaurants in the Indianapolis area and West Lafayette, and recently lined up franchisees in Houston, Orlando and Dayton, Ohio.
As part of an expansion across Indiana, Brackett is looking to open Stacked Pickles in Schererville, Merrillville and potentially other Region locations that could include Gary and Crown Point.
"The demographics there are very good," Brackett said. "I think the concept would be a great fit."
After retiring from nine seasons in the National Football League in 2011, Brackett started the Indianapolis-based Stacked Pickle casual dining restaurant and bar chain, which aims to have "a family-friendly neighborhood atmosphere" and compete with the likes of Buffalo Wild Wings and Buffalo Wings and Rings, which also has been soliciting franchisees in the Region. Popular dishes include a burger/wings combo and a pork tenderloin sandwich.
Stacked Pickle hopes to grow through franchising because franchisees tend to "have a better understanding of the neighborhood" and "a better commitment to the community," Brackett said. Potential franchisees would have to invest $450,000 to $900,000 to open a Stacked Pickle location.
The restaurants are typically around 4,000 to 5,000 square feet, seating 150 diners and employing about 35 to 50 people. They could be located in a new building, an existing one or a strip mall.
"We're the top sports bar here in Central Indiana," Brackett said. "It's going national. We've spent a lot of time on it. We've opened nine restaurants in eight years, and have it down so well that it's turnkey."
The Quaker Steak and Lube in Portage closed in May a few months after another chicken wing-focused restaurant, Hooters, opened next door in the AmeriPlex at the Port business park.
The past franchisee "decided to do something else for a living," said Bruce Lane, vice president of operations for franchise services for Quaker Steak and Lube. But the corporate head office in Pennsylvania, which runs 50 of the gas station- and muscle car-themed casual dining restaurants nationally, decided the Portage location was too prime to just let close for good.
The company has since remodeled the 5,500-square-foot restaurant at 6245 Ameriplex Drive, and plans to reopen it Monday. It will feature a new interior and new food items.
"It will debut a new menu that's coming out nationally," Lane said. "It has new steaks, new burgers and new sauces for our wings. It's highly elevated, more than the burgers and wings we're known for and that are award-winning."
When the restaurant first opened in the 1970s, it was a cook-your-own-steak place. It's now owned by Travel Centers of America and is known for chicken wings coated with often extreme hot sauces like Triple Atomic, Super-Charged and Dusted Ghost Pepper. The Portage location opened about seven years ago just north of Interstate 94.
"It was a very popular area, a very successful area," Lane said. "The people in the area are familiar with the brand."
Quaker Steak and Lube did extensive renovations before reopening the restaurant as a corporate-run location.
"We have done almost a full scrape and rebuild, including the back of the house," Lane said. "We have all new ceilings, a couple new walls, updated floors, new paint, new chairs, and a much more vibrant and modern building."
Quaker Steak and Lube hired 150 workers, including several past employees. The restaurant plans to have car shows, concerts and events "outside its four walls" throughout the year.
Lane said it would also try to be more neighborly than the previous franchisee, who was notorious for having a parking lot attendant shoosh away cars trying to park in the restaurant's lot to visit the nearby Starbucks, even at odd hours when the huge Quaker Steak and Lube lot was nearly empty.
"There's plenty of parking for everyone," Lane said.
The new management isn't intimidated by the new Hooters eatery 300 yards away.
"Competition breeds excellence," Lane said. "Quaker Steak and Lube and Hooters both have their customers, and this is adding another dining option for the clientele. It's a longstanding restaurant that's been here for a while. We're thrilled to be back, and invite people to check out our new building and new menu."
The restaurant will open at 4 p.m. Monday.
Quaker Steak and Lube will be open from 11 a.m. to 10 p.m. Sunday, 11 a.m. to 11 p.m. Monday through Thursday, and 11 a.m. to midnight Friday and Saturday.
Gayety's Chocolates & Ice Cream abruptly closed both its Lansing and Schererville locations "for remodeling."
A voicemail recording at the Lansing ice cream parlor and chocolate shop on Ridge Road in downtown Lansing said it was closed for remodeling. The owners did not respond to messages and the website was down, which is often not a good sign.
The beloved local chain has a long history dating back to 1920 when the chocolate shop opened in Chicago. The company filed for bankruptcy in 2014 but remained open after restructuring its debt.
If you've got tips about new stores or restaurants anywhere in the Region, or just wonder what's under construction somewhere, contact NWI Business Ins and Outs columnist Joseph S. Pete at joseph.pete@nwi.com or 219.933.3316.