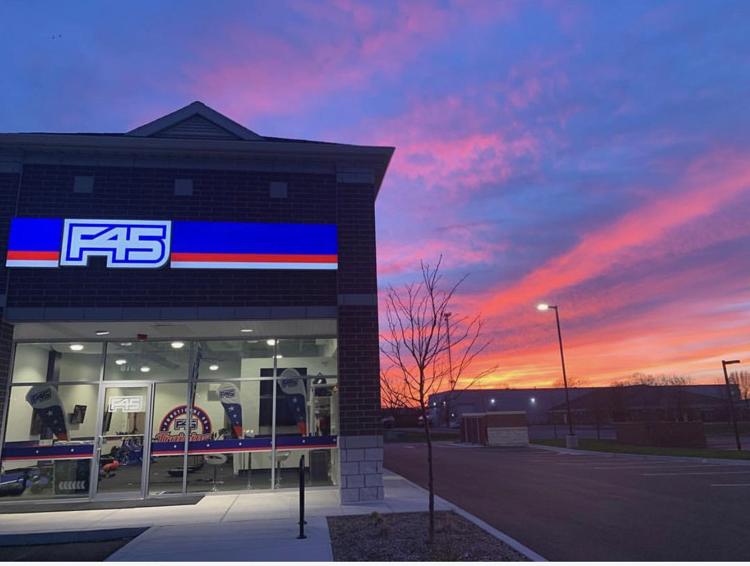 The fast-growing F45 Training gym chain — F standing for functional training, 45 for the length of every workout in minutes — has opened a location in Crown Point and is coming soon to Schererville and Valparaiso.
Developed in Australia seven years ago, F45 has since spread to 1,500 studios in 36 countries, where everyone worldwide does the same high-intensity interval training, or HIIT, workout every day, and they never do the same workout twice. Hollywood star Mark Wahlberg recently invested in the trendy studios, which offer high-energy group workout sessions that use functional movements and heart monitors.
"It's taken off like wildfire," F45 Training Crown Point owner Jason Cotton said. "Franchise territories are selling like crazy. Now, there are 1.3 million people worldwide doing the same workout every day."
The 2,700-square-foot gym at 870 N. Superior Drive in Crown Point typically has eight classes a day between 5 a.m. and 6:30 p.m., and three classes a day on Saturday and Sunday. Class sizes typically range between 22 and 36 people, and more classes are added as more people sign up.
Nine personal trainers now lead the classes, which involve cardio on Monday, Wednesday and Friday, and resistance training on Tuesday, Thursday and Sunday. There's an hour-long "Hollywood" class with a live DJ on Saturdays that combines cardio and resistance training.
"There's a database of 3,800 exercises. Professionals are working behind the scenes to design the workouts a month in advance," Cotton said. "One or two personal trainers go through the class to make sure everyone is doing it correctly, but you don't have the cost of hiring an hourly personal trainer. People are burning 600 to 1,100 calories per class and their heart rate gets so high they burn calories for hours afterward. The workouts are structured for any age or fitness level. We have a 66-year-old man who comes in and loves it."
Cotton tried the workout while visiting Scottsdale for his day job and loved it. He's signed leases for a Valparaiso location he hopes to open sometime in October and a Schererville gym that should open in January.
The gym offers everyone a free week to try it out. 
"It's an addictive class," Cotton said. "Everybody is giving each other high fives at the end, whether they know them or not. It's for anybody that has fitness goals, or is stuck in a rut or plateau."
Erickson Jewelers at 1712 East U.S. 20 in Michigan City is closing after 50 years in business.
The third-generation, family-owned jewelry store specializes in fine diamonds, engagement rings, wedding bands, watches, bracelets, necklaces, chains, cuffs, rings and other jewelry. It opened in 1969 and also offers jewelry repairs, such as remountings. It's now in the midst of a going-out-of-business liquidation sale that it's billing as "the greatest savings event in our history" where "everything must be sold."
For more information, call 219-872-6565.
Tapas Cafe, a Spanish tapas restaurant that promised an "exotic trip to the Iberian Peninsula without leaving Northwest Indiana" has served its last small plate after a seven-year run, but its chef continues to cook and cater out of Cafe Fresco in downtown Crown Point.
The restaurant that served Spanish favorites such as paella, bacon-wrapped dates and goat cheese baked with tomato sauce, was located on U.S. 30 in Merrillville for five years and moved to 518 N. Main St. in Crown Point two years ago. It had a cult following, as it was one of few Region restaurants to offer tapas, the traditional Spanish cuisine that evolved from inns placing small plates over glasses of sherry for travelers as samples of their cooking — and to load them up with salt to get them to order more drinks.
"Thank you food lovers," Chef Uly Gom said in a Facebook post announcing its closure. "Seven years ago, I started a dream, more of a journey. We became well-known as the hidden jewel of Merrillville and later the hidden jewel of Northwest Indiana. We were always bringing food innovations and eclectic fusions that chefs and food lovers were amazed by. We are happy with the accomplishments we reached. All thanks to you food lovers but when one door closes another door opens for better opportunities."
In addition to cooking at Cafe Fresco on the courthouse square in downtown Crown Point, Gom plans to be at the Chesterton European Market every Saturday and the Crown Point Farmers Market every Wednesday and Saturday.
Domino's will open a newfangled "pizza theater" restaurant in Chesterton on May 20.
The Ann Arbor-based pizza chain, which became the largest pizza seller in the world in February and boasts 16,100 stores worldwide, is opening a restaurant employing about 30 people at 560 Indian Boundary Road.
Franchisee Jim Gronemann also recently opened Domino's restaurants in Merrillville and Hammond. He started as a delivery driver in 1984 and now owns 17 franchises in Indiana and Illinois.
"We are dedicated to the Chesterton area and are excited to better serve its residents," Gronemann said. "We have a deeply experienced team of folks who live and work in Chesterton, and they are eager to offer our delicious products, exceptional service and innovative ordering technology to the community."
Domino's serves pizzas in a number of styles, including hand-tossed, thin crust, handmade pan and Brooklyn Style. Though best known for pizza, it also sells pasta, chicken, sandwiches, wings, salads, desserts and stuffed cheesy bread. 
The new Chesterton location features a large lobby, a chalkboard for customers to scrawl on, an open kitchen that lets people watch their pizza being made and an electronic lobby screen that tracks carryout orders in real time.
As a part of the grand opening celebration, the Chesterton Domino's will offer medium one-topping carryout pizzas for $3.99 through June 9. Police, firefighters, first responders and military also get 50% off at any time with an ID.
If you've got tips about new stores or restaurants anywhere in the Region, or just wonder what's under construction somewhere, contact NWI Business Ins and Outs columnist Joseph S. Pete at joseph.pete@nwi.com or 219.933.3316.