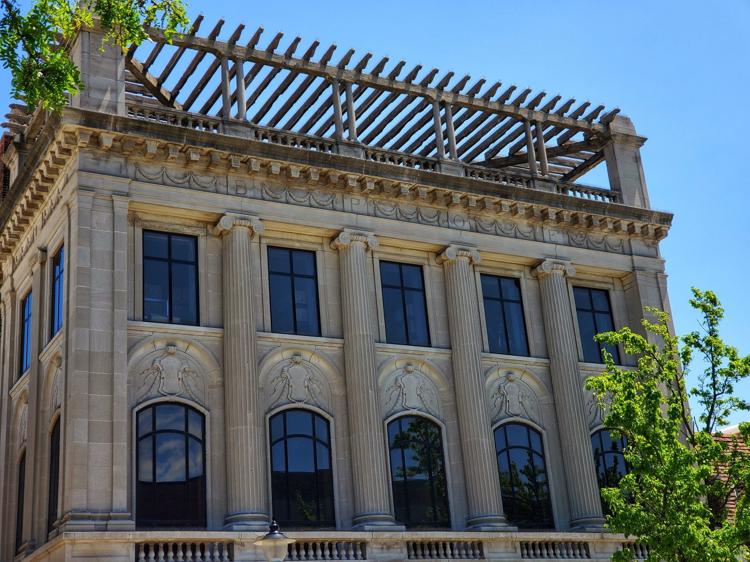 Downtown Valparaiso's Fluid Coffeebar is expanding to provide a jolt of caffeine to downtown Michigan City.
The hip new-wave coffee shop will bring its single-origin coffees, pour-overs, nitro cold brew, hand-crafted lattes, local art shows, vegan food options and dark modern aesthetic to the Eagle Building at 518 N. Franklin St. in the Uptown Arts District. 
"We're going to have a cafe similar in style to Valparaiso with a large roastery that will allow us to produce high-quality direct trade types of coffee," said Charles Scates, who owns Fluid along with his wife Alison Scates. "We've been roasting for more than a year or so, just finding unique varieties of coffee that are exciting and different from the same old thing."
The roastery will use equipment purchased from the acclaimed Tinker Coffee Co. in Indianapolis, which has been named the best coffee roaster in Indiana. Fluid will roast beans from all over the world to provide freshly roasted coffee to both the Valparaiso and Michigan City cafes. The coffee shop also will sell bags of beans for home brewing.
Fluid will mostly produce single-origin roasts but also offer a few dual-origin coffees some might find more palatable, such as a blend of Guatemalan and Brazilian beans.
"We're going to source the best possible coffee," Scates said. "I'm a big fan of African coffees and Kenyan coffees. We're going to do direct trade with the farmers with no middleman so the farmers are treated much more fairly. It will be super fresh and people will be able to see the roaster through a viewing window. It can't get any fresher."
Fluid will take over 2,600 square feet of space in a former fraternal lodge that was built in 1921. It was turned into offices and most recently used as a jazzercize studio.
"It's super cool, the exterior of it is kind of like the Greek style with columns and a concrete pergola," Scates said. "It's neat looking architecture."
Fluid is doing extensive renovations. The goal is to make it look like the chic Valparaiso cafe, which has murals and chalkboard restrooms that people scribble all over. It's building out a cafe with 30 to 40 seats, and private meeting or training rooms that can be rented out.
"It lends itself to that industrial and post-apocalyptic look we like," he said. "We plan to expand on the local art by incorporating more street art from the local art scene."
The Scateses tapped Michigan City for expansion because of the downtown's similarity to Valparaiso, its proximity to the popular tourist destination of Southwest Michigan, and momentum it has built with lakefront improvements and the attraction of new businesses.
"We wanted to get in on the ground floor, so to speak," he said.
The cafe will offer a drink or two unique to Michigan City, like the Vale of Paradise latte in Valpo. The kitchen space is larger so Fluid will have a bigger food menu in Michigan City, including many vegan and paleo dishes.
The goal is to open the second location by September.
"It's like the trend with microbreweries," Scates said. "People want a focus on the quality of their coffee and to know where their coffee came from, not necessarily something loaded with cream and sprinkles."
Square Roots opens Sunday to bring "a handcrafted dining experience bursting with big city influences, rooted on the historic Crown Point Square."
The new gastropub at 108 N. Main St. in downtown Crown Point offers seasonal menus with "honest, locally sourced and sustainably farmed ingredients," as well as a selection of hand-crafted cocktails.
"I think what sets it apart from other restaurants in the region is the inspiration my staff and I bring into work every day," Head Chef Matthew Griseta said on the Square Roots website. "Our core concept for the food and drink menu at Square Roots is to show our guests that this is our passion. The food is honest, and is a lot of work to create, but we do it because we love it. Braising, smoking, and brining are not quick processes, but it's a labor of love."
The restaurant offers truffle-parmesan fries, appetizers like charcuterie and a fireside elote dip, salads and sandwiches like a "Smashville Hot Chicken Sandwich" and a "Brunch Burger" with Applewood smoked bacon, an over-easy egg and avocado mash. A selection of Main Street Tacos include smoked brisket, Corona-battered shrimp and jackfruit tinga. It has craft pizzas and entrees like a crispy sous vida pork shank, blackened trout with pimento cheese grits, and a garlic rubbed pork chop with cauliflower yellow rice.
A new Japanese restaurant is headed to downtown Highland. 
Sakura Bowl Restuarant will fill the space the legendary Lincoln O's sandwich shop vacated when it closed last year. Highland Building Commissioner Ken Mika said the new owners run the Dragon Bowl restaurant in Munster.
"I believe the party currently owns a restaurant in Munster on the northeast corner of Hohman Avenue and Ridge Road," he said.
Redevelopment Director Kathy DeGuilio-Fox said the new owners have been renovating the restaurant's interior since last fall.
Lincoln O's, a beloved local institution known for its Italian submarine sandwiches and its U.S. Steel Special, closed last year after being founded in Gary 55 years prior.
Anyone who wants to work out at home instead of schlepping to the gym can swing over to Top Fitness Store in Highland.
The exercise equipment store at 10412 Indianapolis Blvd. sells "top-of-the-line fitness" equipment like treadmills, stationary bikes, kettlebells, home gyms, free weights and elliptical machines from name brands like Precor and Helix. Fitness specialist Matt Richardson said the store also offered warranties and service.
"If you're looking to start a home gym or want to pursue a healthier lifestyle we can set you on the right path," he said. "We sell commercial grade fitness equipment for home use."
Top Fitness Store delivers and will install rubberized gym flooring, Richardson said. Its service team that will try to fix any exercise equipment, even if it was purchased somewhere else.
The business is open from 10 a.m. to 7 p.m. Monday through Friday, from 10 a.m. to 6 p.m. Saturday and from 12 to 5 p.m. Sunday.
Chesterton Town Manager Bernard Doyle said an announcement may be coming in the next few weeks about a new tenant at the former Kmart building at 750 Indian Boundary Road.
The financially flailing Sears closed the big-box Kmart in Chesterton in 2017 after a 36-year run.
"We certainly hope that the area is redeveloped as it is a critical location for the Indian Boundary business district in Chesterton," Doyle said.
Rumors that the German discount grocer Aldi would take over the former Kmart have swirled around town for months, but the company is mum.
"At this time, we don't have any updates regarding a potential new store in Chesterton, but we will be in touch if we have information to share at a later date," Aldi Valparaiso Division Vice President David Zalunardo said.
If you've got tips about new stores or restaurants anywhere in the Region, or just wonder what's under construction somewhere, contact NWI Business Ins and Outs columnist Joseph S. Pete at joseph.pete@nwi.com or 219.933.3316.
The business news you need
With a weekly newsletter looking back at local history.