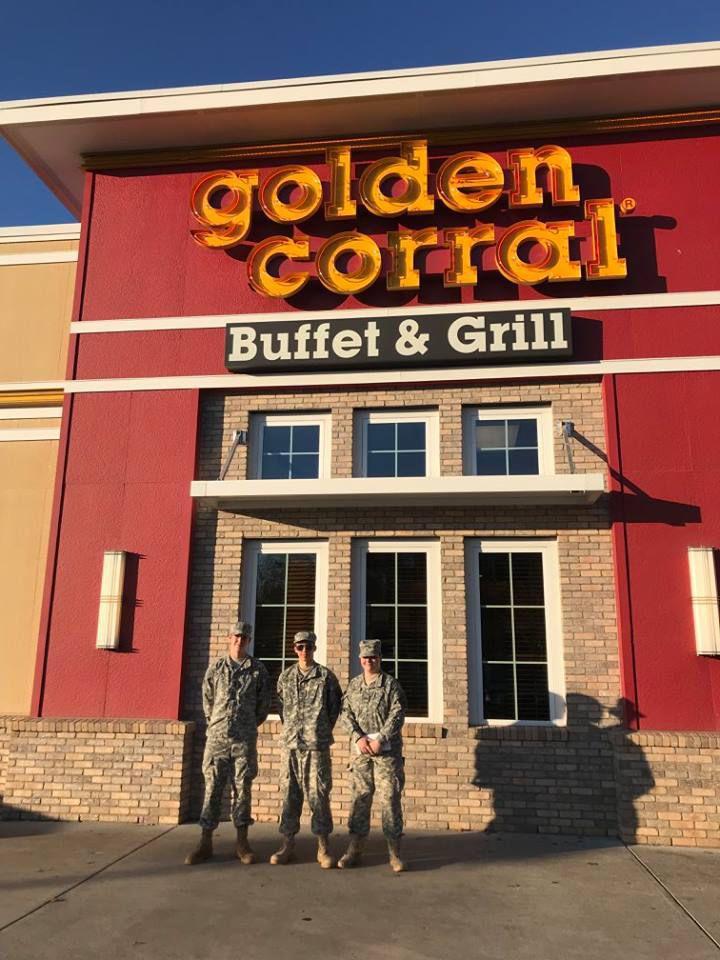 The Golden Corral buffet will make its triumphant return to Schererville before year's end, though likely after Christmas.
The owners of the Merrillville Golden Corral have made extensive renovations to the Golden Corral at 915 Eagle Ridge Dr., by the Home Depot, in Schererville. The buffet had served its last slice of ham and scoop of mashed potatoes three years ago. 
"We completely remodeled the place," General Manager Ken Churchill said. "We put in a fireplace, recessed lighting and all new decor on the inside. Everything is bright and shiny. It's like a brand new store opening."
There's no official opening date yet, but Golden Corral is working to hire 200 workers, including servers, cooks and cashiers.
"The menu will be pretty similar to the Merrillville location, with some small differences," Churchill said.
The Raleigh, North Carolina-based chain has been frequently updating its menu recently, adding new items every three months like prime rib, fajitas and different kinds of wings.
"It keeps the customers coming in," Churchill said.
Smallcakes Cupcakery and Creamery has opened at 336 Indianapolis Blvd., next to the new Rosati's Pizza, Buona Beef and McAlister's Deli in the Shoppes on the Boulevard.
Gloria Jean's franchisee Raed Naser, his wife Noor Musleh, his brother and their family opened the chain, which has been featured on the Food Network's "Cupcake Wars" and "The View." It features 18 different flavors of cupcakes daily, including 14 regular flavors and four that change daily.
"We have 365 different recipes that we cycle through," Naser said.
Popular items at the 1,500-square-foot cupcakery and ice cream parlor, which seats 12, include red velvet cupcakes and smashes, in which a cupcake is paired with two scoops of ice cream in a mason jar.
"They're delicious and perfect for Instagram and social media," he said. "They look great, and people like to share it."
The restaurant employs 12 workers and serves only cupcakes baked freshly that day. Leftovers are donated to charitable organizations and other places like local hospitals and nursing homes.
"You can ask to be on the list, and then we call through it until we find someone to take the leftovers," Naser said. "We only serve fresh cupcakes."
Keep reading for FREE!
Enjoy more articles by signing up or logging in. No credit card required.
A grand opening celebration is planned for 10 a.m. to 8 p.m. Saturday, Dec. 15. Smallcakes will give away mini cupcakes while supplies last, offer 40 percent off on everything all day, have family-friendly activities like balloon animal-making, and will enter customers into a raffle.
Vegas Cafe at 800 Cedar Parkway in Schererville was sold to new owners.
Jorge Armando and Shelly Ann Armando, the owners of Skillet's Bistro in Highland, bought the restaurant and plan to reopen it as Vegas Bistro Cafe in the middle of January.
The reborn eatery will focus on quick breakfast items and sandwiches. Nothing on the menu will cost more than $7.60, as the restaurant will target passing truckers and workers at stores and restaurants along Indianapolis Boulevard in Schererville and Highland.
"We want to give workers a good-priced breakfast or BLT or something like that," Jorge Armando said. "It's going to be good for workers who come in the early morning on their way to work. Drivers can call ahead to order their food in advance. We have a huge parking lot and will bring it out to them. It will be like 1960s service without the roller skating."
Vegas Cafe Bistro will seat 46 people inside, and another 18 outside during warmer weather. It will serve beer, wine, wine-based cocktails and espresso drinks such as lattes and espressos.
The menu will include skillets, omelets, waffles and many items that can be prepared quickly.
"We have a good team and have been practicing getting breakfast sandwiches out in no more than five minutes," he said. "We want to offer a quick breakfast."
It will be cheap, with hot dogs for $2 and hot dogs with fries and a drink for $4.25. The lunch menu also will include burgers, soups and chili.
"Schererville was a point of interested because it's been a draw for all the towns around it, including Chicago," he said. "I've lived in Dyer for such a long time and see so many people, including from the city and Illinois, coming here to have a good meal, good shopping, or a buy a good house. Just look at the amount of cars going by."
Vegas Cafe will be open from 7 a.m. to 7 p.m. seven days a week.
Business Ins and Outs
Times business reporter Joseph S. Pete provides the details on what's coming and going in the Region retail and restaurant world.