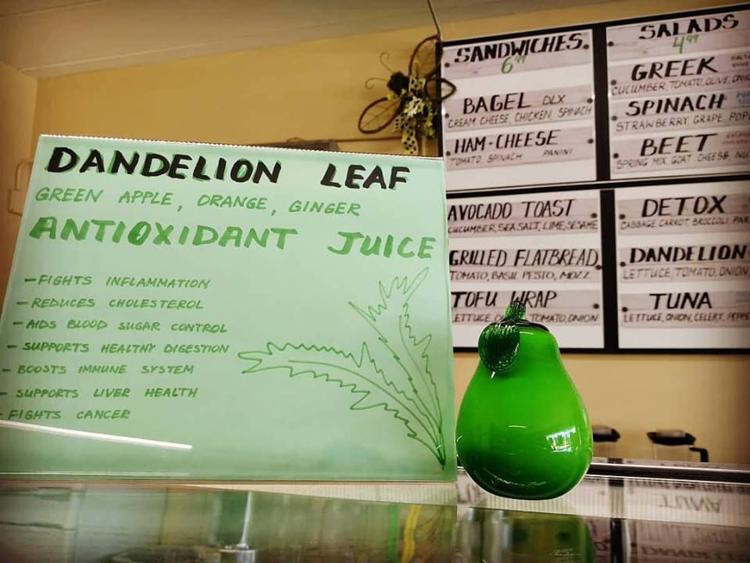 The Green Witch Juice Bar and Cafe is bringing healthy, nutritious fare to downtown Highland with an array of juices, smoothies and trendy foods like avocado toast.
The 1,400-square-foot juicery at 2845 Highway Ave. in downtown Highland plans to celebrate its grand opening from 11:30 a.m. until 6 p.m. on Oct. 12 with raffles, live music and activities for kids.
Owners Verginiya Burgess and Tina Bilow sell juices like the top-selling "green detox" with cucumber, apple, spinach and lime, and smoothies including one with strawberry, spinach and yogurt. They have a juice menu but encourage customization.
"There's no limit," Burgess said. "You can combine as many vegetables and fruits as you like."
The food menu is designed to appeal to vegans, vegetarians and carnivores alike. It includes a Caprese flatbread, tofu sandwiches, Greek and beet salads and "detox soup."
"We have a senior menu and want to show people that they can eat healthily and organically without it being expensive," Burgess said. "The main point is we want to promote natural, organic and healthy eating, and get people to incorporate it into their daily routine."
The juice bar currently has about 18 to 20 seats for dining in.
"We're working on a comfortable lounge where there can be different meetings, such as ladies' night out," Burgess said. "We plan to educate on healthy eating and can have detox seminars and classes there. We want events that will bring people together."
There's a retail section where The Green Witch sells oils, teas, cosmetics and "everything you need for a natural lifestyle."
The business is named after a "naturalist, herbalist and wise woman."
"She's not considered a witch," Burgess said. "It doesn't have to do with witchcraft, and it's not a Halloween store."
The Green Witch is open from 9 a.m. to 6 p.m. Tuesday through Friday, and from 10 a.m. to 6 p.m. Saturday.
For more information, find The Green Witch on Facebook or Instagram.
Red Wing Shoes, the Minnesota-based footwear company that made boots for U.S. soldiers in World War I and World War II, has opened at 7909 Indianapolis Blvd. in south Hammond, across from Cabela's and Walmart.
Keep reading for FREE!
Enjoy more articles by signing up or logging in. No credit card required.
The 1,600-square-foot store in a new strip mall employs four workers and sells Red Wing and Irish Setter boots that are manufactured in America. The shop also sells socks, gloves, belts, footbeds and other accessories.
"National brands are coming to Hammond," Mayor Thomas McDermott Jr. said. "The city continues to grow."
Red Wing Shoes is open from 10 a.m. to 7 p.m. weekdays, from 10 a.m. to 5 p.m. Saturday and from noon until 5 p.m. Sunday.
For more information, call 219-803-2803. 
A Great Clips and an AT&T store also have opened next to Red Wing Shoes in the new strip mall.
"It's good to see businesses coming to and investing in Hammond," McDermott said.
The AT&T cellphone and accessories store at 7917 Indianapolis Blvd. can be reached at 219-844-1848 and is open from 10 a.m. to 8 p.m. weekdays, 10 a.m. to 7 p.m. Saturday and 10 a.m. to 5 p.m. Sunday.
The hair care salon at 7911 Indianapolis Blvd. can be reached at 219-554-6672 and is open from 9 a.m. to 9 p.m. weekdays, 9 a.m. to 6 p.m. Saturday and 9 a.m. to 5 p.m. Sunday. Great Clips, which also has nearby locations in Munster and Schererville, takes walk-ins.
The Annex boutique closes Saturday in downtown Highland, but will transition into an online business.
The store at 8638 Fourth St., which had been on Kennedy Avenue just south of downtown before relocating, sold fashion and locally made goods that included zines, bath balls and wallets. 
"After tons of thinking and praying I've decided to close the shop," owner Sarah Spezza wrote on Facebook. "I am so grateful for all the love and support I've received since opening the door two years ago. Just because the brick and mortar is gone doesn't mean The Annex is. I plan on bringing a bigger online presence, including regular Facebook Live events, and you'll definitely see me at the markets."
Buona Beef plans to open its second Northwest Indiana location in Crown Point, said Aaron McDermott, president of Latitude Commercial, a major commercial real estate agency based in Schererville.
The Italian beef chain entered the Northwest Indiana market earlier this year by opening at 324 U.S. 41 in Schererville, its first restaurant outside of Illinois.
The fast-casual restaurant started in Berwyn 37 years ago and has since expanded throughout the Chicago area, including at Guaranteed Rate Field and Wrigley Field. It specializes in traditional Chicago fare such as Chicago dogs, Italian sausage, and pepper and egg sandwiches served on Fridays during Lent.