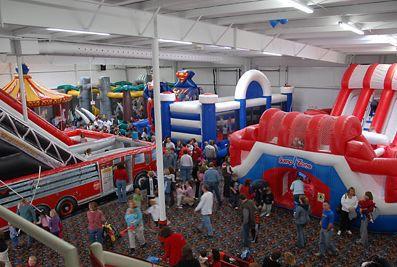 In the immortal words of House of Pain, easily one of the all-time best Irish-American rap groups named after the H.G. Wells novel "The Island of Dr. Moreau,": Jump around.
A Jump Zone Party and Play Center featuring huge inflatable slides, bounce houses and obstacle courses is hopping into Hobart.
The company, which has 13 locations nationwide, will open its first Jump Zone in Indiana in the former Walgreens at 1605 E. 37th Ave. in Hobart, announced Schererville-based commercial real estate firm Latitude Commercial.
"We are very excited to open the first Jump Zone in Indiana," said Latitude Commercial's Myles Rapchak, who represented Jump Zone in the lease. "Mike and Kirsten have been amazing to work with, and they will undoubtedly be very successful in this venture. Their passion for this concept is unmatched. It is an excellent location and is going to bring a family-friendly atmosphere to Hobart and surrounding cities."
Jump Zone is now remodeling the 15,068-square-foot pharmacy in Hobart. It offers an array of activities for kids, including "giant inflatable bounce houses and slides, obstacle courses, arcade games and birthday parties." 
It expects to open this fall.
Coffee fiends, take note: Biggby Coffee is now caffeinating Chesterton.
The Michigan-based chain opened a coffee shop at 3091 Village Point in Chesterton — its second location in Northwest Indiana after Michigan City and just eighth in the Hoosier state. Franchisees Brandon Bennett and Justin Neal opened the coffee shop with a drive-thru in Coffee Creek just off Interstate 80 in Porter County.
A staple in Michigan, Biggby offers unique lattes, tea lattes and hot chocolates known as steamers. All of its drinks can be served hot, iced, frozen or with reduced calories. It boasts "near endless flavor options" for drinks that can be customized with additional flavors, whipped cream, sprinkles or "numerous milk alternatives."
Founded in East Lansing in 1995, the chain has grown to 230 cafes in nine states, mostly in the Midwest and South. It purports to offer "connoisseur-worthy drinks with pronounceable names like Teddy Bear and Caramel Marvel" for "a less pretentious and fun approach to the standard gourmet cafe paradigm" in a jab at the Italian co-opting self-seriousness of rival Starbucks.
Biggby Coffee in Chesterton is open from 6 a.m. to 9 p.m. Monday through Saturday and from 7 a.m. to 9 p.m. Sunday.
For more information, call 312-479-0145 or visit biggby.com.
Coming soon
LiqGo!, the liquor store chain owned by Hobart-based Luke Oil, is opening a new location at 1030 U.S. 41 in Schererville.
The retailer, which sells beer, wine and liquor, has 10 other locations in Lake County. LiqGo's new Schererville location, its second in town, is located in the Boulevard Square mall, a shopping center on Indianapolis Boulevard that's also home to Planet Fitness, Last Chance Overstock, United Art & Education, Sky Zone, Salvage Plus, Kali Beauty, Region Ale and El Salto.
LiqGo! is distinctive for its blue and yellow color scheme and brightly lit stores. It's part of the Luke Family of Brands that include Luke convenience stores, GoLo gas stations, Lake Car Wash, CigLo Tobacco Outlets and County Line Orchard in Hobart. The third-generation family-owned company also wholesales gasoline and other fuels.
Coming soon
Outriggers Steak & Seafood plans to start offering both surf and turf in Lansing in August.
The fine-dining restaurant at 2352 172nd St. by the LA Fitness just off the interstate in Lansing will fly in fresh fish daily and offer an extensive wine list, as well as martinis and tropical drinks.
The seafood menu includes many fancy offerings like raw oysters, Australian Rack Lobster, Lobster Thermidor, Alaskan King Crab, Dover sole, sea bass, Aegean Scallops, Halibut Vesuvio, Boston Cod Dejonge, and Corn Flake Crusted Pike that's topped with a lemon caper sauce. The upscale restaurant, which features many market-priced entrees, also serves steaks, lamb chops, pork chops, chicken, pasta and burgers.
Outriggers Steak & Seafood is now hiring for all positions.
For more information, visit www.outriggerschicago.com.
Moody Dental moved to a newly constructed location at 11 W. Lincoln Highway in Schererville.
Dr. Moody Wasif's office provides family dentistry, offering a full range of services "from a single small filling to full mouth reconstruction utilizing dental implants, from simple restorations to cosmetics and implant dentistry."
The new dental office is equipped with advanced technology, including a Galileos Dental CT scanner and a Cerec Omni-Cam for computer-guided implant surgery. Moody Dental has its own ceramic lab on site, treats children of all ages, and offers affordable dentures for retirees on fixed incomes.
Moody Dental is open from 8:30 a.m. to 6:30 p.m. Monday through Friday and from 8:30 a.m. to 3 p.m. Saturday.
A new Mexican restaurant called Mi Maria Bonita is coming to the space in Griffith that was once home to Asada Grill & Cantina and Niko's Steak and Seafood.
Asada moved from the restaurant at 216 S. Broad St. at the south end of downtown Griffith, about three miles northwest, to the much larger former Zuni's House of Pizza spot 2907 45th Ave. in Highland last year.
The restaurant building it left behind in Griffith, just off the Erie-Lackawanna Trail, had 120 seats spread across a bar and a family dining room.
New U-Haul dealerships opened at existing businesses in Lowell, Gary and Valparaiso.
Tri Creek Rentals at 1827 E. Commercial Ave. in Lowell, Glen Park AutoWorks at 1430 W. Ridge Road in Gary, and A&A Auto Clinic Auto Sales at 1307 Calumet Ave. in Valparaiso now offer a range of U-Haul products and services —most notably, its moving trucks.
All three of the locations are self-services with the help of the smartphone and open 24/7.
If you've got tips about new stores or restaurants anywhere in the Region, or just wonder what's under construction somewhere, contact NWI Business Ins and Outs columnist Joseph S. Pete at joseph.pete@nwi.com or 219-933-3316.
The business news you need
With a weekly newsletter looking back at local history.