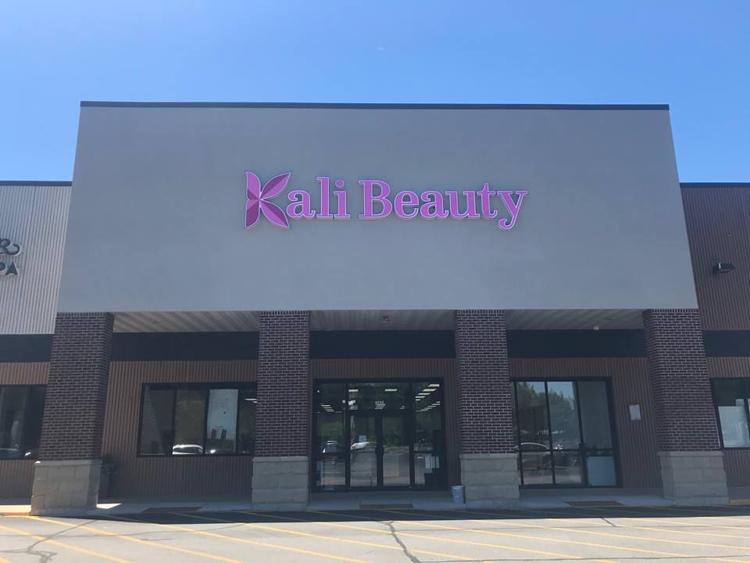 Kali Beauty aims to make the Region look its best after opening a new store in Schererville.
The family-owned retail chain, "where beauty gets done," is located at 1036 U.S. 41 next to Planet Fitness in Schererville. Founder and CEO Rasem Isa hopes eventually to make the retailer, which offers a wide array of cosmetic products for hair, skin and nails, a household name.
The 8,600-square-foot store, which opened last, features The Beauty Bar, a full-service Paul Mitchell Focus salon owned by Schererville native Danette Gorelick.
Kali Beauty also has locations in Hammond and Lansing and prides itself on customer service and "having a run, positive atmosphere." 
"Kali Beauty caters to both women and men as well as ethnicities of all backgrounds, citing that each have unique needs," the company said in a press release. "Each Kali Beauty retail store hosts a private full-service salon, featuring hair, skin and brow services. Kali Beauty offers their customers with a catalog of over 6,000 beauty products. Kali Beauty has what you need to live beautifully."
A grand opening in Schererville is planned for 11 a.m. to 5 p.m. Aug. 4. The new store is open from 9 a.m. to 9 p.m. Monday through Saturday, and from 9 a.m. to 6 p.m. Sunday.
Now you can satisfy your sweet tooth while shopping at a chic boutique in downtown Griffith.
Cute as a Cupcake! Cupcakery & Bake Shop in Merrillville has opened an express location inside the Bee & Me boutique at 100 S. Broad St. in Griffith.
The cupcakery offers 20 different types of cupcakes a day in the store at the corner of Broad and Main streets, as well as cupcake pops and "cutie cupcakes" served in mason jars so they can be more easily transported in a purse or shopping bag.
Michelle Wainwright founded the business in 2015 after she was laid off after 15 years in the pharmaceutical industry. She initially sold cupcakes at local farmers markets, then got a kiosk at the Southlake Mall before opening a standalone brick-and-mortar location at 2008 W. 81st Ave. in Merrillville and launching a food truck that travels to various Region festivals.
All the cupcakes are made from scratch, using recipes from Wainwright's 91-year-old grandmother. Top sellers include red velvet, turtle, strawberry eclair and Dutch caramel apple.
Keep reading for FREE!
Enjoy more articles by signing up or logging in. No credit card required.
"Our customers like that they're always baked from scratch," she said. "We have 30 different flavors at the main store, including vegan and gluten-free options because we understand people here have different lifestyles and dietary needs."
The new express location in Griffith will have its own counter with pre-packaged cupcakes people could either sit and enjoy in seating next to a child's play area or take home. It also will offer bottled water and pop.
"We want to try a store within a store, like a Starbucks inside a Target," she said. "It's a collaboration between two women business owners bringing two businesses to the same location in Griffith, where we can both hopefully take advantage of the same customer."
Waitwright has been approached about franchising Cupcake! Cupcakery & Bake Shop and is looking to eventually expand.
"The economy is growing in Northwest Indiana, and demand is growing for cupcakes," she said.
Cute as a Cupcake's Griffith express store is open from 11 a.m. to 6 p.m. Wednesday through Saturday. For more information, call 219-472-0858 or visit cuteasacupcake3.com.
uBreakiFix opened at 4357 Franklin St. in Michigan City, its third Northwest Indiana location after Portage and Schererville.
As the name implies, the growing tech repair company fixes smartphones, tablets, game consoles, drones and even hoverboards. Its technicians fix cracked screens, broken cameras, software glitches and other technical problems.
Owners Angelo and Alexandra Giannakopoulos plan four more locations across Northwest Indiana and the south suburbs.
"Michigan City is a wonderful area with a great trade community," Angelo Giannakopoulos said. "We recognized a tremendous need for professional, reliable tech repair in Michigan City and beyond, and we look forward to filling that gap by becoming the go-to tech repair resource for local businesses and consumers."
uBreakiFix has been growing fast since it was founded in 2009 and ranked 18th on Entrepreneur's Franchise 500 list.
"At uBreakiFix, our goal is to take the hassle of a broken device and create the most positive, convenient experience possible for our customers," said Justin Wetherill, one of the founders. "We are a customer service company first, and a tech repair company second. As we expand into Michigan City, we look forward to becoming the trusted resource to keep consumers and businesses connected to the things and people who matter most."
The Michigan City store is open from 10 a.m. to 7 p.m. Monday through Saturday, and from 12 to 5 p.m. on Sunday. For more information, call 219-221-6696 or visit ubreakifix.com/locations/MichiganCity.