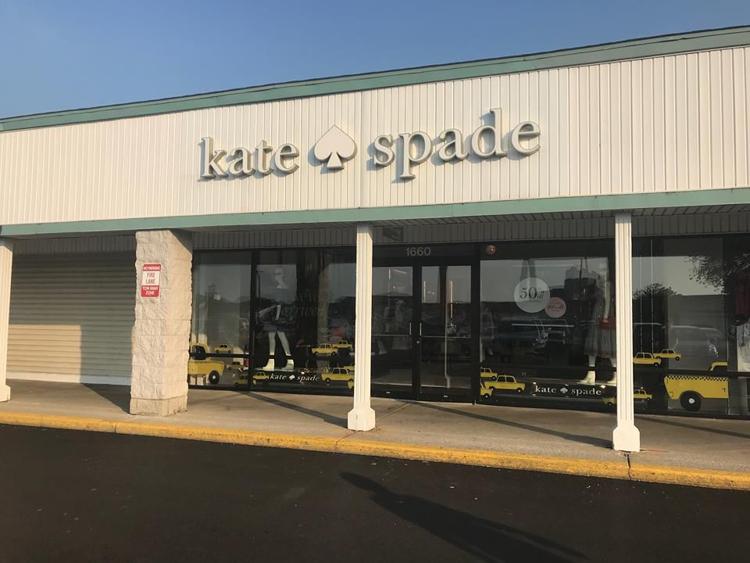 Kate Spade, the iconic fashion designer known for "It" handbags and fun, colorful, bright designs, tragically took her own life last month, but the retail giant she built is still growing nationwide.
A Kate Spade outlet store recently opened at the Lighthouse Place Premium Outlets in downtown Michigan City. The 2,800-square-foot store in the outdoor mall at 601 Wabash St. sells discounted handbags, clothing, accessories, jewelry, perfume, shoes, swimwear, glasses, gifts, stationary and home decor designed by the late fashion icon who who went from being a magazine editor to the creator of a global designer brand that became nearly ubiquitous in New York City.
Kate Spade items, such as the bags Vogue editor Anna Wintour said were impossible to walk a block in Manhattan without seeing, are known for being urbane, sophisticated, chic and affordable.
Spade sold her company, which operates more than 175 Kate Spade New York shops internationally, for $2.4 billion to Tapestry Inc. last year, before starting a new brand, Frances Valentine.
The Kate Spade store at 1660 Lighthouse Pl in Michigan City, is open from 9 a.m. to 9 p.m. Monday through Saturday, and from 10 a.m. to 6 p.m. Sunday. 
For more information, call 219.878.0879.
Dollar General relocated its Highland store on 45th Street from a strip mall to a newly constructed standalone building at 3325 45th St.
The Tennessee-based bargain retailer, where many, but not all, items are priced for $1, redesigned the Highland store so seasonal products are featured at the center of the stores, coolers are located up front, and departments are more easily recognized because of more visible signage.
"Dollar General is committed to delivering a pleasant shopping experience that includes a convenient location, a wide assortment of merchandise and great prices on quality products," said Dan Nieser, Dollar General's senior vice president of real estate and store development. "We hope our Highland customers will continue to enjoy shopping at Dollar General's new location."
Keep reading for FREE!
Enjoy more articles by signing up or logging in. No credit card required.
The discount store sells an array of housewares, seasonal items, cleaning supplies, cloths and health and beauty products, as well as a limited selection of grocery items such as fruit juice, canned sardines, coffee and microwave dinners.
The Dollar General at 3325 45th St is open from 8 a.m. to 10 p.m. seven days a week.
For more information, call 219.934.0748.
The demolition of the River Oaks Theaters in Calumet City, which started in mid-June, is completely done.
Nothing remains of the vintage movie theaters that date back to the 1960s, where many Region residents saw landmark movies like "Star Wars" and "Jaws." They had been closed since 2006, and were deemed no longer viable.
Owner Namdar Realty Group/Mason Asset Management, which bought the River Oaks Center last year, has no immediate plans for redeveloping the site outside the mall, which has struggled from the loss of anchors in recent years.
The Cave, a long-closed restaurant and lounge at Grant Street and Ridge Road in Gary, is no more.
The city demolished the building, which was badly damaged in a fire last year. Business suffered at the long-shuttered grill and pub in the 1990s because of road construction projects in the West Glen Park neighborhood, according to Times archives.