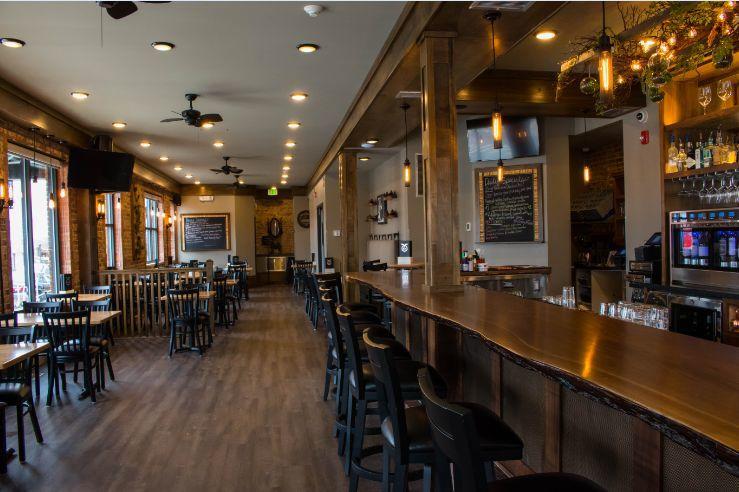 German immigrant Ernest Buck moved to Valparaiso in 1926, couldn't find any jobs in his bricklayer trade and opened a shoe store to fill a void he saw in town.
The native of Bavaria originally worked as a shoemaker by the Valparaiso University campus, but moved downtown after getting bought out by a Gary mobster who wanted to open a pizzeria there.
The family ran Buck's Shoe Repair in the Lincoln Flats building at 1 Napoleon St. from 1926 until 2009.
Ernest Buck's grandson Steve Buck, an optometrist, restored and renovated the historic building, which he's converted into a new restaurant that provides "innovative cuisine, impeccable service and top-notch wines, beers and spirits in a relaxed environment."
"There's a lot of history," he said.
Buck opened the new restaurant Lincoln Flats with his friend Russ Adams, formerly of Strongbow Inn. They've brought back Strongbow's popular turkey schnitzel using the original recipe, but adding a bed of spätzle to give it a more German twist.
The menu focuses on traditional American cuisine with twists, such as fish and chips with bluegill fillets and a spin on St. Elmo shrimp cocktail with avocado and wasabi.
"I've always been interested in wine and craft beer, and wanted to have a location that was casual and would have some unique food," Buck said. "It's not white tablecloth. It's casual. We've tried to keep entrees between $9 and $20 to create a good value. Our portion sizes are a little larger, and we would love to see people share."
Lincoln Flats has a wine list with $25 to $300 bottles and 16 craft beers on tap, including from 18th Street, New Oberpfalz and One Trick Pony. It also serves extensive spirits, including Hoosier bourbons such as Tanner's Creek Bourbon and Old No. 55, made from Indiana sweet corn mash.
"We want to have fun with craft cocktails. They're kind of whimsical," Buck said. "We have a gimlet called the Gimmy Hendricks, an Endless Summer named after the old surfer movie with vodka that's light and refreshing. Many have rock and roll themes. We take our food and wine seriously but not ourselves. We're not a pretentious restaurant. We don't do fine dining, we do great dining."
The restaurant seats 72 people and will have an outdoor patio that will start out with about 32 seats so as not to strain the kitchen, but which could be expanded in the future.
Lincoln Flats is near Valparaiso's downtown Central Park Plaza and has a liquor license that allows carryout, so Buck is looking at offering boxed lunches with half bottles of wine for picnics like those at Ravinia north of Chicago.
"Nobody else is doing it, and it would make us unique," he said. "We also have this 21-foot-long, 50-inch-wide piece of black walnut for the bar that is magnificent. It's a gorgeous piece of expoxied wood and this honeycomb was just left in there. You can look into the fissure and see dead bees to remind you it was a living organism."
Valparaiso residents have embraced the restaurant since it opened near the end of January.
"If you're looking for a casual environment with a great wine selection and innovative food, this is the place," Buck said.
Lincoln Flats is open from 4 to 10 p.m. Tuesday through Thursday, and from 4 p.m. to 12 a.m. Friday and Saturday. 
Minion's Express, a "Despicable Me"-themed restaurant at 4705 Indianapolis Blvd. in East Chicago, met the same fate as a supervillain's minions in so many Hollywood films.
The hibachi grill that also served Asian food, fried chicken and fish in a strip mall in downtown East Chicago has permanently closed after opening in 2016.
It served smoothies in lightbulb-shaped glasses one reviewer described as "so stinking cute" and had bright digital menus and a clean modern ambiance.
New U-Haul dealerships have opened in Chesterton, Hebron and Harvey. 
U-Haul Truck Share 24/7 is renting out U-Haul trucks, towing equipment and moving supplies at MAK Repairs at 513 W. Pratt St. in Hebron, Adam's Towing & Repair at 1704 Old Porter Road in Chesterton, and Jones Auto at 267 E. 150th St. in Harvey.
Anyone moving can access the trucks at those locations at any time day or night with just a smartphone.