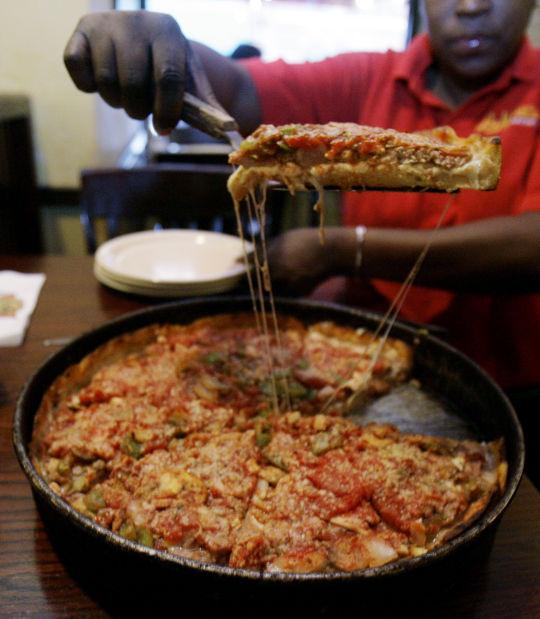 Lou Malnati's Pizzeria will open its first Indiana location at 36 U.S. 41 in Schererville early this summer, but the fast-growing chain known for its Chicago-style deep-dish and thin-crust pizza may expand further across Northwest Indiana.
"There is interest in continuing to expand in the area," Lou Malnati's Brand Manager Meggie Lindberg said. 
Lou Malnati's first Region location will be located in the former Gayety's Chocolate & Ice Cream in the Town Square Shopping Center at Indianapolis Boulevard and Main Street in Schererville. Don't expect to dine in.
"It will be a carry-out and delivery location, there will not be any seats," Lindberg said. "We will hire between 30 to 40 employees for this location."
Lou Malnati's carryout and delivery locations are usually open at 4 p.m. Monday through Thursday, and from 11 a.m Friday through Sunday, Lindberg said. They typically close between 10 p.m. and midnight.
"Schererville is part of Chicagoland and an area we haven't ventured," she said. "As a thriving community and a great place to raise a family, we feel it is a natural fit for us."
Schererville Town Manager Robert Volkmann said it would be one of "about 35 pizzerias" in the town, but said the chain was beloved throughout Chicagoland, where it's held up as one of the top purveyors of deep dish.
"Hopefully, it will lead them to eventually open a sit-down restaurant," he said. "Some people like to have a glass of wine with their pizza."
Schererville has managed to land both Giordano's and Lou Malnati's over the last few years because it's a regional hub for dining and entertainment, Volkmann said. 
"Maybe they figure we just like eating a lot of pizza," he said.
The Region's first Korean barbecue restaurant is going to bring the beef to Highland.
The owner of the House of Kobe restaurants in Schererville and Merrillville plans to open Kui Korean BBQ next month at 9628 Indianapolis Blvd. in Highland.
Jerry Chang ran the Peking House there and then leased it out to Exotic Thai, which closed last year. He tore down the old building and built a new one.
"Things get old," he said. "It needed a new fresh look to keep everything more modern."
Chang opened the Schererville House of Kobe in 1997 and then placed a second restaurant in Merrillville in 2001. He decided to open the 4,000-square-foot, less-than-100-seat Kui — which means grill in Korean — because there was nothing like it in the Northwest Indiana market.
"It's Korean barbecue where the food is cooked right at your table," Chang said. "A chef cooks in front of you, or guides you on to how to cook the food. It's mostly steak. It would be considered a steakhouse with a couple of seafood dishes."
Customers can cook thinly cut meat for about a minute on a smokeless 12-inch grill at their table.
"It's an interesting concept," Chang said. "We marinate the raw meat, slice it up and guide you on how to cook it. The raw meat is cut fresh-to-order and sent right out to the table. You can cook it for less time if you want it more rare. It's an atmosphere where you can have fun with family or a date."
Kui Korean BBQ will employ about 15 people.
"It's very interesting for the area," Chang said. "There's no restaurant like ours around unless you go to downtown Chicago."
If the Highland location succeeds, he may open a second restaurant, potentially near Valparaiso University in Valparaiso.
"We like to have a little distance between locations," he said.
The restaurant will be open from 11 a.m. to 9:30 p.m. Monday through Thursday, 11 a.m. to 10:30 p.m. Friday and Saturday, and noon until 9 p.m. Sunday.
For more information, call 219-296-9611 or find Kui Korean BBQ on Facebook.
B & B Cafe plans to take over the former Joe's Cafe spot at 1312 N. Main St. in Crown Point that previously had been home to the Cherry Tree Cafe.
Joe's Cafe abruptly closed last month after owner Joe Sila died.
New owners Brittany Walter and Brian Czerwinski plan to reopen the spot as a family diner that will serve breakfast and lunch from 6 a.m. to 3 p.m. They've put in new flooring and new chairs, and repainted the outside of the building.
"We're going to have a lot of the same food, like homemade waffles, but we'll also have pasta dishes with shrimp and a lot of new soup," Walter said. "I've been working in restaurants for the last 15 years and had worked for Joe, the previous owner. It's been my dream to open a nice place that serves a good meal."
The menu at the 1,100-square-foot, 84-seat restaurant will include skillets, omelets, French toast, pancakes and biscuits and gravy. Breakfast meals will be served with hash browns, toast or fruit cups.
"It's going to be the same type of restaurant but we're going to modernize it a little bit," he said. "There's been a diner here so long. We just want a place where you can get a coffee and oatmeal. We want the same atmosphere as at your own house where you can smile and have nice food that makes you happy."
The restaurant will offer items like Chicken Parmesan, French fries, homemade coleslaw, and fish on Fridays like tilapia and perch.
"Everyone is welcome," she said. "It will be clean with a warm atmosphere and fresh food where everyone is respected as a person."
They have done extensive renovations.
"We've spent a pretty penny to freshen everything up," Walter said. "We want everything to be new and modern and exciting. We plan to be involved in the community, to sponsor kid's teams in baseball and basketball. We want to be active, to do community fundraisers and things in the neighborhood.
A grand opening is slated for 6 a.m. to 3 p.m. on April 27.
For more information, find B & B Cafe on Facebook or call 219-850-3034.
JD's Resale Store is giving clothes, furniture and other used items a second chance at 5744 Central Ave. in Portage.
"We sell anything that's resellable and of good quality or good use," owner Joshua Davis said. "We're a limited liability company that's trying to be competitive with the big guys like Goodwill and Salvation Army. We're trying to help the community and make a little profit."
Davis, whose father owns a company that does cleanouts, wanted to avoid throwing away "a lot of good stuff." So he opened a 2,800-square-foot resale shop that aims to have lower price points than the bigger thrift store chains.
"Our prices are the lowest of the low," he said. "We want to help people get dressers, furniture, electronics, home improvement items, things people actually use. We have a little bit of everything and are always getting new stuff."
Davis hopes to eventually grow the shop into the biggest resale store in Northwest Indiana.
"When you come in, you're supporting a small business," he said. "We have two employees already. We're trying to help the community out. We're not trying to get rich. We're just trying to help people find a good deal."
The business is open from 10 a.m. to 6 p.m. Monday through Saturday and is closed on Sundays.
For more information, call 219-850-3034 or find JD's Resale Store on Facebook.
Family Express has opened a gas station and convenience store at 1208 E. 45th Ave. in Griffith.
The Valparaiso-based chain tore down a Family Video rental store at the corner of 45th Avenue and Colfax Street across from the Griffith-Calumet Township Branch of the Lake County Public Library.
Unlike other convenience stores, Family Express stocks many fresh items like milk, bacon, square donuts, espresso drinks and ready-to-go salads.
The new Griffith East location is open from 5 a.m. to 12 a.m. seven days a week.
If you've got tips about new stores or restaurants anywhere in the Region, or just wonder what's under construction somewhere, contact NWI Business Ins and Outs columnist Joseph S. Pete at joseph.pete@nwi.com or 219.933.3316.
The business news you need
With a weekly newsletter looking back at local history.