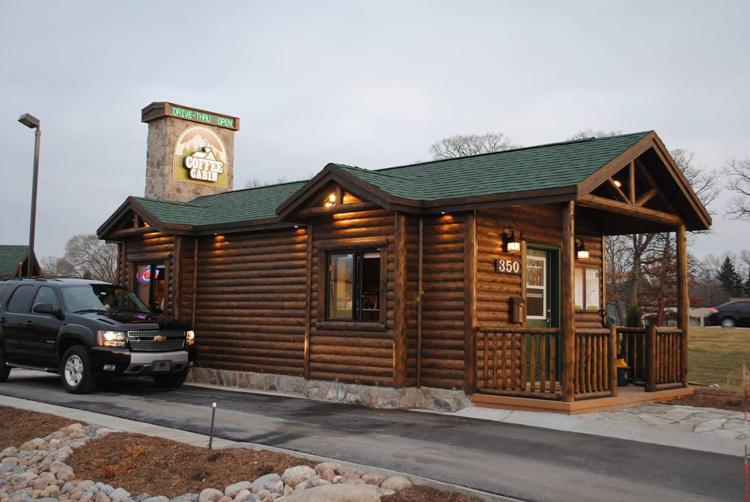 Greeting cards are sentimental, but the world moves on.
The landmark Louise's Hallmark Shop building in St. John did not sit on the market for long.
The 30-year-old gift boutique and greeting card store — routinely recognized as one of the top gift shops in Northwest Indiana in The Times Best of the Region polls — closed for good.
Owner Jill Luecker, who took over 10 years ago from founders Louise and Bob Lauer, said that rise of e-commerce had hurt business considerably and that people did not shop as much at brick-and-mortar as they had just five or 10 years ago. 
Generations of Region residents bought cards or gifts at Louise's Hallmark Shop to celebrate birthdays, Valentine's Day or other special occasions, both at its previous location at the St. John Mall and its current spot at 9533 Wicker Ave.
The 12,000-square-foot building was snapped up by another longtime business in St. John when it went on the market.
Golf wholesaler J&M Golf, known for its wide selection and annual blowout tent sale, acquired the property for an undisclosed sum. It plans to move from its existing location at 10135 Earl Dr. in St. John to the former Louise's Hallmark Shop building, which is more than twice as large. 
"It is bittersweet to watch as one business closes and another opens," said Aaron McDermott of Latitude Commercial, who represented both the buyer and the seller in the deal. "While it is sad to see Louise's close its doors, it's great to see a high-quality local business such as J&M Golf take over the space." 
Chela's Tacos, a longtime staple of downtown Gary, has reopened at a new spot at 5115 Broadway on the south side of town, near the Merrillville border.
Now called Chela's Tacos and Cervezas, the longstanding Mexican restaurant offers $2 tacos and $3 beers on Taco Tuesdays. The eatery, which opened July 12, offers pork, beef and chicken tacos, as well as nachos and imported Mexican beers like Corona and Modelo.
Chela's Tacos is open from 11 a.m. to 10 p.m. Monday through Thursday, from 11 a.m. to 1 a.m. Friday and from noon to 2 a.m. Saturday. It's closed on Sundays.
For more information, call (219) 939-7546 or find the business on Facebook.
Coffee Cabin, the Pacific Northwest-style drive-through coffee stand, has expanded to Valparaiso and Merrillville.
The rustic, woodsy-themed coffee shop just off U.S. 30 in Schererville and in the Highland Meijer, has opened Lil Coffee Cabin locations inside the Meijer Store at 611 U.S. 30 in Merrillville and at 3538 Calumet Ave. in Valparaiso.
The log cabin-themed coffee shop sells small-batch air-roasted java "as a better alternative to large national chains." The coffee shop offers a wide array of "coffee, lattes, mochas, tea, frappes, milkquakes, smoothies, hot chocolate and fresh baked goods."
The Valparaiso location is open from 7 a.m. to 7 p.m. Monday through Saturday and from 8 a.m. to 6 p.m. Sunday and can be reached at (219) 510-5601.
The Merrillville location is open from 8 a.m. to 8 p.m. daily and can be reached at 219-628-3469.
Dollar Tree is moving into part of the former Sears Mattress and Appliance Store at 1150 U.S. 41 in Schererville.
Northbrook, Illinois-based property manager Pine Tree announced on the Town Square Shopping Center website that the former Sears space would be subdivided into three storefronts, and the Virginia-based Dollar Tree would take up 10,000 square feet of it.
A 4,850-square-foot and a 4,170-square-foot space are available for rent.
The 138,523-square-foot outdoor shopping mall on Indianapolis Boulevard, across the street from Shops on Main and just south of the Highland border, also is home to Bed Bath & Beyond, Supercuts, American Mattress, Bath & Body Works, Wild Birds Unlimited, H Dog and the newly opened Lou Malnati's.
Dollar Tree, which sells many different items for $1, is a Fortune 500 company that owns Family Dollar and operates more than 14,000 locations nationwide, including in Dyer, St. John, Highland, Hobart, Griffith, Gary, Crown Point, Merrillville, Portage, Chesterton, Valparaiso, LaPorte and Michigan City.
Region Mortgage opened at 9111 Broadway Suite H in Merrillville.
Steve Stasny and Ed Stojancevich, who have more than 30 years in the mortgage industry, founded the lending company "based on a revolutionary idea that the mortgage business can be smoother, simpler, more efficient and more competitive while creating a mutually beneficial and enriching culture for its team, clients, referral sources and neighboring communities."
"Region Mortgage is a company of loan officers, created by loan officers, for loan officers who are willing to share these same goals, values and ideals and genuinely desire to make a positive impact and enrich the lives of those whom path they cross," the company said in a news release. "As two people who were born, bred, and are currently raising our own families in the Region, we felt it appropriate to tip our hat to the land of our roots. We carry with us, many memories of this remarkable area, and we feel the need to pay homage to the place that has given us so much."
Region Mortgage is open from 7 a.m. to 8 p.m. Monday through Friday.
For more information, call (866) 773-4466 or visit www.region.mortgage.
South Shore Eye Care has opened at 10413 Calumet Ave. in Munster in a new strip mall between Dunkin Donuts and CVS.
It was launched by Zachary T. Jones, a second-generation optometrist whose grandfather practiced optometry in Lansing. Jones, a lifelong Munster resident with a wife and two daughters, graduated from the Indiana University School of Optometry in 2008 and worked at Carmine Vision Care in Lansing with Terrance Carmine, his childhood optometrist. 
"I made my decision to step away as his associate doctor in pursuit of owning my own private practice and had a strong desire to practice in my hometown of Munster," Jones said. "This is where the idea of South Shore Eye Care came to be. Our practice is brand new from the ground up and will be a beautiful space with state-of-the-art instrumentation. We will carry unique eyewear lines not found everywhere and will provide highly personalized medical eye care to our patient base."
South Shore Eye Care is open from 9 a.m. to 5 p.m. Monday, Tuesday and Thursday, from 10 a.m. to 6 p.m. Wednesday, from 9 a.m. to 4 p.m Friday, and from 9 a.m. to 1 p.m. Saturday.
Regional Federal Credit Union at 7144 Kennedy Ave. in Hammond briefly closed last week after a car hit a power pole outside, causing the credit union branch to lose power.
It reopened a day later after the power was restored.
If you've got tips about new stores or restaurants anywhere in the Region, or just wonder what's under construction somewhere, contact NWI Business Ins and Outs columnist Joseph S. Pete at joseph.pete@nwi.com or 219.933.3316.