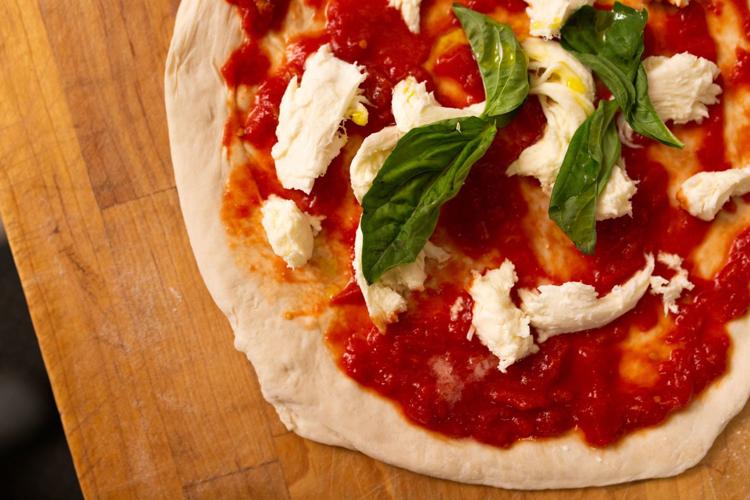 Battista's Artisan Pizzeria has swooped in to take over the restaurant space recently vacated by Mattioli's Pizza in the Hall of Justice building in downtown Crown Point. 
Chef Joe Gaal, the owner of the acclaimed Sage Restaurant in downtown Valparaiso, plans to open a Neopolitan and alla Romana gourmet pizza place, which will grow all its herbs hydroponically inside the building and handmake all its sourdough.
Gaal's "chic + casual" Sage is a trattoria that specializes in homemade pastas and American-Italian fusion cuisine. It's so classy that Google describes it as classy when you Google it.
"The nice thing is we can cook whatever we like there," he said. "But we have favorites that if we took off the menu people would throw bricks through the window. If I took the chicken marsala off the menu, I would fear for my life every time I went to my car."
At his new venture at 220 S. Main St. in Crown Point, Gaal hopes to introduce diners to more European styles of pizza. His second restaurant is named after his mother, whose maiden name is Battista.
"The pizza we have here in this country is basically Italian-American," he said. "It's New York-style pizza everyone's accustomed to. In Italy, there are a couple of different styles. There's alla Romana with the thin crispy crusts, and Naples-style with the big wood-fired crust. We'll be offering both Naples-style and alla Romana."
But there will also be a modern twist.
"It will be old world meets the new world," he said. "We do a classic Margherita and a classic buffalo Margherita with buffalo mozzarella. We'll also do a Cluck Cluck Boom, where the cluck cluck is chicken and the boom is lightly pickled banana peppers."
Gaal plans to smoke chicken, porchetta, pork shoulders and other meats that will be served on the pizza or with cheese on charcuterie plates. Basil, oregano and other fresh herbs will be grown hydroponically on-site. A major focus will be on the crust.
"Artisanal means you work with your hands," he said. "We'll be making dough with sourdough, the world's oldest bread that dates back to ancient Egypt. We're going to let the dough ferment for at least 30 hours. It's the old way of making it that brings more flavor. It gives the dough the chances to be alive and express itself. The yeast is alive, and the longer you ferment it, the more complex and bigger the flavor is. It takes hours and hours to master a living dough."
Gaal said he hopes to preserve the traditional artisanal ways of cooking.
"I've been doing this for 25 years and you have to have a passion for it," he said. "There's a right way to make things and a wrong way. You have to never stop learning, and dive into the studying. If you give your heart to it and have a passion for it, people notice."
He plans to source many ingredients from local farmers and farmer's markets. He makes the sauce with tomatoes picked at their peak of ripeness, with salt and olive oil, but no sugar.
"These are ingredients I fell in love with," he said. "I hope my diners fall in love with it too."
The 2,800-square foot restaurant will seat 48 initially and another 60 when the back room is opened later. It will employ 10 people and offer outdoor dining in the summer.
The South Side native always wanted to run a pizza restaurant and got the opportunity to do so when he found out the Mattioli's space was opening up.
"The pizza stars aligned," he said. "It's a historic building and when you walk in it's like a corner on Italy, where you're walking down the street to a trattoria. Then you walk through a door and cross through the old world into the new world. At least I hope people will see it this way. It's like an alleyway in Italy and then you enter a more modern space we've been renovating."
Battista's Artisan Pizzeria will offer a featured pizza of the month, calzones, salads, espresso and desserts like tiramisu and cannoli. It will offer Italian wines, craft beers and imported Peroni, and cocktails.
"We'll have all the popular varietals and estate origin wines," he said. "The wine selection will be rotating and the wines won't break the bank. There won't be any $13 wine pours. We also plan to educate people with wine classes, bread-making classes, hands-on stuff."
Battista's Artisan Pizzeria will be open from 5 to 10 p.m. Wednesday and Thursday, and from 5 p.m. to 12 a.m. Friday and Saturday.
Harbor Freight Tools is coming to Portage, where it will employ 35 to 40 workers.
Keep reading for FREE!
Enjoy more articles by signing up or logging in. No credit card required.
The California-based chain plans to open a new store next to Big Lots in the Portage Commons Shopping Center on U.S. 6, in the heart of the city's retail trade area.
Harbor Freight Tools purports to sell "quality tools at ridiculously low prices." It carries a selection of more than 7,000 tools that range "from hand tools and generators, to air and power tools, from shop equipment to automotive tools."
The family-owned chain has more than 1,000 locations across the country and has served more than 40 million customers since it was founded 42 years ago.
The 15,000-square-foot store at 5972 US Highway 6 is tentatively slated to open April 16, with a grand opening in May.
Belle Tire, a Michigan-based premium tire and auto care shop, will soon open new stores in Valparaiso and Merrillville.
Spokeswoman Sawyer Lipari said the Valparaiso store will open in a newly constructed building on Porters Vale Boulevard in September, and employ around 20, who will be hired locally.
"Belle Tire believes there is a lot of opportunity in the market, and the company can offer premium tire and auto services to the community," she said. "Belle Tire is planning to open a store in Merrillville as well, with its next closest store already located Michigan City, which has been open for two years now." 
Debbie's Dresses in Whiting is closing after 42 years. Debbie Manderino has run the prom dress shop at 1828 Indianapolis Boulevard.
"She will be officially closing up shop this spring," her son Joey Manderino said.
Liquidations sales of up to 80 percent off will continue until May.
The business opened in 1977 when Manderino got a $1,000 loan from her mother. It became known for its bright purple awning and eye-catching window displays. The boutique "exploded into one of the most highly trafficked special-occasion destinations in the Region, outfitting thousands of girls a year with the perfect dress for their high school proms and formals."
"Debbie's has been the absolute joy of my life," Debbie Manderino said. "But all good things must come to an end. And I'm looking forward to the next chapter in my life. A chapter with more palm trees."
For more information, call 219-677-1741 or find the business on Facebook and Instagram.
Joe's Cafe has served its final omelet in Crown Point.
The pancake house and diner at 1312 N. Main St. in Crown Point closed for good because of the death of the owner.
"Due to the passing of Joe Sila, his cafe has closed effective immediately," a sign posted on the front door said. "We apologize for the abrupt nature but we know you understand given the circumstances."
The cafe, only open for breakfast and dinner, was known for burgers, pancakes, biscuits and gravy, ethnic fare and endless cups of coffee.
Most people are streaming movies via Netflix, Hulu, Amazon Prime, Crackle or other streaming services.
Oasis Video at 8231 Hohman Ave in Munster, the town's last video store, went the way of VHS and disappeared.