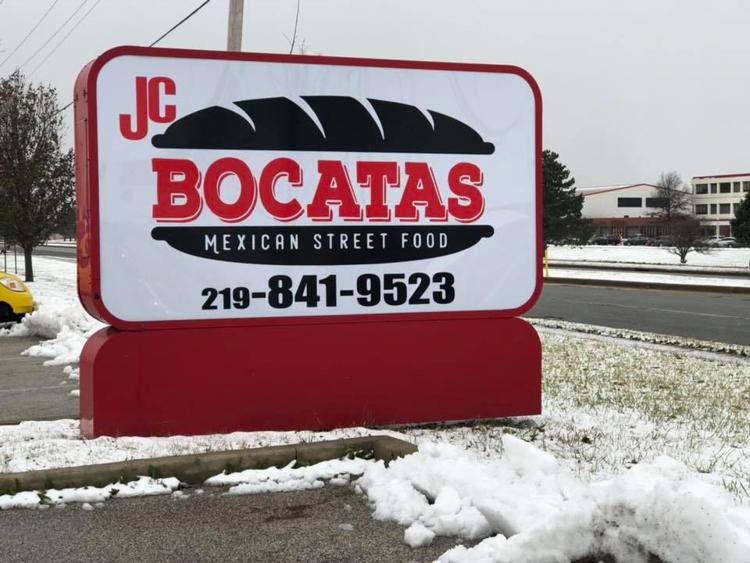 A few new Mexican restaurants have cropped up along one of Portage's busiest commercial strips.
The new JC Bocatas Mexican Street Food restaurant specializes in tacos, empanadas and cemita-style tortas that are served in a sesame seed-covered roll similar to a brioche bun.
The quick-serve restaurant at 6475 U.S. 6, across from the Portage 16 IMAX, also offers elote, cheesy roasted poblano soup, and battered yucca fries with mojo mayonesa. Tacos come topped with jalapeño lime slaw, a Mexican cheese blend and cilantro, with options including braised beef, achiote pork, chicken tinga, fish, vegetables and chorizo and potato.
"It's the best Mexican street food," co-owner Claudia Saenz said. "It's all made fresh the same day. Nothing is frozen. It's good, fast and fresh."
Her husband Jose Saenz had worked in restaurants for 20 years and always dreamed of opening his own place.
"He always worked long hours and said he should be working for himself," she said. "He had the opportunity to do it and just went for it. I have a job but help out as much as I can. He loves it."
The small restaurant has a drive-through and focuses on take-out orders. Customers will soon be able to order through the website.
"We eventually probably want to open more restaurants," Saenz said. "And we probably want to make this one bigger."
JC Bocatas is open from 11 a.m. to 9 p.m. Monday through Saturday, and may eventually open on Sundays. For more information, visit www.jcbocatas.com or call 219-841-9523.
Tocayos Express Mexican Food aspires to be the Chipotle of authentic Mexican food. The taqueria at 6652 U.S. 6 tries to get all its food out fast and lets customers choose their own meat options for tacos and burritos, including ground beef, shredded chicken and grilled veggies, or premium options like asada, shrimp, al pastor and barbacoa.
"We're something similar to a Chipotle," owner Sarah Garcia said. "You can view the guys cooking the food in the back, cooking it on the grill."
The restaurant in the Diamond Plaza strip mall employs four and has a 3,000-square-foot dining room, plus a few seats for outdoor dining. It serves enchiladas, quesadillas, chips and salsa and dollar tacos on Tuesday.
"We try to get all the food out in less than five minutes," Garcia said. "We have a really good product with really good flavor, a good marinade. It's different than most Mexican food. It's more authentic and fresh and you can watch it being made at that moment."
Garcia eventually hopes to open more Tocayos express restaurants, including in Valparaiso and surrounding areas.
Tocayos Express Mexican Food is open from 11 a.m. to 9 p.m. Monday through Thursday, from 11 a.m. to 10 p.m. Friday and Saturday, and from 11 a.m. to 7 p.m. Sunday. For more information, call 219-850-4458.
Not every IPA in Northwest Indiana is hoppy.
Illiana Power Asylum outgrew its space in the World Gym in Highland and is now located off the Cline Avenue service road at 7940 1/2 Nevada Ave. in Hammond. The gym caters to powerlifting and strongman athletes.
"Both the owners compete in strength sports," said Heather Dawn Gray, who handles marketing for the gym. "It serves a niche for strongmen and powerlifting. It's like an old school mom-and-pop-type gym where the strongest fit in and do their work."
Owners Evan Young and Andrew Jeleniewski filled the gym with free weights and specialized equipment like Atlas stones, prowler sleds, and giant tires that can be flipped in the parking lots. It offers discounts to active-duty military, police, and students with good grades.
The gym sells protein powders and other supplements, offers personal training, and sponsors a local powerlifting team that enters into competitions.
"It's fun and everyone is super-friendly, helpful and respectful," Gray said. "It's not like a commercial gym, where you expect the staff to put your weights back for you. It's one big family."
Illiana Power Asylum is open from 8 a.m. to 10 p.m. Monday through Friday, from 8 a.m. to 7 p.m. Saturday and from 9 a.m. to 4 p.m. Sunday.
For more information, call 219-803-0894 or find Illinana Power Asylum on Facebook or Instagram.
Core Crown Point has moved to a new studio in the space formerly occupied by the Dillinger Museum in the lower level of the old Lake County Courthouse in downtown Crown Point.
Owners Kelly Walden and David Walden opened the business a year ago in a 400-square-foot space on an upper level of the historic courthouse. They recently relocated to fill a 1,600-square-foot space right by the north entrance, nearly all of the space previously occupied by the John Dillinger Museum.
The gym offers small group classes in pilates, yoga, Bohdi suspension and indoor cycling. Walden said the goal is to offer the quality of group training one could get in Chicago at much more affordable prices.
"None of the classes have more than eight people," Kelly Walden said. "It's not just about how you feel after the workout, but also the connections you make in the class. The retention rate is so much higher when you make a friend in class."
Core Crown Point expanded quickly after Pilates of Northwest Indiana, the only other pilates studio in Crown Point, closed last March. Most of the instructors moved over to Core Crown Point, and brought their clients with them.
The fitness studio was drawn to the courthouse because of the affordable rent, but isn't as visible as when it had its own storefront.
"We've had to grow organically by word of mouth," she said. "We have seven instructors and they're all just fantastic."
Despite being hidden away, Walden enjoys the location.
"I just love the courthouse environment," she said. "It's a historical building but a living, functioning part of history. Prisoners used to walk through here on the way up to trial on the third floor of the courtroom. There's a lot of history."
For more information, call 219-202-8622, visit www.corecrownpoint.com or find Core Crown Point on Facebook and Instagram.
The long-awaited Community Immediate Care Munster at 1946 45th St. in Munster opens Jan. 28.
The immediate care clinic, in a newly constructed building by the Munster-Highland border, will offer walk-in healthcare services for minor illnesses and injuries and imaging services like MRIs. Doctors who practice Family Medicine, Internal Medicine, and Obstetrics, and Gynecology will be available to meet with patients there.
"When illness strikes, access to quick care is important," Community Hospital CEO Lou Molina said. "With the addition of this new immediate care center, residents will have access to the same high-quality services found across our entire healthcare system in a convenient location."
Community Immediate Care Munster will be open from 8 a.m. to 8 p.m. Monday through Friday, and from 8 a.m. to 4:30 p.m. Saturday and Sunday.
For more information, call 219-703-2420 or visit comhs.org.
Times business reporter Joseph S. Pete provides the details on what's coming and going in the Region retail and restaurant world.
If you've got tips about new stores or restaurants anywhere in the Region, or just wonder what's under construction somewhere, contact NWI Business Ins and Outs columnist Joseph S. Pete at joseph.pete@nwi.com or 219.933.3316.
The business news you need
With a weekly newsletter looking back at local history.