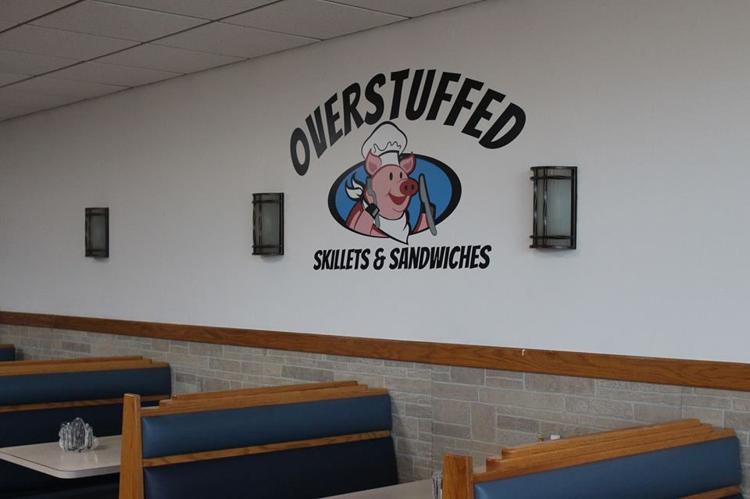 Tim Champagne, who's handled concessions for the Gary South Shore RailCats, Chicago Fire, Colorado Rockies, Oakland A's and San Jose Sharks, won't let diners leave hungry at his new Overstuffed Skillets and Sandwiches restaurant.
It's got some extreme menu items — think a chicken finger sub sandwich topped with mozzarella sticks, cheese curds and more.
The breakfast and lunch joint is in the old Zorba's space at 3309 45th St. in Highland, on the Griffith border.
"We gutted it and put in new carpet, tile, floors and booths," Champagne said. "We redid every booth, every chair in the place. We got granite and stainless steel in the kitchen. Everything back there is new." 
The 140-seat restaurant serves pancakes, French toast, skillets, omelets, a breakfast burrito with green chilies, burgers, sandwiches and Philly cheesesteaks.
"It's all the food I love to eat," Champagne said. "Overstuffed has large portions and large, overstuffed sandwiches and skillets. Anyone looking to cut calories probably shouldn't come here." 
A specialty is "The Overstuffed Bomb" sandwiches that are stacked almost alarmingly high. The Chili Bomb tops a hamburger with "chili, shredded cheddar cheese, grilled all-beef hot dog, more chili, more cheese, tater tots, even more chili and even more cheese on a sub roll." The Italian Bomb tops chicken fingers with mozzarella sticks, pizza bites, cheese curds, mozzarella cheese and marinara sauce. The Buffalo Bomb starts with a Buffalo Chicken Philly sandwich that's buried under Buffalo chicken tenders, jalapeño poppers, buffalo fries, crumbled blue cheese and ranch dressing.
Overstuffed has several varieties of Philly cheesesteaks, a "fork and knife" chili cheese dog, a triple grilled cheese sandwich, a Reuben and a fried baloney deluxe sandwich with a thick steak-like slice of baloney that's grilled, topped with bacon, American cheese, mayo and an over-easy egg, and served in Texas toast. 
Breakfast and lunch items will be available all day at the diner, which employs 15 people. Champagne surveyed other local restaurants to ensure competitive prices, like $8.75 for skillets.
"We've got some pretty big portions," he said. "We're right in the middle of Griffith and Highland, and those communities have really been my focus. This place has been empty for a long time and we put a lot of money into it. We hope to bring back this strip mall."
Champagne hopes to draw breakfast regulars as well as local high school students, who he hopes will drop by for milkshakes after school.
"We really tried to make our menu stand out," he said. "The food and service will be top notch. Everything is homemade and we try to use as much local stuff as possible to keep it in the community."
Keep reading for FREE!
Enjoy more articles by signing up or logging in. No credit card required.
Overstuffed is open from 6 a.m. to 6 p.m. Monday through Saturday, and from 6 a.m. to 6 p.m. Sunday.
Meijer completed renovations to its big box store at 10138 Indianapolis Blvd. in Highland, and celebrated with a grand re-opening Sunday.
The Grand Rapids-based retailer added a drive-through for the pharmacy and a consultation room where people can meet with their pharmacist and get a wellness checkup or a flu shot.
The store added a sushi bar in the deli section where customers can get pre-made sushi trays, order sushi rolls by request from on-hand sushi chefs, or buy rolls for $4.99 on "Sushi Wednesdays."
Meijer added a new pet department with premium pet food like Blue Buffalo, more than 200 pet treats and "a wide range of toys." It expanded the Baby Department and the Apparel Department, adding a Skechers shop with more than 130 shoes and a Carter's Shop for kids and babies.
Volstead, a highly regarded "unconventional" fine dining restaurant in Chesterton, closed Saturday.
The restaurant, known for its progressive American food, opened about a year and a half ago in a house at 225 S. Calumet Road. The Duneland eatery was known for craft cocktails, curated craft beers, an extensive wine list and wine pairing dinners. It drew its name from the Volstead Act that enforced Prohibition in the United States. 
Volstead featured a creative menu that catered to the foodie set. Entrees included a bahn mi burger, milk-braised pork with crispy kale and pickled garlic and schnitzel with pickled raisins, gremolata, caramelized cauliflower and mushroom conserva.
Volstead was well reviewed, earning 4.7 out of a possible 5 stars from reviewers on Facebook. One reviewer from Chicago even claimed it had "the best burger in Chicagoland" and "gave Au Cheval a run for best burger."
Spokeswoman Monica Jimenez Susoreny said Volstead was closing because chef and co-owner Dino Cocco was moving out of state. There are already plans afoot to open a new restaurant in the space next spring.