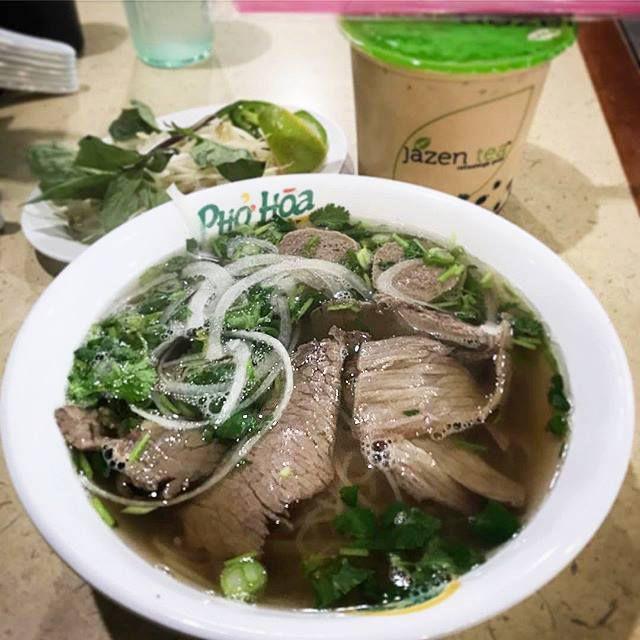 Fans of Vietnamese street food will soon have another place to slurp the savory noodle soup pho when a California-based chain opens soon just north of downtown Crown Point.
Pho Hoa + Jazen Tea hopes to open at 1101 N. Main St. in Crown Point by July 1 if gets all the necessary approvals from the city by then, Marketing & Sales Manager Thi Nguyen said.
The 35-year old restaurant operates more than 60 franchises worldwide, including in Canada, Indonesia, Korea, Philippines, Malaysia and Taiwan, and claims to be the largest Vietnamese fast-casual chain in the world. The Crown Point location will be its first eatery in the state of Indiana.
"It's a very healthy conscious menu with pho soups, soup broths, spring rolls, egg rolls and rice plates with salmon, chicken and our signature lemon grass pork chop," Nguyen said.
It's a dual brand with a fast-casual restaurant on one side and a Starbucks-like tea shop on the other, she said. Jazen Tea specializes in freshly brewed jasmine tea drinks made with fresh fruit, such as the Berry Blossom strawberry raspberry tea with strawberry fruit bits; a green tea with strawberry, mango and pineapple bits; a Honey Delight honey jasmine green tea with chia seeds, strawberry fruit bits; aloe vera; and a mango mojito with minty lime mango peach tea with mango fruit bits.
Pho Hoa's menu includes many variations on pho, a broth- and herb-based soup that can be ordered with steak, brisket, or meatballs. It also has vegetarian options, rice plates and vermicelli bowls with proteins like prawns and pork that is locally sourced whenever possible.
"When it comes to food and drinks, people are looking for healthier options to dine," Nguyen said. "We're health-conscious and make our food with local ingredients. It's very healthy but also very flavorful."
Pho Hoa has been growing across the country.
"The owner was a Vietnamese refugee," she said. "Anybody can come here and live the American dream. There was an influx of refugees who came over, made an income, worked hard, and built their own wealth. The owner realized the American dream."
You have free articles remaining.
Keep reading for FREE!
Enjoy more articles by signing up or logging in. No credit card required.
uBreakiFix, a chain of tech repair stores, has opened in Highland and plans to open another store in Michigan City soon.
uBreakiFix Schererville at 2305 Main St. Unit B2 in Highland, across from the Highland Grove Shopping Center right on the Schererville border, will fix smartphones, gaming consoles and other assorted gadgets and gizmos that people drop or that just suddenly stopped working one day.
The electronics repair company also opened a store in Portage earlier this year and is working to open a store at 4357 Franklin St. in Michigan City where people will be able to have cracked screens, broken charge ports or tablets dropped into the toilet fixed.
The Highland store is open from 10 a.m. to 7 p.m. Monday through Saturday, and from 12 p.m. to 5 p.m. Sunday. For more information, call 219-595-0037 or visit www.ubreakifix.com.
Family Dollar has reopened its newly renovated dollar store at 2626 Central Ave. in Lake Station.
"Family Dollar is proud to be a part of the Lake Station community and we're excited to welcome existing and new customers to our newly renovated store," Family Dollar spokesperson Heather Briganti said. "In addition to providing everyday low prices and a broad assortment of merchandise, we have expanded our selection of food, beauty and essentials, household products, and seasonal items. Our renovated store should provide even greater value and convenience to our shoppers."
The discount chain sells many, but not all, items for $1.
The Lake Station Family Dollar is open from 8 a.m. to 10 p.m. seven days a week.
For more information, call 219-962-5498.