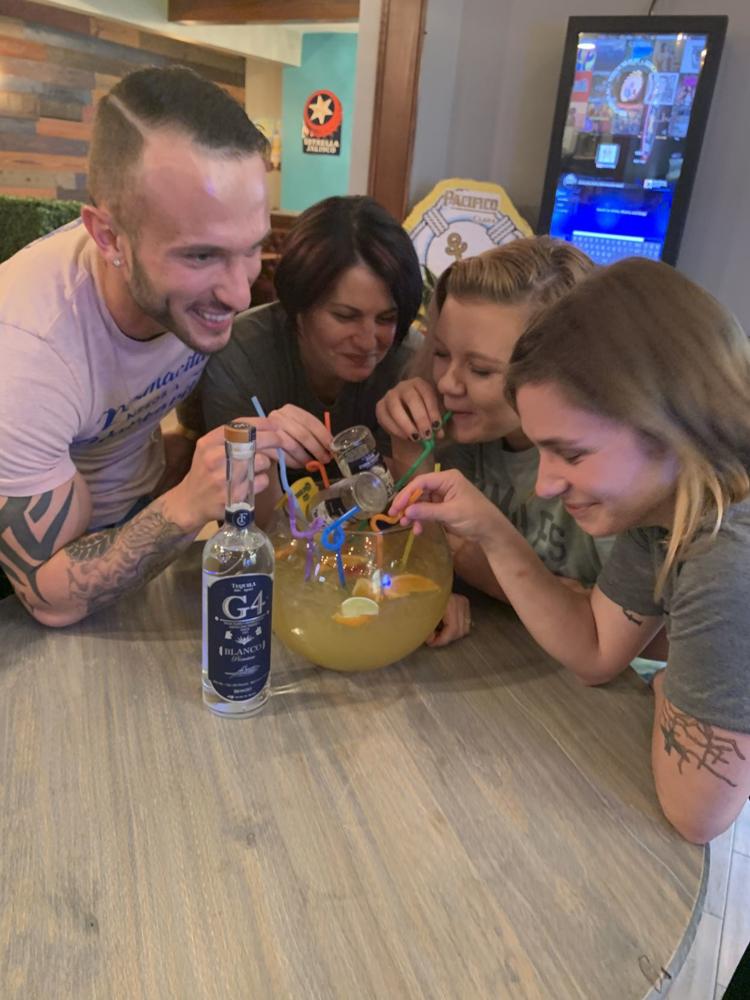 Las Mamacitas Tacos, Tamales and Tequila in Chesterton hopes to generate buzz this Cinco de Mayo weekend with unique menu items like lobster claw tacos, tequila slushies, flash fried avocado fries with a chipotle crema, and a gargantuan 100-ounce margarita that will only be served to parties of four or more.
The restaurant, scheduled to open this weekend, is in the former Volstead space at 225 S. Calumet Road in Chesterton. It will offer five different varieties of margaritas in servings of 16 ounces to 56 ounces, with different rim options, like hibiscus or sweet-and-salty, intended to bring out different flavors. Las Mamacitas eventually will have a selection of 100 tequilas and offer customizable flights of tequilas, margaritas, tacos and tamales.
The restaurant is the brainchild of owner Monica Susoreny, who's also a public relations professional and the organizer of the NWI Food Truck Fest. She's spent the last four months renovating the restaurant to have a carnival-like ambiance with brightly covered murals that often evoke the Day of the Dead, adding a fireplace, Mexican pottery and a pergola by the bar to give it an outdoor feel. The restaurant employs about 20 people and could seat up to 120 people, including on the outdoor patio. It also offers catering to local businesses in Porter County.
Las Mamacitas hired chef Michelle Gomez, who's worked at the Ritz Carlton in South Beach and cooked for celebrities like the rapper Jay Z.
"We'll have authentic but out-of-the box concepts," Susoreny said. "I would say it's Mexican fusion."
The 100-ounce margarita — more than six times as large as a normal margarita — will be available in different flavors like fresca, orange and strawberry and will only be available to groups of four or more. Anyone who finishes it gets a sticker saying they drank Northwest Indiana's largest margarita.
"The best way to describe it is that it's like a fish bowl," she said. "I worked with a mixologist in Chicago after coming up with the concepts. I just have the wow factor, something fun and different, something unique and out-of-the-box. We want people to have fun when they come in and dine with us, whether it's a date night or they're looking for a unique and different experience. We want people to have fun and feel good."
Las Mamacitas also will serve imported Mexican cerveza, craft beer and fine wines. The sangria also is stronger than normal because they added brandy, and a different tequila slushie flavor will be offered each month, starting with cucumber lime. 
The menu will include lobster claw tacos, oysters on the half shell with a tequila and jicama mignonette, Mexican cactus chili nachos and vegan and vegetarian options. The many different tamale varieties include Texas brisket with a whiskey barbecue sauce, buffalo chicken with blue cheese crumbles, and Philly cheesesteak. Taco options include chipotle chicken, bang bang shrimp, and spicy siracha snapper with pickled carrots and a siracha crema.
Desserts include homemade flan and churro donuts with vanilla ice cream.
"My husband and I are happy to bring something like this to this area," Susoreny said. "Owning our own restaurant has always been a dream of ours, being foodies ourselves and in the industry for over 20 years. We developed the Las Mamacitas concept around what we envisioned would be an inviting atmosphere that provides an experience like no other. Las Mamacitas is a place that anyone can come to. There are many different authentic and unique cocktail and menu items to choose from."
Las Mamacitas plans to have regular special events like a mimosa brunch on Mother's Day, a Día de los Muertos celebration and ticketed five-course meals paired with tequila tastings. It's broken up into Taco, Tequila and Tamale rooms that can be rented out for graduations, birthday parties or other events. People also can rent out the entire restaurant.
The eatery is doing a weekend-long grand opening celebration. DJ Chef, who's appeared on the Food Network's Cutthroat Kitchen, will perform a DJ set and cook samples for guests from noon until 6 p.m. Sunday. Beer and tequila ambassadors will be on hand for tastings, and there will be live music, folklorico dancers, a beer tent and a selfie station.
Tickets to the 21-and-over grand opening fiesta in Las Mamacitas's back parking lot Sunday will include all-you-can-eat tacos and tamales, with a side of hand-cut chips and homemade guacamole.
The restaurant will be open from 4 to 9 p.m. Monday through Thursday, 11 a.m. to 9 p.m. Friday and Saturday, and 11 a.m. to 7 p.m. Sunday.
For more information, call 219-728-6650, visit www.lasmamacitasnwi.com or find the business on Facebook and Instagram.
The new Now Yoga Club & Community Center says "namaste" to yoga enthusiasts in the Tri-Town.
The yoga studio at 8255 Wicker Ave. in St. John aims to make yoga accessible to both adults and kids. It has a reception area with complimentary tea and a 1,200-square-foot yoga room where 12 yoga teachers lead 30 classes each week.
"We have a wide range of classes for everyone because there is such a wide range of needs with yoga," owner Sarah Johnson said. "For example, Chair Yoga might be perfect for someone who wants to experience the physical and emotional benefits yoga offers, but might have more physical limitations than our Vinyasa class or Yoga Burn would be comfortable for. Restorative Yoga is great for the athlete needing to stretch, the busy parent or student needing some time to unwind, or any of us who works long hours and needs to give the mind a rest and the body some recovery."
The studio also offers Zumba, guided meditation, family yoga and kids yoga, as well as monthly workshops.
Johnson has been practicing yoga for seven years.
"I'll never forget coming home from my first yoga class and taking a two-hour nap because it wiped me out, and I thought I might never go back," she said. "But I went back because I bought a class package, and by the time I finished that package I was hooked." 
She started just to work out, but soon found there was more to it.
"I started to realize it calmed and soothed me in ways I would carry off the yoga mat as well," she said. My Type A personality started to relax a bit. I started to practice mindfulness and presence not only in the yoga room, but in my life and relationships."
She began teaching yoga to middle school students and colleagues, and then at a friend's gym in St. John. She saw an opportunity to open the first yoga studio in St. John.
"There are so many benefits to yoga. Yoga is amazing work for our bodies," she said. "No matter where you start, you will see improvement in your physical practice. And it doesn't matter where you start. The biggest myth about yoga is that you need to be flexible or have balance or any of these other prerequisites people come up with in their minds. All you need to do to start is show up and just be patient with yourself and see what happens. Yoga is amazing work for our emotional bodies as well. It's not an overstatement when I say it has completely changed my life for the better."
Harold's Chicken is bringing another location to Gary.
The beloved South Side fried chicken chain, a favorite among rappers like Kanye, Lupe Fiasco and Chance the Rapper, will open in a strip mall by the McDonald's on Dunes Highway in the Miller neighborhood later this year, Mayor Karen Freeman-Wilson said.
Known for its cooked-to-order chicken and wings, often enjoyed with generous servings of mild sauce, Harold's has another Gary location on Grant Street as well as restaurants in Hammond, Merrillville and Dyer.
Two new grocery stores and a Caribbean jerk chicken restaurant are opening soon in East Chicago.
Noonies Famous Jerk & Things, the latest restaurant venture from the owner of Granny's Carry Out and Jet In Jet Out Fish, will serve up spicy chicken at 3931 Main St. downtown. El Charro Grocery is coming to 4926 Kennedy Ave., and Las Tres Palmas Grocery will open at 502 W. 151st St. downtown.
"I am pleased to see new business growth in East Chicago," Mayor Anthony Copeland said. "Small mom-and-pop establishments are critical to our local economy. They provide much-needed items, services and jobs."
Secure Dental opened in a new strip mall at 7905 Indianapolis Boulevard in Hammond.
"This is their first location in Indiana and they chose a great location on Indy Boulevard and 80/94, joining Red Wing Shoes, Great Clips and an entertainment-focused AT&T Store," Hammond Director of Economic Development Anne Anderson said.
The dentist's office promises "dentistry with a healthy smile."
The business is open from 9 a.m. to 5 p.m. Monday through Friday.
If you've got tips about new stores or restaurants anywhere in the Region, or just wonder what's under construction somewhere, contact NWI Business Ins and Outs columnist Joseph S. Pete at joseph.pete@nwi.com or 219.933.3316.