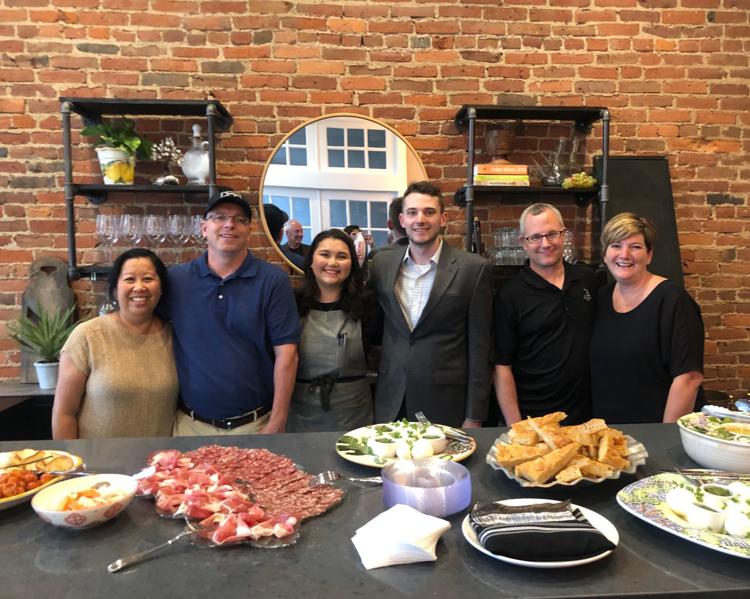 Downtown Valparaiso has another elegant, sophisticated dining destination.
Scarpe, a regional Italian restaurant, opened in late June in the old Bon Femme space at 66 Lincolnway in Valparaiso. It serves authentic cuisine from the 20 different regions of Italy with a focus on regional ingredients from the Midwest and a seasonal, chef-driven menu. 
Owners Chris and Katrina Shoemaker launched the upscale establishment that serves antipasti (appetizers), primi (pastas), secondi (meat, fish and vegetarian entrees) and contorni (vegetables and salads). It strives to offer fine dining in a "comfortable and approachable" environment.
"We try to make the pasta, salad dressing, everything we can in house," Scarpe Beverage Director Adam Shoemaker said. "The menu has a rotating seasonality and we pull inspirations from different regions."
Dishes exhibit different regional influences, including lasagna bolognese from Bologna, cacio e pepe from Rome, and Maiale Alla Milanese from Milan.
Shoemaker met Scarpe Executive Chef Olivia Fissé at The Culinary Institute of America and at a 15-week immersion program at an Italian farmhouse that had been turned into a cooking school.
"We learned different techniques and took field trips to Rome, Florence and Milan to get a feel for the different regions of Italy," she said. "We have a lot of staples and the menu is true to how Italians eat. We have full-on meat dishes, but Italians don't add chicken to their pasta."
They will unveil their fall menu this week and hope to change the menu at least four times a year to reflect the produce that's in season. Scarpe, for instance, will offer a sweet corn risotto after getting a delivery of sweet corn from a farmer just outside Valparaiso.
Its suppliers are local. It gets tomatoes from Porter County, charcuterie from Chicago and Iowa and gelato — the only desert not made in house — from Saugatuck, Michigan.
"People can taste the freshness," Fissé  said. "We put a lot of care and love and attention in our way of cooking. A big point is simplicity. The best dishes have simple tomato sauces that are homemade. People are crazy about it because you can taste the food more when all the components are simple."
The 2,200-square-foot restaurant seats about 62 people in the dining room and another 15-16 on the outdoor patio. It serves Italian wine, craft beers, and vermouth-based cocktails.
"I was born and raised in Valpo, and the dining scene is great," Shoemaker said. "You have places like Don Quixote that have been around for such a long time and cool new spots opening up. We're right across the street from Central Park, where they have movies and concerts, and ice skating during the winter."
Scarpe plans to have wine pairing and dinner events, and will soon roll out a pre-dinner drink and snack offering on weeknights.
The restaurant is open from 4 to 9 p.m. Tuesday through Thursday, and from 4 to 10 p.m. Friday and Saturday.
"We plan to remain dinner-focused because we pride ourselves on quality and need the prep time during the day to ensure the quality is as good as it can be," Shoemaker said.
For more information, call 219-242-8837, visit www.restaurantscarpe.com or find the restaurant on Facebook and Instagram.
Forest Avenue Vintage is selling antique and vintage items in Munster.
The 700-square-foot specialty store opened about a month ago at 8235 Forest Ave. at the busy intersection of Ridge Road and Forest Avenue — hence the name. It's across the street from the Munster Strack & Van Til and next to Consider the Lilies.
"They specialize in artisan gifts so it's a good match," Forest Avenue Vintage owner Carey Halsey said of Consider the Lilies. "We have similar customers and it's helpful to have her established customers coming by."
Forest Avenue Vintage sells a range of antique furniture and vintage items, such as record albums and 1950s Pyrex fiesta bowls.
"It's pretty much everything vintage except for clothes," she said. "We have all kinds of things from the 1940s and 1950s. We have doors that were rescued from houses that were torn down that are in beautiful condition. We have mid-century furniture and antiques that are 100 years old."
A large majority of the items came from Halsey's personal collection. A recent retiree from a career in human services and education, she has some time on her hands and decided a store would be the best way to unload the items and find them a new home.
"Rescuing old things has long been an interest of mine. I liked shopping at thrift stores and finding many things," she said. "I considered a shop on eBay or Etsy but the mail and breakage seemed like a lot of hassle. The rent was reasonable so I decided to give it a whirl."
She's arranged the shop into little rooms that focus on different items like furniture, dishes, books, records and shabby chic items.
"It's the kind of store where you find things you didn't know you needed," she said. "There are hand-embroidered do-dads from the 1950s that are just cute, Hansel and Gretel dolls imported from West Germany and sold by Sears, and rustic things like Coca Cola signs, things made with wood and a rustic old watering can."
Forest Avenue Vintage is open from 10 a.m. to 4 p.m. Tuesday, Wednesday and Friday, and from 10 a.m. to 3 p.m. on Saturday.
Las Vegas transplant Rosemarie Zack plans to open Just Beautiful Lashes on Main Street near Kennedy Avenue in Highland.
The licensed esthetician and master lash technician will open the business at 2715 Main Street Suite B, donating part of the proceeds to a local women's shelter.
"Being a business woman, I recently moved to the Midwest, and would like to contribute towards my community in a direct way, whereby my financial means can donate to a worthy cause," she said. "Originally a native from this area of the Midwest, I have been absent for over 35 years, and I have recently moved back in the late of 2018. Therefore, I would like to be involved with making society better for women with my contributions. I believe highly in my cause."
Her 91-year-old mother originally hails from Calumet City and Zack is now helping take care of her.
Zack specializes in brides and classic lashes, and has previously done work for celebrities, stage performers and drag queens.
"For women looking for lashes, I'm licensed, ensured and bonded," she said. "You want to make sure you're going to an esthetician with cosmetology training. It can do damage to the eye if it's not done correctly."
Just Beautiful Lashes will be open from 10 a.m. to 9 p.m. seven days a week. It will take walk-ins but appointments are strongly recommended so potential clients can come in for consultations to see if lashes are right for them.
"It's basically a simple business," Zack said. "It's not rocket science. But I'm really excited to be back in the area and to be doing it in the Midwest. This is where I was born and everything has come full circle."
For more information, call 312-502-0666 or find Just Beautiful Lashes on Facebook, Instagram or Twitter.
If you've got tips about new stores or restaurants anywhere in the Region, or just wonder what's under construction somewhere, contact NWI Business Ins and Outs columnist Joseph S. Pete at joseph.pete@nwi.com or 219.933.3316.