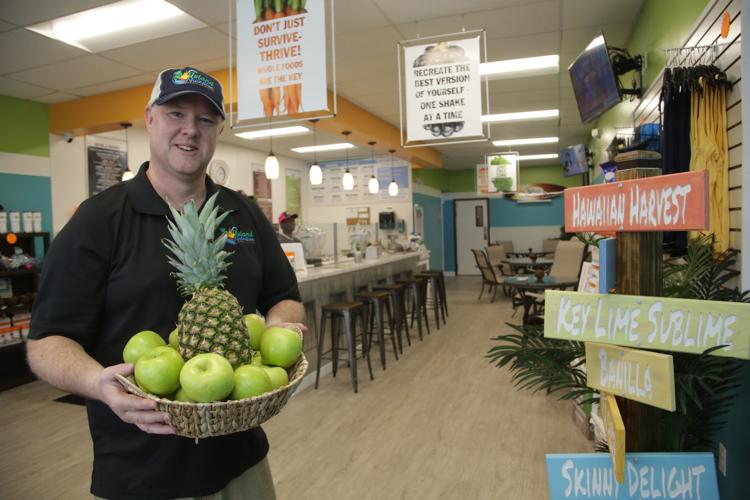 A new smoothie and juice bar on U.S. 30 in Valparaiso hopes to give residents on the south side of the city some healthier options.
The tropical-themed Island Nutrition Smoothies & More recently opened at 1675 Morthland Drive in Valparaiso.
Owner Scott Milligan said his smoothie and juice bar offers only clean, natural, non-GMO foods. It sells smoothies like a Strawberry Slam, Mango Crusher, Key Lime Sublime, and Berry, Berry Good. Juices include the Beet It Up, Kale Krusher, Citrus Coast, Sunrise Delight and Purple Rain with red cabbage, lime and apples.
"Everything is 100 percent clean and 100 percent natural," Milligan said. 
Island Nutrition also offers detox drinks, pre- and post-workout drinks, low-calorie meal replacements and lifestyle shakes like the Banilla, made with banana, vanilla, vanilla whey protein and unsweetened almond milk. 
"What inspired me was the need for healthier options," Milligan said. "I felt there was nothing like this on the south side of Valparaiso."
Smoothies and juices are the top sellers, but Island Nutrition also offers kombucha, CBD, supplements like protein powders, and healthy snacks like a smoothie granola bowl. A light food menu includes salads and sandwiches.
"There's quite a few choices to grab and go," Milligan said. "We've it set up with a tropical vibe and the colors of Key West that are warm and inviting. We want people to feel good about themselves and have fun."
Island Nutrition targets those who want to eat healthy, and its customers thus far have included high school students, busy mothers, blue-collar workers and business professionals, Milligan said.
"I want people to be happy with the choices that they make, to do something that's right for the community," he said. "It's just a healthier choice than the fast-food options out there. There's a lot of hustle and bustle, so it's nice when there's a healthy choice that's also convenient."
A ribbon-cutting with the Valparaiso Chamber of Commerce and an educational seminar about CBD are tentatively slated for Feb. 15.
Valpo TruFit moved to a much larger space at 1155 Marsh St. Suite A in Valparaiso a few months ago.
"We are a personal training and small training studio where we work one-on-one, or in small group training sessions," said owner Luke Strain, a longtime personal trainer who has struck out on his own. "I've worked at quite a few big-box gyms, as you would call them. Our studio lets clients feel secure in a semiprivate setting where they're getting personalized attention from a trainer, and not distracted by gym traffic."
Strain and his wife Kayla Strain relocated their five-year-old fitness studio to the 4,400-square-foot facility with state-of-the-art equipment, a garage door and ample outdoor space for fresh-air training. They offer fitness training to a wide array of clients, including athletes in youth sports and seniors going through rehabilitation after surgery.
"We just needed more space," he said. "It's much more conducive to having more trainers under one roof, and we've been able to make good use of the garage door."
Valpo TruFit trains high-level athletes with power plates, vibration platforms, kettlebells, dumbbells, barbells, sleds, Jacob's Ladders and state-of-the-art equipment.
Training sessions range from a half hour for personal sessions to 45 minutes for group sessions. Group training is limited to 12 people to ensure quality.
You have free articles remaining.
Keep reading for FREE!
Enjoy more articles by signing up or logging in. No credit card required.
The studio helps people toward a number of fitness goals, including building muscle, burning fat and losing weight. It specializes in conditioning for athletes, given Kayla Strain's experience as a collegiate softball player and former high school softball coach.
"We primarily do strength training but serve multiple populations," Luke Strain said. "It's not just for bodybuilding and sports performance. We help everybody move better."
Training sessions are offered by appointment between 5 a.m. and 8 or 9 p.m. daily.
For more information, call 219-242-1078, visit www.valpotrufit.com or find the business on Facebook or Instagram.
Amici Grill and Pizzeria, a popular Italian restaurant on Ridge Road in Highland, plans to open its second location in Valparaiso, across the street from the Valparaiso University campus.
Owner Rosemary Mouratides said the goal was to open at 1409 Lincolnway in the spring. The menu will be largely the same but tweaked to cater to the college crowd.
"We expect more walking traffic in Valparaiso," she said. "We'll sell pizza by the slice, which will be one major difference."
Amici's menu includes thin-crust pizza, pasta, calzones, salads, garlic knots, desserts and espresso drinks. It offers traditional Italian fare made with all-natural, high-quality ingredients, Mouratides said.
"The reason we got into the restaurant business is we were tired of processed frozen foods, not just at fast-food restaurants but also at full-service restaurants," she said. "The vast majority of the menu items in our restaurants are made from scratch. We make the dough and the sauces in-house. We do all the slicing and chopping ourselves."
The Mouratides family plans to turn the business over to their two sons, leaving the Highland location to one and the Valparaiso eatery to the other.
The Amici in Valparaiso has its own parking lot on-site and hopes to add an outdoor patio.
"Amici means friends in Italian," she said. "We try to make sure all the employees we hire are friendly so the diners have a friendly experience. It's also named in honor of our friends who always encouraged us to open a restaurant."
The popular Italian beef chain Buona Beef is eyeing a location at Broadway and Summit Street in Crown Point, north of the Tomato Bar that's being developed, said Aaron McDermott, president of Latitude Commercial real estate in Schererville.
Plans also call for a Pita Pit, Anytime Fitness, Waxing the City, and car wash in that strip mall.
A staple at Guaranteed Rate Field, Buona Beef opened its first Indiana location last March on Indianapolis Boulevard in Schererville.
Highland has completed the final inspections to allow Asada Grill & Cantina to move from Griffith to a much larger location at 2907 45th St. The Mexican restaurant, which Yelp ranked as one of the best in Indiana, will take over the former Zuni's House of Pizza space that previously had been home to several nightclubs. Zuni's closed in December 2016.