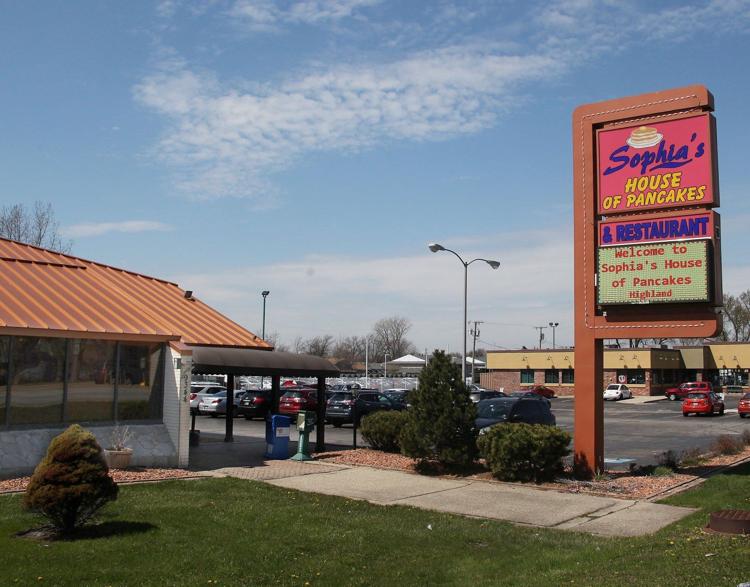 There's no more "eating good in the neighborhood" in Schererville after Applebee's closed near the intersection of U.S. 30 and Indianapolis Boulevard, disappointing fans of $1 drink specials, 2 for $20 date nights, steaks crisscrossed with huge grill marks, and whatever riblets are.
The Schererville Applebee's has gone extinct but a new era of fluffy golden pancakes is upon us.
Sophia's House of Pancakes, a popular pancake house on Indianapolis Boulevard, plans to take over the space and open another location there.
A sign posted at the recently shuttered Applebee's Grill + Bar at 650 W. U.S. 30, in the Crossroads Shopping Center in Schererville, said Sophia's is opening there soon. The family-style diner, which also has a location at Orland Park in Illinois, is known for its stacks of old-fashioned, powdered sugar-dusted pancakes and for its hearty breakfasts with huge portions, including five-egg omelets. One reviewer on Yelp called it "the Grand Kingdom of Breakfast" with "a menu the size of the Sunday paper" and skillets "the size of glacially carved freshwater basins."
If $4 seems a little steep to you for a car wash, you're in luck.
Birdie's $3 Car Wash hopes to open as soon as December at 10567 Broadway in Crown Point.
Owner Mike Mahmoud has dreamed of opening a car wash since childhood.
"As a little kid I worked with my father at grocery stores in the city," he said. "There was a hand car wash with a line around the block. I saw the potential of how much cash a car wash could make."
Car washes start at $3 and go up, depending on the level of cleaning one wants. Similar $3 car washes have opened in recent years in Hammond and Dyer.
"It's a price point that's affordable to everybody," Mahmoud said. "If you drive by a $5 car wash, you think, 'maybe.' But $3 is a price you don't want to pass up."
Birdie's $3 Car Wash also will sell monthly memberships allowing people to get their car washed every day or as frequently as they want.
The Crown Point car wash is largely built-out and expects to open in a matter of weeks, in the busy season where many people try to get the road salt washed off their cars. It has a 140-foot tunnel and 20 vacuums. Mahmoud has talked with his banker about building 10 of them across Northwest Indiana and hopes to eventually take the brand national. The next one will be in St. John, and then he'll look at Illinois locations.
"We'll take baby steps," he said. "Of course I'd like to go nationwide. But these are big projects. These aren't $100,000, $200,000 projects. These are $4 million apiece."
Birdie's $3 Car Wash will employ about 15 workers in Crown Point.
"A lot of thought and hard work went into this establishment, and it's run by the owner himself," he said. "I built this car wash so my car could run through it. I'm a car guy who used to work in car sales. I wouldn't run anyone's car through it if I wouldn't run my own car through it."
Chicago Heights-based Enzo's Beef and Sausage restaurant expanded to 1120 U.S. 30 in Schererville in 2015, but has decided to refocus its efforts on its Illinois location. 
"We decided that it was best for both the family and for the business to focus our time and energy on the original location," the owners posted on Facebook.
As the name suggests, Enzo's sells Italian beef and Italian sausage, as well as gyros, hot dogs and $1 slices of pizza. It used old family recipes and premium ingredients like top-quality pork butt and extra virgin olive oil. 
Another Chicago Heights business may soon replace it in Schererville. A sign outside said Dozeli Pizzeria is coming soon.
Dozeli has been around for nearly three decades with locations in Chicago Heights and South Chicago Heights. It's known for both thin-crust and deep-dish pizza, wings and deluxe sandwiches.
In other pizza news, and who doesn't like pizza news, Domino's is opening a new "pizza theater" restaurant where customers can watch the pizza being baked at 1918 165th St. in Hammond, its second in the city.
"We are dedicated to the Hammond area and are excited to better serve its residents," said Hammond Domino's franchise owner Jim Gronemann, who owns 15 other Domino's stores in Indiana and Illinois. "We have a deeply experienced team of folks who live and work in Hammond, and they are eager to offer our delicious products, exceptional service and innovative ordering technology to the community."
The Ann Arbor-based pizza company, the largest in the world based on retail sales, will celebrate its Dec. 3 opening by offering medium one-topping carryout pizzas for $3.99 each through Dec. 30, and by having a drawing on Dec. 24 for free pizza for a year.
The Hammond pizzeria also will offer 50 percent off to police officers, firefighters, first responders and members of the military on an ongoing basis.
The store is hiring and features a large lobby where customers can watch their food being prepared, an electronic screen for tracking carryout orders and a chalkboard "to allow customers to express their creativity or leave feedback for the store team members."
For more information, visit www.dominos.com or call the pizzeria at 219-989-6550. 
Big Lots relocated its Merrillville store to 3201 E. Lincoln Highway in Hobart and reopened with a new format, "which is part of a broader initiative to reposition the brand as a community retailer offering trustworthy value and friendly service," the Columbus, Ohio-based retailer said in a press release.
"We are excited to introduce our new store format to Merrillville," stated Steve Haffer, senior vice president and chief customer officer of Big Lots. "It brings to life our new brand traits and showcases our product assortments of affordable solutions in furniture, seasonal, home, food, and consumables."
The discount retailer, which "offers a little bit of everything," moved about 100 feet over to a new unit in a strip mall that also includes Xfinity Store.
To celebrate the opening, Big Lots plans to donate $5 to Meals on Wheels of Northwest Indiana anytime a BIG loyalty member redeems a reward there through Jan. 12.
For more information, call the store at 219-649-7119. 
Business Ins and Outs
Times business reporter Joseph S. Pete provides the details on what's coming and going in the Region retail and restaurant world.
If you've got tips about new stores or restaurants anywhere in the Region, or just wonder what's under construction somewhere, contact NWI Business Ins and Outs columnist Joseph S. Pete at joseph.pete@nwi.com or 219.933.3316.