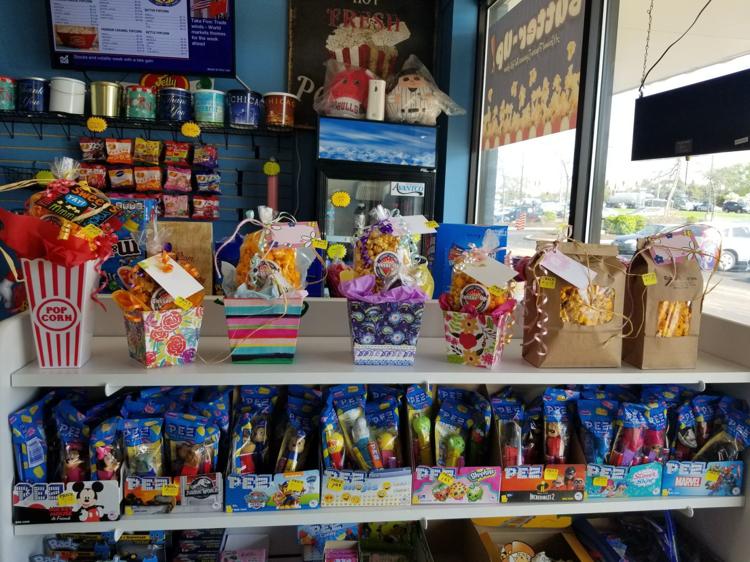 If you have any nostalgia for Craftsman, Kenmore or a suburban department store that's been a staple of Northwest Indiana for 45 years, you have a month left to swing by the Sears at the Southlake Mall.
A closing date has been set for the two-story Sears department store in Hobart. After 45 years, the Sears that is an original anchor of the super-regional mall at U.S. 30 and Mississippi Street will close for good on Nov. 10.
It's the last remaining Sears in Northwest Indiana.
Hoffman Estates, Illinois-based Sears, which filed for bankruptcy last October, is closing large-format stores around the country as it shifts to focus on smaller stores. The company is looking to survive in a radically changing retail landscape at a time when more and more people are shopping online. Long the largest retailer in the world, Sears has not turned an annual profit since 2010 and has been bleeding money ever since as it continues to close stores and lay off workers.
The Southlake Mall store has been undergoing a liquidation sale and all the merchandise in the two-story store has been moved down to the first floor. It still has a lot of heavily marked down merchandise to sell off, including clothes, grills, tools, appliances and mattresses.
Butter Up! Popcorn has been in business for more than six years, but only recently relocated to Schererville.
The gourmet popcorn shop had been in Frankfort, Illinois but moved to Northwest Indiana earlier this year after its owners did.
"We moved here and brought the business with us," said Tom Crohan, who owns the business with his wife Karen Crohan.
Butter Up sells flavored popcorn in 25 different flavors, such as butter, kettle, cheese, caramel, pizza, garlic parmesan and Dragon's Breath, which is made with ghost pepper.
"Our customers rate our cheese popcorn higher than Garrett's," Crohan said. "Our Yelp rating is currently very good, top-notch."
The gourmet popcorn shop at 248 W Lincoln Hwy in Schererville rotates its flavors and will, for instance, soon add a pumpkin spice for the fall. It also sells drinks and candies, including vintage candies. 
"We specialize in gift baskets," Crohan said. "We do gift baskets for businesses, as well as Christmas, holidays, birthdays and corporate events. We wrap up different popcorns and candies in gift baskets, and sell a lot of them, especially for Christmas."
Butter Up sells popcorn in bags, as well as in refillable tins and one-gallon tubs. The shop tries to be creative by combining seasonings to make some of its flavors.
"It's always fresh and it's got different flavors," Crohan said. "We have a different seed that helps with the flavor. We try to skimp on portions, and don't charge an arm and a leg."
Butter Up is a family-run business with a sports theme: its name is a play on the baseball express "batter up."
"We're big baseball fans from the South Side of Chicago," he said. "Our family has baseball in the blood."
Butter Up joins many other gourmet popcorn shops that have cropped up in Northwest Indiana in recent years, including ChicagoLand Popcorn in Hobart and St. John, Lady's Gourmet Popcorn in Griffith, Epic Gourmet Popcorn in Dyer, and Popcorn World in Michigan City.
"In Illinois, we had a couple of competitors, but it seems like there are a lot more shops here," Crohan said. "We're kind of in the middle, between the stores in Hobart, Dyer and Griffith. We feel like we compete with how fresh our popcorn is and how it's not the priciest."
Butter Up is open from 10 a.m. to 7 p.m. Monday through Friday, and from 10 a.m. to 5 p.m. Saturday.
For more information, call 219-440-7261 or visit www.butteruppopcorn.shop.
The popular Rob's Meat Chop & Deli in Dyer moved three blocks from its original spot on Dyer's North Winds Drive to 901 Fairview Drive in Dyer.
The butcher shop, which employs 45 workers, expanded in the new location.
"We're staying in our neighborhood," owner Rob Newenhouse said. "We are twice the size and more efficient."
The 17-year-old business serves hand-cut steaks, chops, kabobs, and other meats, as well as fish, salads and soups.
"I started in the business when I was 15 years old with my wife's uncle. We're an old-fashioned meat market, there is nothing packaged, and we wait on everybody."
Rob's Meat Chop & Deli secured a U.S. Small Business Administration 504 loan to build the new 16,000 square-foot store. Construction started last year and was recently completed.
"Rob's Meat Chop and Deli is a small business that services the community with high-quality products offering a higher level of personal service unavailable at large grocery chains," said Andrew Tinberg of NB Bank & Trust of Oak Forest, which was the lender. "Rob staffs the business with local residents providing quality jobs close to home. Rob's Meat Chop and Deli will be able to grow their business in their new facility offering additional products and services while at the same time creating more jobs."
Shay Furniture at 6234 Central Ave. in Portage reopened Thursday after it closed three months ago.
Owner Greg Smith said he had to close the furniture and mattress store for personal reasons, but recently hired a manager who will be able to keep the store open on Thursdays, Fridays, and Saturdays. He eventually hopes to expand the hours.
The 10,000-square-foot furniture store sells a variety of top brands like Ashley, Southern Motion, Best Home Furnishings, Jackson Furniture, Restonic, Simmons, Lane, Hughes, Vaughan-Bassett, and Liberty Furniture. 
He opened the furniture store in 2013.
"We do wholesale pricing on quality furniture," he said. "It's family-owned and operated. We interact directly with the customer, face-to-face."
Shay Furniture will be open from 10 a.m. to 6 p.m. Thursday through Saturday.
The new quilting supply store Bee Quilting & Such aims to weave itself into the fabric of Northwest Indiana.
The mother-and-daughter duo of Martha Lowry and Meghann LaBadie are opening the modern quilt shop at 1842 45th St., suite "Bee" in Munster. 
"We're avid quilters," Lowry said. "I've been sewing my whole life. I've been quilting for 10 or 12 years. We went to a quilt show to see what it was about, and really got into it."
Bee Quilting & Such is aimed at a target customer base of all skill levels and interests, including quilters, home decor sewists and those who sew clothes. It will carry all fabric, thread, notions and all makes of sewing machines, including a full line of Janome sewing machines.
It will also offer classes and finisher services for quilters, such as binding and long-arm quilting.
"We'll offer quilting classes for all skill levels, but the focus will be on introductory classes," Lowry said. "I think everybody can find some kind of fabric project that will interest them."
Bee Quilting & Such will be open from 10 a.m. to 7 p.m. Tuesday through Thursday, and from 10 a.m. to 4 p.m. Friday and Saturday.
If you've got tips about new stores or restaurants anywhere in the Region, or just wonder what's under construction somewhere, contact NWI Business Ins and Outs columnist Joseph S. Pete at joseph.pete@nwi.com or 219.933.3316.