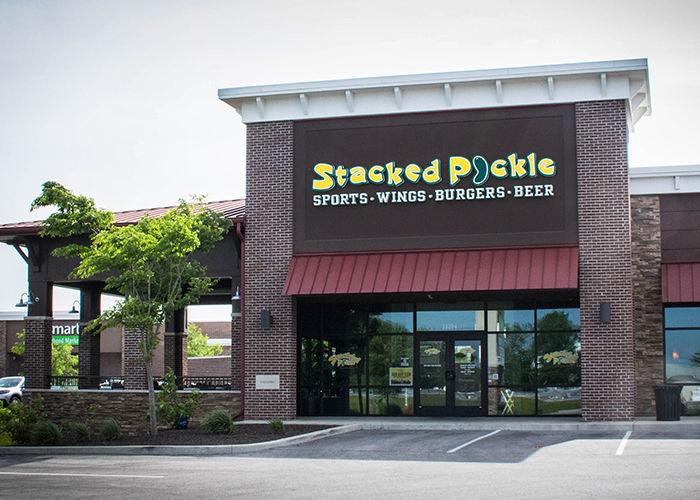 Former Indianapolis Colts player Gary Brackett plans to open a Stacked Pickle restaurant in Lansing before the end of 2019.
The linebacker and Super Bowl champion has been looking to expand his sports-themed sit-down restaurant and bar chain in the Region. He's also been looking for franchisees to open Stacked Pickle restaurants in places like Schererville, Merrillville, Crown Point and Gary.
The casual dining restaurant serves traditional American fare like burgers, wings and its namesake fried pickles in a "family-friendly atmosphere."
Founded eight years ago, the fast-growing Stacked Pickle now has nine restaurants in Indiana, and has signed on franchisees in Houston, Orlando and Dayton, Ohio.
Stop, in the name of burritos?
At any rate, Burrito Stop Mex and American Grill recently opened at 1421 119th St. in downtown Whiting, adding to the lakefront city's Mexican cuisine options.
The fast-food restaurant, which incorporates a big red stop sign into its logo, offers burritos and bowls with a choice of steak, chicken, barbacoa, carnitas, ground beef and veggies.
Burrito Stop also serves gorditas, tortas, XL quesadillas, tacos, salads and dinner platters with steak or chicken that are served with rice, beans and tortillas. 
Prices range from $2.25 for a taco to $14.99 for a flame-grilled skirt steak meal.
Burrito Stop is open from 9 a.m. to 8 p.m. Monday through Saturday. It's closed on Sundays.
For more information, call 219-370-5151.
Keep reading for FREE!
Enjoy more articles by signing up or logging in. No credit card required.
Also in taco news, Mas Tacos has opened a carryout restaurant at 8020 Kennedy Ave. in Highland.
The eatery, which has a small waiting area, serves tacos, tortas, sopas, gorditas, burritos, enchiladas, tamales, nachos, 99-cent chicken flautas and the Mas Special, which is rice topped with lettuce, tomato, cheese, sour cream, jalapenos and one's choice of meat.
It's open 11 a.m. to 8 p.m. Monday to Sunday.
For more information, call 219-879-3326.
Fifth Third Bank recently opened a new branch on Franklin Street by Ames Field in Michigan City, Mayor Ron Meer said.
The branch, at 2604 Franklin St., has a drive-thru and an ATM.
Cincinnati-based Fifth Third, so named after the merger of Fifth National Bank and Third National Bank and not some random fraction, is a Fortune 500 company with more than 1,100 branches in Ohio, Indiana, Illinois, Kentucky, Michigan, Tennessee, West Virginia, Florida, Georgia and North Carolina.
Locally, Fifth Third has locations in Gary, Merrillville, Schererville, Crown Point, Highland, Hammond and Valparaiso.
The Michigan City branch is open from 9 a.m. to 5:30 p.m. Monday through Thursday, from 9 a.m. to 6 p.m. Friday, and from 9 a.m. to 2 p.m. Saturday.
For more information, call 219-879-3326.
The Merrillville Tea Room, whose formal afternoon teas are a holiday tradition for many Region families, closed back in June, but that's only temporary.
The tea room in the Merrillville Florist Shop at 7005 Madison St. was closed after its chef left for a new gig, but owner Ramona McCrovitz said she hopes to reopen after finding a new chef.
"We're just busy right now with Christmas and will be busy through Valentine's Day," she said.
In addition to pots of tea, the tea room serves scones, salads and sandwiches in a peaceful and quiet setting. 
Times business reporter Joseph S. Pete provides the details on what's coming and going in the Region retail and restaurant world.