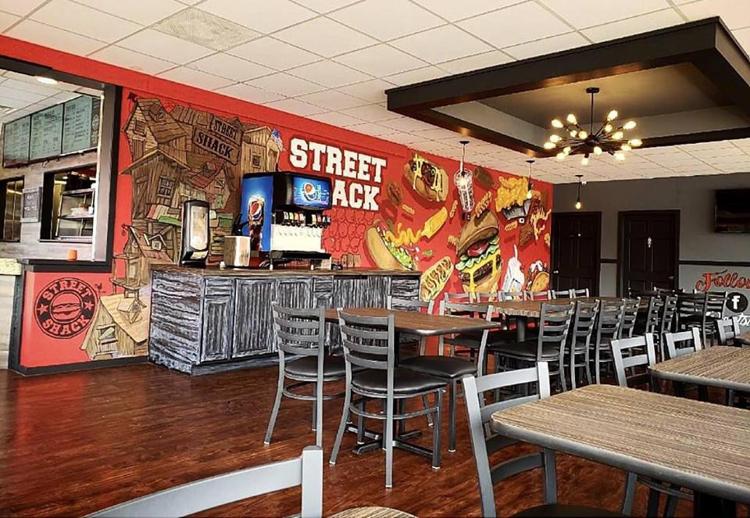 Street Shack serves up street food favorites like burgers, hot dogs, gyros, Italian Beef and shrimp po'boys in south Hammond.
The new fast-food restaurant at 7343 Indianapolis Blvd. in the Woodmar neighborhood features slick design, a professional logo and an interior mural. The owner says it might be the flagship of a chain.
"This is our test site for this concept," Jimmy Kollintzas said. "We're definitely interested in taking this concept to other locations. We took a lot of time with the logo, graphics and design. You need good food, good service and good marketing."
Kollintzas formerly ran Jimmy K's Chicago Style Hot Dogs across the street from House of Pizza.
"We switched up the name because too many places are Jimmy's or Johnny's," Kollintzas said. "The concept is quick service with dine-in, drive-through and delivery. We've got natural and hormone-free burgers, antibiotic-free hot dogs. Fast food will never be healthy, but we're putting a modern spin on it."
Street Shack, whose slogan is "Great American Street Food," also plans to offer ice cream and milkshakes at the new location.
"There's heavy traffic on Indianapolis, and Purdue Northwest is right there," Kollintzas said. "The new sports complex is right up the street, and Hammond is doing great things. There's some transient business from the Borman and a lot from the surrounding neighborhoods."
Street Shack is open from 10:30 a.m. to 9 p.m. Monday through Thursday and 10:30 a.m. to 9:30 p.m. Friday and Saturday.
Relocated
Relish, the hot dog joint that brought classics like the Chicago dog and new-fangled fare like a barbecue bacon jam dog to downtown Griffith, has moved inside Lady's Gourmet Popcorn at 118 N. Broad St.
Lady's Gourmet Popcorn owner Patti Haugh opened the hot dog restaurant with her daughter, Carly Haugh.
"We've still got our same great menu and homemade soups," Carly Haugh said. "We've still got the vegan dog. It's an amazing one-stop shop for popcorn and hot dogs, with parking on Broad Street and in the back, which is a nice perk."
Both businesses keep roughly the same hours, though the kitchen closes about 15 minutes before closing time.
Relish is open from 11 a.m. to 5 p.m. Tuesday and Wednesday, from 11 a.m. to 7 p.m. Thursday and Friday, and from 11 a.m. to 4 p.m. Saturday.
For more information, call 219-743-7858.
Closed 
Angel Hair Cafe at 142 S. Broad St., just off the Erie Lackawanna Trail, has pedaled off into the sunset. 
The sophisticated cafe, which shared a space with the popular Angel Hair Salon, is no more, but is expected to reopen with a new Mexican concept, possibly within a month.
Angel Hair Care was a sophisticated and eclectic cafe with fresh-pressed juices, smoothies, craft beer, vegan dishes and artisan sandwiches such as The White Walker. It kept sporadic hours and catered to cyclists on the trail.
Closed
C & R Stationery Store has closed after more than a half-century in downtown Griffith.
Founded in 1962, the store at 130 N. Broad St. sold stationery and supplies and did office machine repairs. It recently liquidated all of its inventory in an online auction.
The storefront is for sale by the owner, who can be reached at 574-870-1517.
Open
With little fanfare, El Salto has been drawing bigger and bigger crowds since replacing Coyote Cantina at 1090 U.S. 41 in Schererville, in the Boulevard Square Shopping Center that's anchored by Planet Fitness.
The spot on the boulevard may seem snake-bitten to some, after cycling through Bagger Dave's and Coyote Cantina in short order, but El Salto owner Robert Mendoza is optimistic the well-established El Salto brand can succeed there.
"There's a lot of traffic, it's very visible and there are busy establishments nearby," he said. "Both the other restaurants were new to the area, and haven't been established as long as the El Salto brand."
The Schererville restaurant will have the same menu as the other El Salto locations and will seat about 140, plus 30 on an outdoor patio. It employs about 20 to 25 workers.
"Our patios have been popular," Mendoza said. "When the weather's nice, everyone wants to go outside. We're planning to do live music on the weekends, and maybe even some mariachi on Sundays."
The Schererville El Salto will be open from 11 a.m. to 10 p.m. Tuesday through Thursday, from 11 a.m. to 10:30 p.m. Friday and Saturday, and from 11 a.m. to 9 p.m. Sunday, with the bar open later on weekends.
For more information, call 219-227-8660 or visit elsaltorestaurant.com.
If you've got tips about new stores or restaurants anywhere in the Region, or just wonder what's under construction somewhere, contact NWI Business Ins and Outs columnist Joseph S. Pete at joseph.pete@nwi.com or 219.933.3316.
The business news you need
With a weekly newsletter looking back at local history.