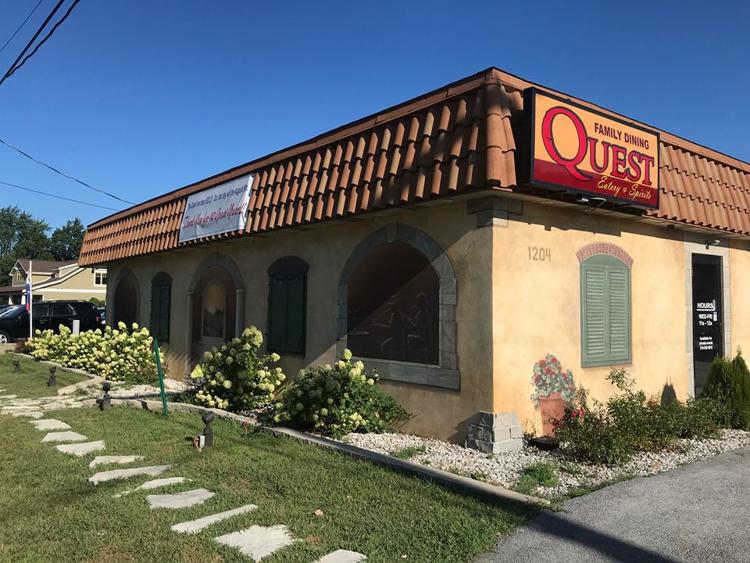 The Quest has reached its end.
The Quest Eatery & Spirits, whose slogan was "a family, not a chain," has closed in Schererville after four decades.
"To all of our wonderful patrons, we'd like to share with you that after 40 years, The Quest Eatery & Spirits will be closing," the owners posted on Facebook. "The restaurant has sold. We have many special memories and invite you to come and enjoy these last days with us."
The traditional American eatery at 1204 U.S. 30 underwent an extensive renovation in 2016. The Quest hosted live music multiple times a week, often acoustical acts, and sold a wide variety of food including steak, pasta, pizza, seafood, Italian pork chops, pizza pot pie and a pot roast dinner. It had a variety of burgers, including the $14.99 Monster Stuffed Burger it bragged was "famous since '79."
It was a venue for many local musicians who play in a variety of genres, including the jazz singer Marilyn Gaza, bluesman Ken Kinsey, and singer/songwriter Frank Ruvoli. The 3,200-square-foot restaurant also featured a full bar.
"Our story began with the intentions of selling great burgers and cold beer," The Quest said on its website. "We added a dining room in '97, brought in live music with local bands and danced for hours on end. Lifelong friendships have been formed here, couples have met and gotten married — little lives have been created! It has been quite the blessing."
Starbucks, the Seattle-based coffee shop that you've definitely heard of and that really needs no introduction, is going to open its second location in Hammond soon.
The first Hammond Starbucks opened in 2016 at 7843 Indianapolis Blvd., across from Cabela's and just off the Borman Expressway. It's nearly completed its second cafe, a $1.5 million, 2,100-square-foot standalone coffee shop by Walmart in the Marina District right be the Chicago border.
"The building has been delivered to Starbuck's contractor and they have started on the final tenant finishes," Hammond Director of Economic Development Anne Anderson said. "I am hoping to pin down the date of their ribbon-cutting soon."
The purveyor of lattes, Frappuccinos and other sugary espresso-based drinks only has two locations in north Lake County.
Hammond Mayor Thomas McDermott Jr. said the location near Five Points was a prime spot with heavy traffic, retail attractions like Walmart, and major employers like Cargill and Unilever.
"There's also the casino, which is a huge draw," he said.
Las Mamacitas Tacos, Tamales and Tequila made a splash when it opened in Chesterton with a big party in the back parking lot on Cinco de Mayo weekend, offering attention-grabbing menu items like lobster claw tacos, tequila slushies, and a 100-ounce margarita that will only be served to parties of four or more.
But its run in the former Volstead space at 225 S. Calumet Road in Chesterton may only last for a few months.
Owner Monica Susoreny, who's also a public relations professional and the organizer of the NWI Food Truck Fest and the NWI Hot Air Balloon Fest, said Aug. 30 likely will be the last day "unless a miracle happens or I can get a partner to come through."
"It's been a short run with lots of obstacles," she said. "My capital has run out and I have no other option."
Susoreny originally conceived of the restaurant as a food truck but decided to make it into a sit-down restaurant after one of her clients, the critically acclaimed Volstead restaurant, closed after a short run in Chesterton, opening up the space. The extensively renovated 120-seat restaurant, which employs 20 people, features many Day of the Dead murals, a selection of 100 tequilas and a Mexican fusion menu with items like Texas brisket tamales and oysters on the half shell with a tequila and jicama mignonette.
It offers many flights, including of tacos and its signature margaritas. It claimed to have Northwest Indiana's largest margarita and gave out stickers saying as much to any groups who finished the 100-ounce drink, which is more than six times as big as a normal margarita.
"I would like to thank all of our customers and the community for supporting us. We truly don't want to close. This has been one of the hardest things for us to do, but we have no choice short of a miracle (a potential partner) wanting to come forward," Susoreny said. "The potential is here l, but with building issues that arose in the beginning and unexpected unforeseen expenses in addition to other surrounding factors, there is no way we can continue to move forward without help. We were just about to roll out a new menu and we have also transformed our kitchen with a new chef. Everything is made from scratch. My whole heart and soul is in this restaurant and I am trying to do everything I can to save it. The concept is there, our following is there and there is nothing like it in the area. I pray every day for a miracle and that is all I have left. In the meantime, we hope that everyone who hasn't given us a try come and dine with us and those who have given us a try will come back this week."
The long-awaited gastropub Leeds Public House recently celebrated its grand opening at one of the most prominent spots in downtown Michigan City.
"We are honored to be a part of this new chapter in Michigan City's story," said Denise Burns, who owns the restaurant with her husband, John. "We have already felt welcome and embraced by community members who are such a vital part of our success."
The new owners have extensively renovated the former Ryan's Irish Pub in a 116-year-old building at 401 Franklin St. in the Uptown Arts District. They named their venture after one of Michigan City's early pioneer families.
"Our renovation and updates serve to embrace the past while offering a welcoming environment that includes a patio, indoor and outdoor bars and fire pit area," Leeds Public House General Manager Dave Roberts said. "Every day we walk in under the Leeds inscription, which still tops the building and was the inspiration behind our name. We are proud to help cultivate a component of Michigan City's roots."
Executive chef Mark Sabbe, who's cooked at restaurants like Marchesa and Mercat a la planxa in Chicago, crafted a menu that includes short ribs, duck, roasted garlic chicken, risotto, and salmon. It serves sandwiches, kid's meals and appetizers like charcuterie and cheese, ginger jerk wings, crostini trio, and soup and frites
His aim is to elevate traditional bar fare.
"I want a successful restaurant. I want people to go: 'Have you been to Leeds? I had a great time there,'" Sabbe said. "I want them to love the food, sure, but there is more to it than that … I want them to have a great dining experience. It's not just the food, it's the service, the company, the drink, having all that together makes that experience. By and large, I want repeat customers, lines out the door and for people to love this place and want to come back."
The gastropub will serve brunch in the future and aims to be a hub of nightlife with an extensive wine list, a wide selection of beers with 14 draft beers on tap and specialty cocktails like Tito's Hibiscus Lemonade, Cucumber Rose, Lavender Pisco Sour, Smoked Hibiscus Margarita and LPH Pride Mule.
"We have house-made barrel-aged Manhattans, 14 beers on draft, more than 25 bottles of beer and more than 75 bottles of wine to choose from," Roberts said.
Leeds Public House is now open from 11 a.m. until midnight Wednesday through Sunday, but plans to expand its hours soon.
If you've got tips about new stores or restaurants anywhere in the Region, or just wonder what's under construction somewhere, contact NWI Business Ins and Outs columnist Joseph S. Pete at joseph.pete@nwi.com or 219.933.3316.