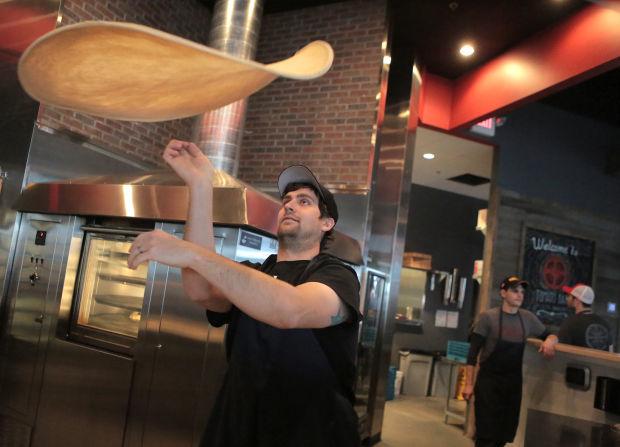 The popular Tomato Bar Pizza Bakery, known for its creative menu and monthly specials, continues to take Northwest Indiana by storm.
Tomato Bar, which began with its location at 2310 LaPorte Ave. in Valparaiso, opened its third location Monday at 10547 Broadway in Crown Point. Owners Cory and Blair Muro, the former proprietors of the acclaimed farm-to-fork Valley Kitchen & Bar, placed their latest restaurant in the Beacon Hill development at 109th Avenue and Delaware Parkway. They also have a Tomato Bar in Shops on Main in Schererville and Ricochet Tacos in downtown Valparaiso.
The menu is outside the box with pizzas like "The Reef," which tops a pesto base with provolone, mozzarella, cheddar, chicken, ham, hardwood smoked bacon, pineapple, banana peppers and jerk sauce swirl. At Tomato Bar, traditional tomato sauce often is replaced with pesto, oil and garlic, barbecue sauce, buffalo sauce or Alfredo.
Tomato Bar restaurants also boast a curated wine list and wide selection of craft beers that include local breweries like New Oberpfalz, Windmill, Crown Brewing and Off Square.
The contemporary interior of Tomato Bar's new sit-down eatery in Crown Point features many pop culture references, such as paintings of Homer Simpson, "The Big Lebowski" and Uma Thurman in "Pulp Fiction." Action figures are hidden throughout the dining room for kids to find.
The Crown Point location include a drive-through to pick up orders that can be placed online.
Tomato Bar is open from 11 a.m. to 10 p.m. Sunday through Thursday and from 11 a.m. to 11 p.m. Friday and Saturday.
Theo's Dining Group, which owns Theo's Steaks and Seafood in Highland, Prime Steakhouse in Crown Point and Umi Sushi and Lounge in Crown Point, continues to invest in St. John. 
The local restaurant group bought the longtime institution Dick's Restaurant & Bar at 10808 Wicker Ave. in St John last year and transformed it into the more modern and sophisticated Chop House on Wicker, specializing in steaks, seafood, pork chops, ribs, lamb, chicken and pasta.
Now Theo's is working to open Avgo, a breakfast and lunch restaurant at 9321 Wicker Ave. in St. John. The eatery has been hiring cooks.
Owner Peter Klideris said construction should be completed by the end of the month and the restaurant should be open by the end of October.
Klideris, who grew up working in his parents' pancake house, Ted's Family Restaurant in Calumet City, is diversifying from steakhouses and returning to his roots with a breakfast restaurant.
"Everything will be very great quality," he said. "We'll use cage-free eggs, smoke our own bacon and get the sausage made for us from Michigan. We'll have French toast and pancakes that will be top-notch. Everything will be picture-worthy going on out the table."
Smalltown Coffee Co. will have a coffee bar in the eatery serving locally roasted coffee, lattes and cappuccinos.
"We'll make a variety of juices from scratch," Klideris said. "We'll be squeezing our own orange juices and use that as a base for other juices. We'll have Bloody Marys and mimosas."
After the flagship restaurant in St. John gets established, Klideris plans to open other Avgo locations.
Kui Korean BBQ opened a few weeks ago in the former Exotic Thai space at 9628 Indianapolis Blvd. in Highland.
Jerry Chang, who also owns the House of Kobe restaurants in Schererville and Merrillville and previously ran the Peking House there, opened the 4,000-square-foot Korean barbecue restaurant where customers can cook thinly cut meat like short rib, ribeye, brisket, pork belly top Angus sirloin, raw or marinated, for about a minute on a smokeless 12-inch grill at their table.
The traditional menu includes beef, chicken and pork bulgogi, bibimbap and vegan bibimbap and calamari. There's also seafood, soup, noodles and fusion dishes like red curry tofu and teriyaki steak.
Takeout can be ordered for pickup online.
The restaurant will be open from 11:30 a.m. to 9:30 p.m. Monday through Thursday, 11 a.m. to 10:30 p.m. Friday and Saturday, and noon until 9 p.m. Sunday.
For more information, call 219-513-6666, visit www.huibbq.com or find Kui Korean BBQ on Facebook.
Sakura Bowl, Hibachi & Sushi Restaurant is taking over the former Lincoln O's restaurant spot at 2813 Highway Ave. in downtown Highland after that half-century-old sandwich shop closed last year.
Though neighboring Munster is home to both Little Tokyo Japanese Restaurant and Kitaro Surf & Turf & Sushi, Sakura Bowl will be Highland's only sushi place. It also will feature teppanyaki-style cuisine in which steak, shrimp, noodles, vegetables are cooked in a metal pan on a flat-top hibachi grill, usually in front of customers.
Family Dollar has reopened its discount store at 5550 Sohl Ave. Suite B in Hammond after a major renovation.
The 55-year-old Chesapeake, Virginia-based chain, a subsidiary of Dollar Tree since 2015 after an activist investor pushed for more consolidation in the dollar store space, renovated the store to include more freezers, coolers and food. It also now carries a wider selection of beauty items, household products, seasonal goods and $1 Dollar Tree merchandise.
"Family Dollar is proud to be a part of the Hammond community, and we are excited to welcome existing and new customers to our newly renovated store," Family Dollar spokesman Jim Van Slyke said. "The refreshed store will provide even greater values and convenience to our shoppers."
Family Dollar stores typically employ six to nine people.
If you've got tips about new stores or restaurants anywhere in the Region, or just wonder what's under construction somewhere, contact NWI Business Ins and Outs columnist Joseph S. Pete at joseph.pete@nwi.com or 219.933.3316.
The business news you need
With a weekly newsletter looking back at local history.