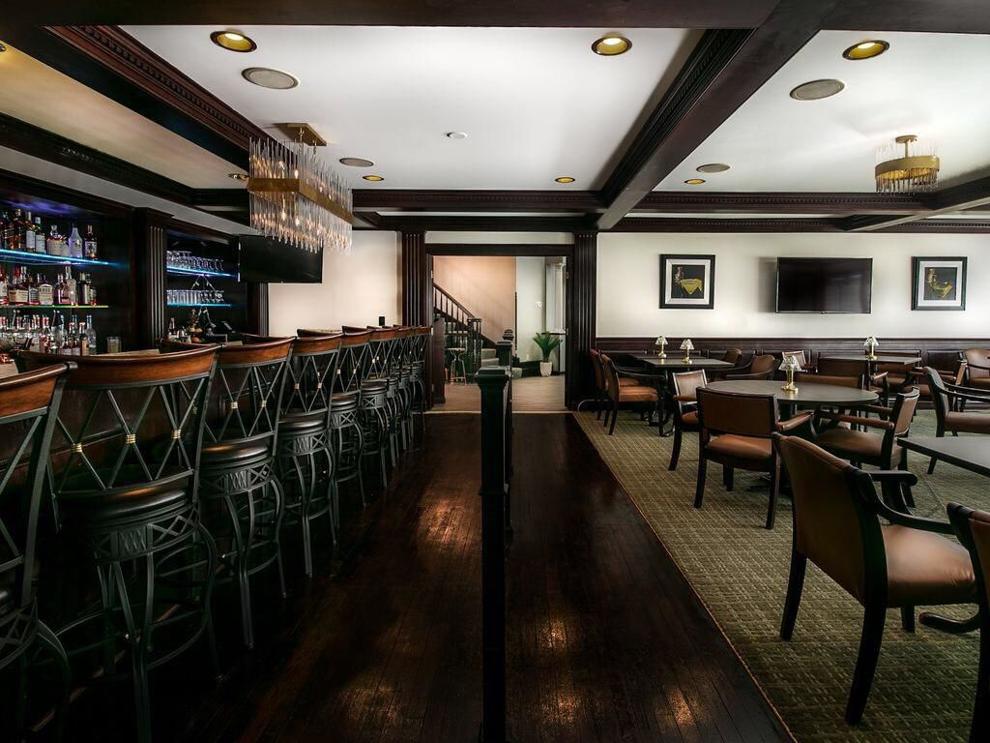 The historic Aberdeen Inn in Valparaiso, which dates back to the 1800s, has added an upscale restaurant and piano bar serving steak, seafood and pasta dishes.
New owners Roxanne Chayhitz and Barb Sexton, who also owns Tommy B's Clubhouse in Valparaiso, recently bought the cozy 10-room inn at 3158 S. Ind. 2 in Valparaiso, which they have been modernizing to give it more of the feel of a contemporary Airbnb. They added The Abbey Pub and Eatery, hiring chef Liz Stressler who worked at Gamba Ristorante in Merrillville.
"They were literally talking about it one night and bought it the next day," General Manager and Innkeeper Kylee Chayhitz said. "It was cool and crazy. Barb has been in the restaurant industry for 30 years or so, so they figured they wanted to add in the restaurant."
The inn dates back to at least 1857 and was a stop on the Underground Railroad where slaves fleeing to freedom hid in a root cellar accessible only by a hidden trapdoor. Kylee Chayhitz said it "may or may not" be haunted by the ghost of a little girl who died of tuberculosis there.
The dinner menu features appetizers like Italian hummus, Prince Edward Island mussels, stuffed banana peppers, sea scallops, charcuterie, and west coast oysters. A wide range of pasta dishes includes cacio e pepe and papardelle with scallops, mussels, shrimp, spinach, and tomato lobster brandy cream. Other entrees include airline chicken, filet mignon, porterhouse pork chop, espresso dusted black bass, snow crab legs and twin lobster tails.
"It's an Italian fusion thing," she said. "We do some very good pasta and a lot of seafood. We do brunch but nothing super-fancy: eggs benedict, of course, a veggie burger, some sandwiches, and omelets. The chef makes some amazing food. It's a really good atmosphere with a beautiful historical building."
The new owners have done extensive renovations, adding in a commercial kitchen and a piano bar where the library used to be and where they now have live music once a week, usually on a Thursday, Friday or Saturday.
"Before we added in the restaurant, it was a conference center, it was very gaudy-looking with green carpet and red tablecloths," Kylee Chayhitz said. "It was terrible."
The restaurant now seats about 70 people, including at the bar, and is adding an outdoor patio. 
The Abbey Pub and Eatery, which employs 17 workers, offers beer, wine and craft cocktails that were designed by a mixologist.
It's open from 4 to 10 p.m. Wednesday through Friday, with the bar staying open for as long there are customers. It's open from 8 a.m. to 10 p.m. Saturday and for brunch from 8 a.m. to 3 p.m. Sunday.
Leeds Public House is moving into the former Ryan's Irish Pub space at 401 Franklin St. in Michigan City.
Construction on the gastropub is expected to be completed next month, with a targeted opening in July. The restaurant has posted job openings for servers, bartenders, floor managers, bussers, line cooks, prep cooks, dish washers and kitchen supervisors.
Named after the city in West Yorkshire, the English pub will replace the longtime Irish pub across from the library that had been an anchor of the downtown for more than 20 years.
"The construction has really been coming along," Mayor Ron Meer said.
Mary & Martha Home is moving out of Louise's Hallmark Shop at 9533 Wicker Ave. in St. John, since that Hallmark store is closing after more than 30 years.
The 20-year-old home decor store, which was located in Porte De Leau Plaza in Highland for 16 years, is now moving to Lake Central Plaza across from Lake Central High School in St. John.
Mary & Martha Home will move into the 2,000-square-foot space at 8335 Wicker Ave. on June 1.
"We've kind of learned to hone the kind of items people want for a shopping experience other than what the big boxes offer," owner Dawn Johnson said. "We've got unique items for people looking to create beautiful homes or thoughtful gifts for something special."
The shop, named after the sisters Mary and Martha in the Bible, has stayed in business for so long by keeping abreast of current trends, Johnson said.
"It's traditional items with a trendy twist," Johnson said. "We're really blessed with a good following, and now we'll be closer to the customers we had from Highland, Munster and Dyer, those north of 45th Street who might not want to go all the way to the far end of St. John."
Mary & Martha Home offers carefully curated products that aren't easy to find in the marketplace.
"We display decor so it tells a story and don't just stuff products on shelves," she said. "In an age with less and less locally owned small businesses, we're hanging on and changing with the times."
CPR Cell Phone Repair has opened a second Northwest Indiana location, in a strip mall along Main Street at the border of Schererville and Highland.
The national chain of smartphone and device repair shops has more than 750 locations nationwide, including on U.S. 30 in Merrillville. It recently opened another location at 727 Main St. in Schererville. 
The store will fix everything from cracked screens to broken charging ports for iPhones, other smartphones, iPads, tablets, Macs, laptops, video game consoles, and iPods. It will remove viruses from computers and offers free estimates.
For more information, call 708-455-2033.
Dollar General has opened a store on North Halleck Street in Demotte, its second in town.
"Dollar General is committed to delivering a pleasant shopping experience that includes a convenient location, a wide assortment of merchandise and great prices on quality products," said Dan Nieser, Dollar General's senior vice president of real estate and store development. "We hope our area customers will enjoy shopping at Dollar General's new location."
The North Carolina-based dollar store, where not everything is one dollar, sells a variety of goods that include food, housewares, personal care, toiletries, seasonal items, cleaning supplies, basic apparel, home decor, and health and beauty products.
The store is open from 8 a.m. to 10 p.m. 7 days a week.
For more information, call 219-202-4795
If you've got tips about new stores or restaurants anywhere in the Region, or just wonder what's under construction somewhere, contact NWI Business Ins and Outs columnist Joseph S. Pete at joseph.pete@nwi.com or 219.933.3316.