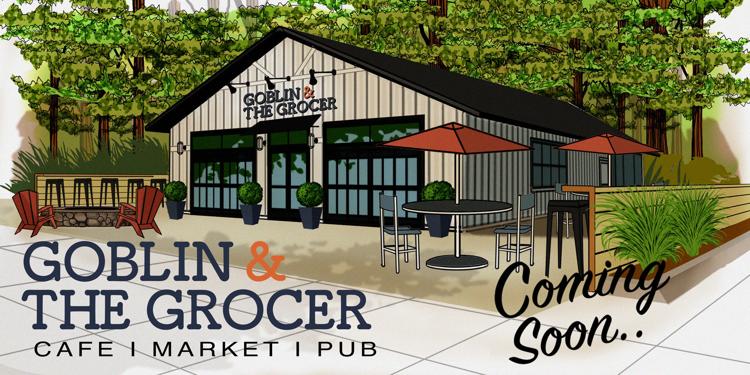 The owners of Beverly Shore's Hobgoblin, a high-end liquor store with an emphasis on wine, kept hearing the same complaints about how the lakefront beach community in Duneland lacked anywhere to grab coffee, breakfast or groceries.
So Dawn Huston decided to open the Goblin and the Grocer at 1 W. Dunes Highway in Beverly Shores. It's a cafe, restaurant and wine bar with a deli and market that sells charcuterie, fancy cheeses and other picnic items that could be taken in a basket to the nearby beach.
"We've been working for two years now," she said. "It's a brand new structure. It's about six weeks out now. It's going to be unique. It's not going to be so expensive that you feel you can't come often. We'll also be offering acoustic bands on a weekly basis." 
Huston hopes to open the cafe and restaurant in mid-April and the wine bar in May.
The 3,600-square-foot building will include a coffee shop that serves a variety of coffee and espresso drinks throughout the day, as well as breakfast sandwiches, pastries, muffins, bagels and waffles. It will pour java made with locally roasted beans from Smalltown Coffee in Crown Point. Customers will be encouraged to hang out.
"For people at their beach homes, they can come in and bring in their computer," she said. "You can get away from your family and your husband for a little change of pace." 
A full deli will specialize in cured meats like prosciutto and jamón, and serve up charcuterie plates that could be noshed on with a glass of wine.
"It will have international cheeses, smoked salmon, chicken salad, things you can gather in a basket and take to the beach," Huston said. "Oh, and there will always be fresh bread."
The wine bar will feature an international selection of vino from different countries and regions.
"We'll bring in a Spanish guitarist," he said. "We'll of course have wine dinners with pairings and have a partnership with the liquor store where if you taste something you like you can pop across the street to buy a bottle."
The restaurant will serve a gastropub-like menu of small plates of modern American cuisine. It will feature a chef-driven seasonal menu with moderately priced items like crab cakes, chopped salads, shepherd's pie, and shrimp cocktail. Huston is bringing in a chef from Chicago who can't be named yet.
"We're going to source as much locally as we can, from local farms and purveyors," she said. "There will be no fried food. There's so much barbecue and fried food along the beachfront, but this neighborhood is filled with hikers, bikers, cyclists and bird watchers. We feel like they don't really go together. We'll focus on more healthy food." 
The restaurant will be able to seat about 90 in a cozy interior with two fireplaces, as well as another 50 or 60 outside in the summer, where there will be live music performances.
"It's gorgeous," she said. "It's up on the dunes. You can't see the beach but it's near the entrance and has a beachy feel like you're on vacation. It's a coastal atmosphere."
In addition to filling voids in Beverly Shores, Huston hopes to draw visitors "from Miller Beach to Long Beach," as well as people heading up to Lake Michigan to go boating or to the beach. It's in a high-profile location by the Beverly Shores Depot Museum and Art Gallery.
The Goblin and the Grocer name comes from a Hans Christian Andersen story about a goblin who must choose whether to save a poet or a grocer from a house fire.
"It's about how you do what you're passionate about and keep yourself fed," she said. "How do you do your life's work and keep feeding? The goblin falls madly in love with the poet but goes to the grocer to eat. He's faced with a choice of which to save, but in the end they both survive."
The Goblin and the Grocer will likely be open from 7 a.m. to 10 p.m. seven days a week.
The Hasta La Vista Eatery has opened in the One Best Life at Tinker's Attic art gallery and music venue at 2513 Highway Ave. in Highland.
Susan Crouch opened the art gallery in downtown Highland about five years ago, where she sells the work of about 25 artists. It's become a popular destination for open mic nights, poetry readings and art classes. 
Crouch always planned to add a restaurant component to draw more people in to view the art.
"Art and music appeal to a certain niche of people," she said. "But everybody needs to eat. We're looking to break down barriers and show what a melting pot Northwest Indiana is by serving international food to appeal to a diverse population of people."
The Hasta La Vista name has nothing to do with Arnold Schwarzenegger's famous one-liner from "Terminator 2." 
"It means see you again," she said. "It's an endearment that's consistent with living one's best life and being happy with yourself."
The chef-driven menu will feature a variety of foods like cajun sausage, Thai chicken soup, rustic tomato bisque, blackened catfish, lasagna, steak, $5 hamburgers and grilled pork tacos with mango salsa. Tuesdays will feature barbecue and live blues music.
"The food leans healthy and really is a melting pot," she said. "It's fine food but in a laid-back atmosphere where you can be really comfy and make yourself at home."
The restaurant can seat about 48 people. It will tailor orders to meet particular diets, such as vegan, low sodium or keto.
"If anyone has diabetes or any health issues, we can make anything around their dietary limitations," she said. "We have a good older crowd that comes in to listen to the music and we want to cater to them."
Crouch said the eatery will have a family-friendly atmosphere where musicians are often jamming on the small stage. It will sell beverages such as cappuccino, coffee, espresso, pop, water and fruit juices, as well as lighter fare like muffins, brownies, and fresh-made yogurt.
Hasta La Vista Eatery will be open from 11 a.m. to 8 p.m. Monday through Saturday and by appointment, as well as for special musical performances on Sundays.
Mattioli's Pizza in Crown Point has served its final slice.
The family-owned pizzeria at 220 S. Main St. in downtown Crown Point closed indefinitely after four years.
"Four years ago my family and I started with nothing but a pizza pan, a recipe and a dream," owner Rick Mattioli posted on Facebook. "What it turned into was some of the most challenging, and rewarding, experiences of my life. The business and personal relationships I've formed over the years will continue to impact and influence me for the rest of my days. Unfortunately, due to multiple unforeseen circumstances, I have to let that dream fade once again back into the ether."
The pizzeria used old family recipes and also sold sandwiches, salads and appetizers.
"I would like to personally thank all my customers for taking a chance on a small out-of-the way pizzeria in a basement," he said. "And thank you to all my family, friends and employees who supported me and helped me deliver pizzas, prep the food, and for slaving in 95-degree heat just to serve slices out of a tent to an eager crowd. Those miserable days truly were some of the happiest days of my life."
White Castle reopened its restaurant at 25 Indian Boundary Road in Chesterton after remodeling.
"White Castle has been part of the Chesterton community since 2003," White Castle CEO Lisa Ingram said. "We know that our restaurants play a daily part in the lives of many community members and we're excited to re-welcome them to this Castle."
The restaurant seats 36 and employs 18.
"We're thrilled to be once again serving delicious sliders to Chesterton cravers, and we're thankful for our amazing team members who worked at nearby locations while this one was temporarily closed," Ingram said.
If you've got tips about new stores or restaurants anywhere in the Region, or just wonder what's under construction somewhere, contact NWI Business Ins and Outs columnist Joseph S. Pete at joseph.pete@nwi.com or 219.933.3316.